September 1, 2023
Compliance Training for Employees 101: Making the Mandatory Interesting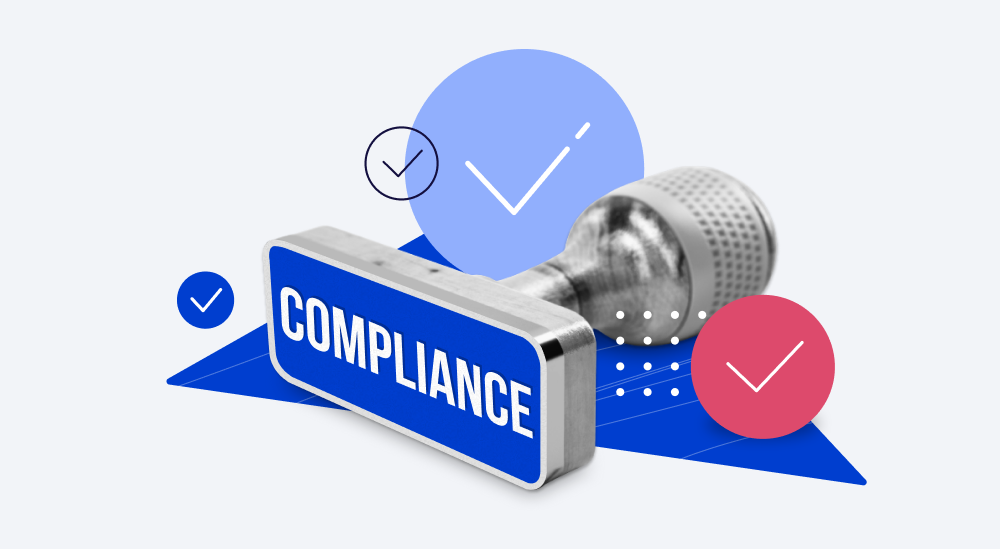 Do you find compliance training to be a real pain in the neck? Employers may see it as a distraction from profitable business operations and an extra cost, while employees may see it as extra work, a distraction from their main tasks, and a pointless formality. However, the thinking on both sides is shortsighted.
In this article, we will discuss "what is compliance training," and how to make it more effective. If you are familiar with complaince training and want to learn how to launch this process, click here to skip to that section.
What is Compliance Training? 
Compliance training is a formal program that educates employees on the corporate policies, procedures, and actions needed to avoid workplace problems and legal violations. These policies and procedures are often job or industry-specific. However, they are often government-mandated and apply across industries or the corporate world. Your compliance training content is important for the following reasons:
Creating a safe work environment

Increasing productivity

Upholding an organization's values

Reducing absenteeism

Fostering good employee training

Ensuring occupational safety

Promoting good company culture

Securing insurance for your organization

Protecting your business reputation

Minimizing the risk of legal action
Types of Compliance Training
No matter what type of business you run, having a mandatory compliance training program should be high on your priority list. Here are some types of government-mandated and industry-specific compliance training programs:
Anti-harassment training
Anti-harassment compliance training programs provide guidance and measures for responding to incidents of bullying and harassment. It should provide employees with verbal, physical, psychological, and sexual harassment training and outline penalties for any associated behaviors. Ensure your compliance training covers effective strategies for responding to bullying and harassment and provide intervention strategies.
Diversity training
Diversity training emphasizes how to work with people of different ethnicities, genders, sexual orientations, ages, etc. Your employees should learn to embrace the diverse inputs and perspectives a diverse workforce can bring.
Data protection & privacy training
To ensure regulatory compliance training within your organization, your program should distinguish between Personally Identifiable Information (PII) and Personal Data and explain how and why this information is exploited. Your employees should also be aware of the General Data Protection Regulation (GDPR) to handle data safely.
Cybersecurity training
Cybersecurity and Data Protection & Privacy overlap, but proper corporate compliance training should distinguish them clearly. Employees should learn how to efficiently manage the growing volume of sensitive and/or confidential information and how to protect people's identities and personal data in these programs.
Business ethics training
Every company needs a code of ethics with disciplinary guidelines. It should describe corruption and cheating in your organization and cover grey areas and conflicts of interest. Essentially, your ethics and compliance training programs should include risk assessment training, whistleblowing methods, accountability structures, and a system for addressing grey areas/conflicts of interest.
Workplace safety training
While certain industries, job titles, and environments pose additional risks in terms of physical safety, even your standard office setting must adhere to basic workplace safety standards. Employees should be trained in first aid and what to do in the event of an unforeseen emergency.
Compliance Training Examples
Through iSpring Suite, organizations can learn how to make compliance training fun for employees. Here are some examples of courses and quizzes that can help you launch compliance training in your company:
Fire Safety Compliance Course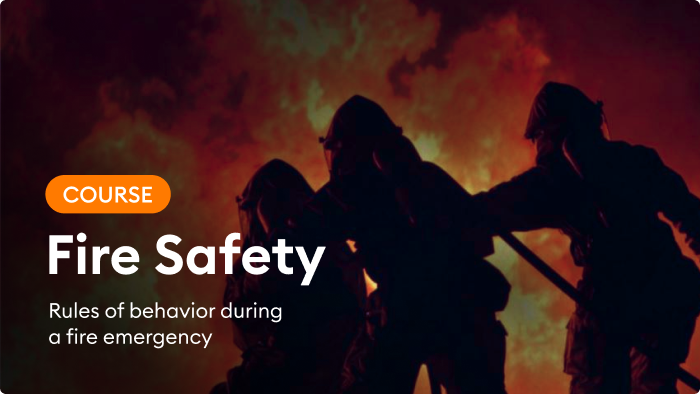 In this iSpring course, employees are immersed in the middle of an everyday office scenario where they learn how to identify fire hazards, perform a fire safety risk assessment, and respond to the outbreak of a fire if it occurs. Through the use of multiple interactive elements in a simulated setting, compliance training is engaging for employees.
Diversity and Inclusion Course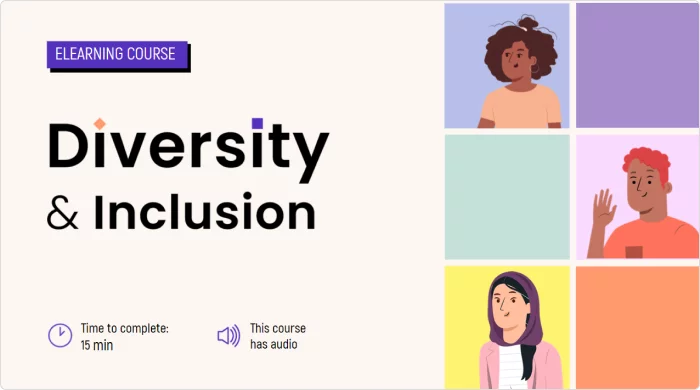 Employees can embark on an enlightening journey with this captivating course that delves into the world of diversity and inclusion. This iSpring's course reveals the secrets to fostering a harmonious and accepting environment within your organization where respect and understanding thrive.
First Aid Quiz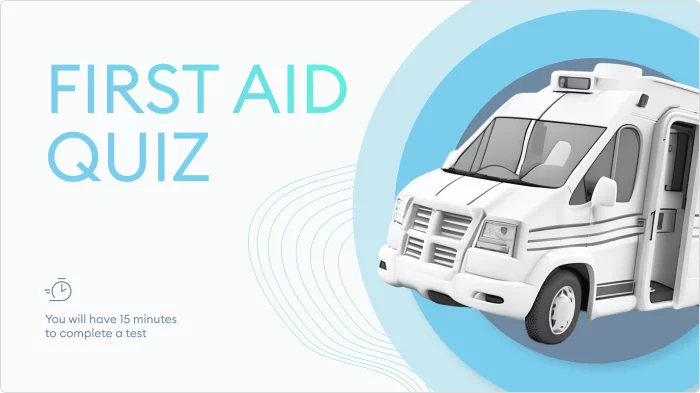 Employees can learn how to do cardiopulmonary resuscitation (CPR) or assist someone who is experiencing cardiac arrest by taking this iSpring quiz.
Online Compliance Training for Employees
The best way to teach your employees is through eLearning. Online compliance training for employees saves time and money and makes learning engaging. Below are some helpful steps for automating compliance learning in your organization. 
Step 1: Develop your courses
Creating an employee compliance training plan requires planning. The first thing you need to do is decide what topics to cover in compliance courses. Then, identify the purpose and audience of each course, create a scenario, and script, and visualize each slide using a storyboard. Likewise, you may need to work with SMEs and legal professionals to verify that course materials comply with relevant laws. 
Interactions
iSpring Suite enables you to create or incorporate a wide variety of interactions. For example, you can use the Steps interaction to provide your employees with a step-by-step guide on how to behave in the event of a terrorist attack.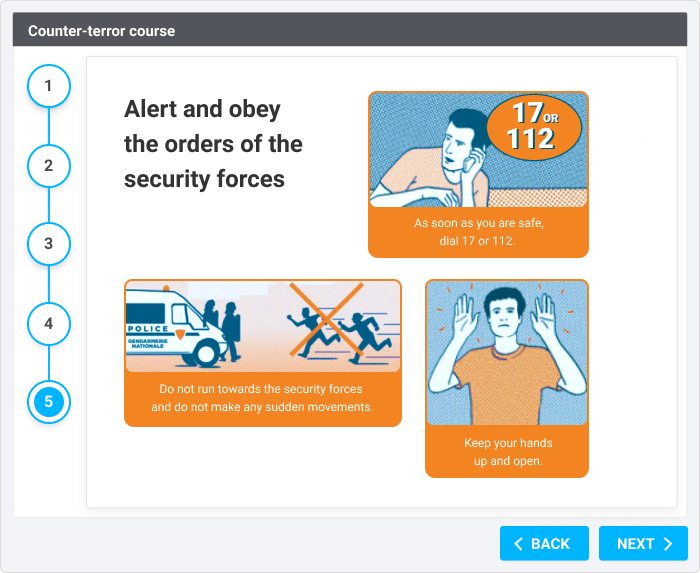 You can also use the Tabs interaction to outline the whistleblower cases for a course on business ethics.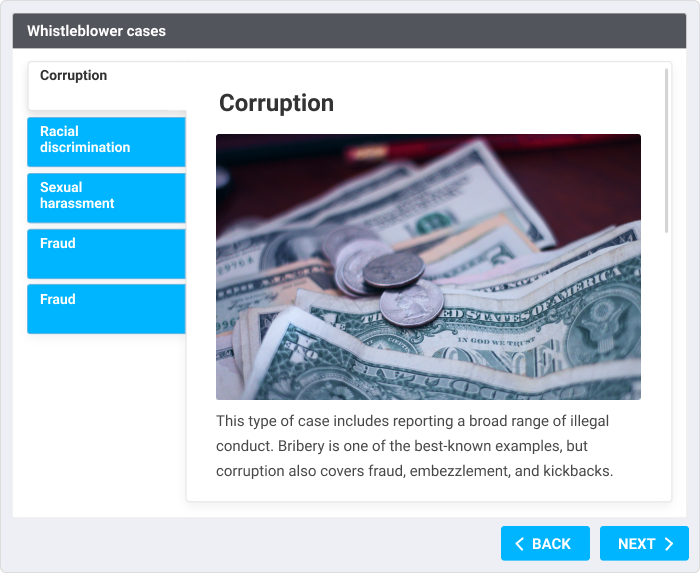 Simulated scenarios
Providing realistic scenarios and storytelling through iSpring Suite can enhance employee awareness of compliance rules and laws, including life safety, ethics, inclusion, and more.
Here's an example of a course with simulated scenarios on dealing with armed robbery:
Quizzes
Quizzes and assessments are a great way to reinforce learning and hold employees accountable. With iSpring Suite, you can create engaging quizzes with drag-and-drops, matching or sequencing games, fill-in-the-blanks, and more. 
Here's a slide from the quiz on fire safety:
There are off-the-shelf fire safety and compliance courses, but only courses written by you will reflect your business. The best part is that iSpring takes care of your online course forever. You only need to develop your program once. You can reuse it for new onboards and tweak it to keep your compliance courses current with legislative changes, requirements, and standards.
Step 2: Upload your courses to an LMS 
After your course is ready, you need to distribute it to your employees. A learning management system (LMS) is the most convenient way to upload a course. LMS serves as a portal for staff to access corporate training programs. It helps you organize courses, manage students, and track progress, activity, and results.
If you still don't have an LMS, you can try learning management system for compliance training. In addition to basic LMS options, iSpring Learn has some features that will help you make compliance training even more effective.
Flexible structure 
You can divide your employees into corporate-like branches with iSpring. This option may help if you need to assign different compliance courses to multiple departments or distribute different content types to workers in states with different laws.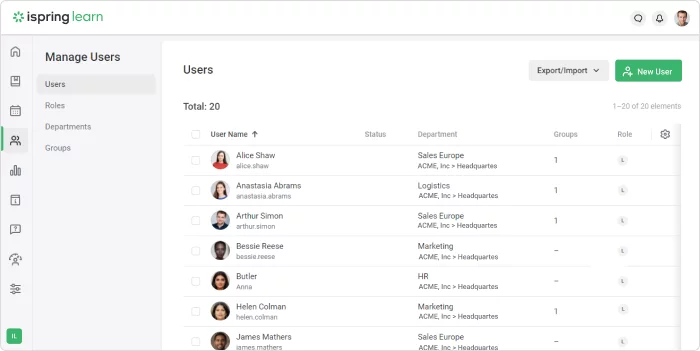 Assigning a course
With iSpring Learn, assigning courses to employees is easy. LMS users can manually add employees by name or search with advanced parameters to add a group. You can also set other rules to allow the LMS to automatically enroll new hires in compliance training courses once they are added to a "New Hires" group.
Recurring enrollments
Employees must take courses repeatedly. For instance, you may want your staff to regularly review safety rules and regulations or other compliance topics. You can set up automatic course re-enrollments at specific intervals if you don't like manually enrolling users.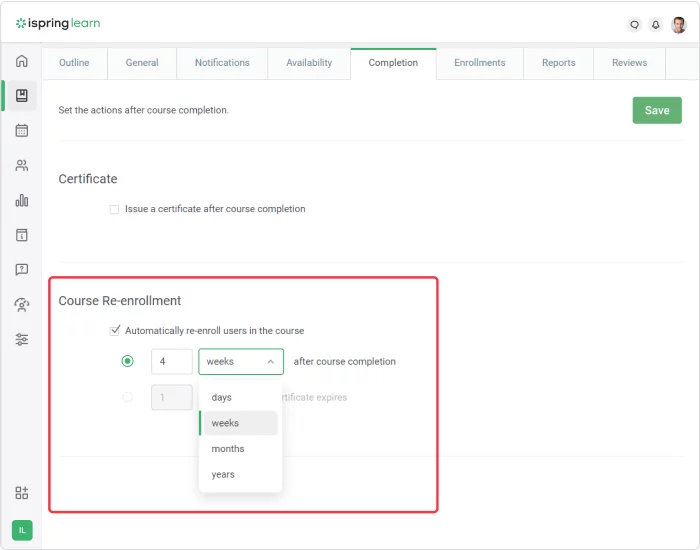 Blended learning
Consider incorporating blended learning, which combines elements of asynchronous learning and synchronous learning. In the LMS, you can schedule meetings with employees to discuss new company policies or government legislation and check attendance.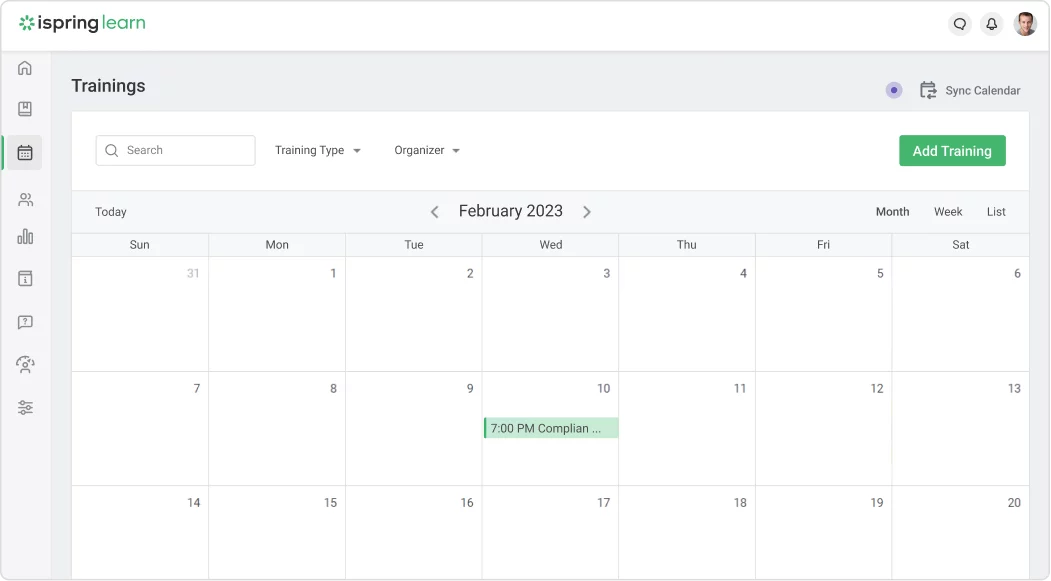 If you're a large corporation that has employees situated in different regions or even all over the globe, you may want to meet your colleagues online. Since iSpring Learn is integrated with Zoom, you can host meetings directly from the LMS. 
Sign up for a free 30-day trial of iSpring Learn to see if it's right for your organization!
Step 3: Keep track of learners' results
Your trainees will receive their courses shortly after you upload them to your LMS. Note that tracking and reporting features are crucial when choosing an LMS.
With iSpring Learn, you can stay on top of learners' results. You can track such important things as:
Course progress & completion rates

Learner results/scores

Attempts and answer breakdowns

User feedback
Take a look at this sample Course Progress Report. You can see how many users have started and finished your uploaded courses, how many are overdue, and more. From here, you can click on individual courses to get more detailed information.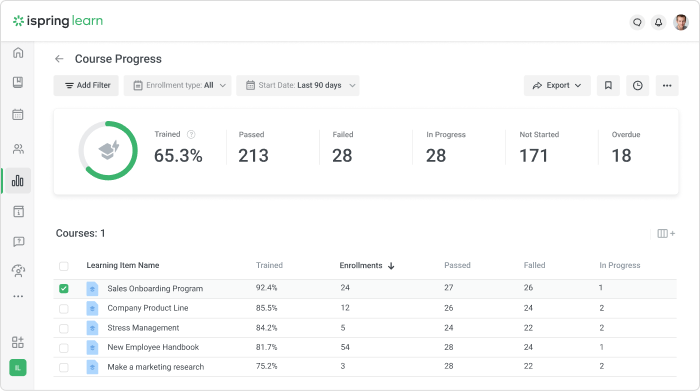 These metrics are undeniably important because they show how engaged your learners are. You can monitor your users, what they're viewing, and how long they're viewing different parts of your course to see what's working and what's not!
FAQs
What is the purpose of compliance training?
The purpose of compliance training is to equip employees with a comprehensive understanding of the pertinent laws, regulations, and internal policies that govern the operations of their respective organizations.
What should compliance training include?
The content of compliance training might vary depending on the industry, the specific legislation that applies, and the policies of the business. However, here are some things that should be included in compliance training.
Designation of a compliance officer and committee

Good education and training

Effective communication channels

Internal surveillance and auditing

Rapid response to identified issues through corrective measures
What are the 5 essential elements of corporate compliance?
The five essential elements of corporate compliance are leadership, risk assessment, standards and controls, training and communication, and monitoring. By incorporating these five elements into your compliance training program, an organization can more effectively comply with global enforcement and regulatory requirements.
Final Thoughts
Corporate compliance training is necessary, but not necessarily evil. Rather than framing it as a burden, reframe it as a benefit for both you and your staff. The best part is, once you automate your course using authoring software like iSpring Suite, you can reuse them over and over again, with minimal updating as necessary. Furthermore, the right LMS system will do most of the administrative work and reporting for you. 
So would you like to deliver sophisticated and highly engaging compliance training with minimal time, money, and effort? Then try our free 14-day trial of the iSpring Suite authoring toolkit. If you still don't have an LMS, also test-drive iSpring Learn without paying a cent!