November 2, 2023
CRISIL Foundation: "With iSpring, we've managed to build capacities and formally certify over 1,700 women in rural India"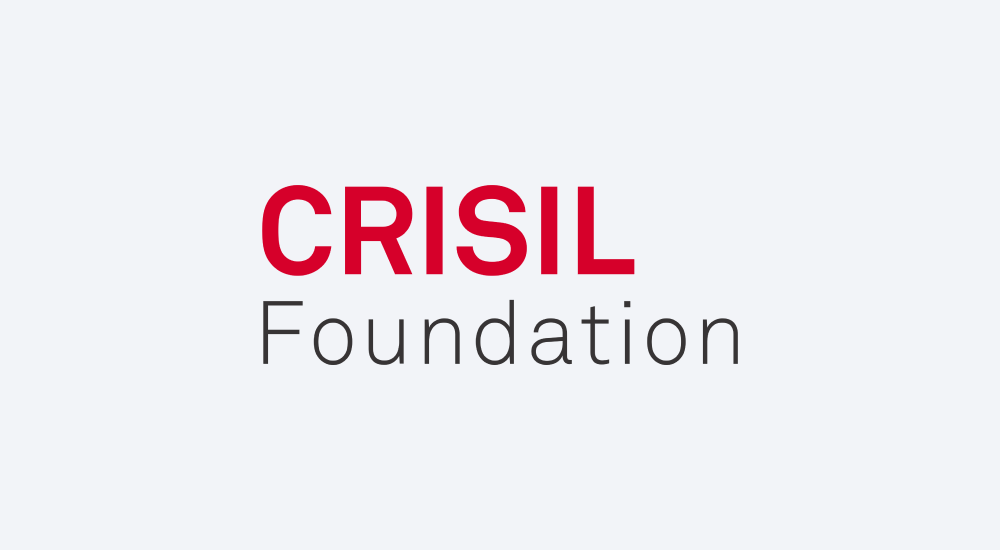 CRISIL is a leading, agile, and innovative global analytics company driven by its mission of making markets function better. It is India's foremost provider of ratings, data, research, analytics, and solutions, and is majority owned by S&P Global Inc.
Under the auspices of CRISIL Foundation, the Corporate Social Responsibility (CSR) arm of CRISIL, a comprehensive learning-cum-certification program called GramShakti was initiated in 2017 with an objective of building its Sakhi cadre. The Sakhi cadre is an all-women community cadre to bridge the last mile in financial awareness and financial health for the community they serve.
CRISIL Foundation outsourced training content development to TrainingCentral and, with robust features of iSpring's authoring tool, it was possible to launch such a tremendously important training program.
This is a story provided by iSpring's trusted partner in India, TrainingCentral. You can read their own success story with iSpring software via this link.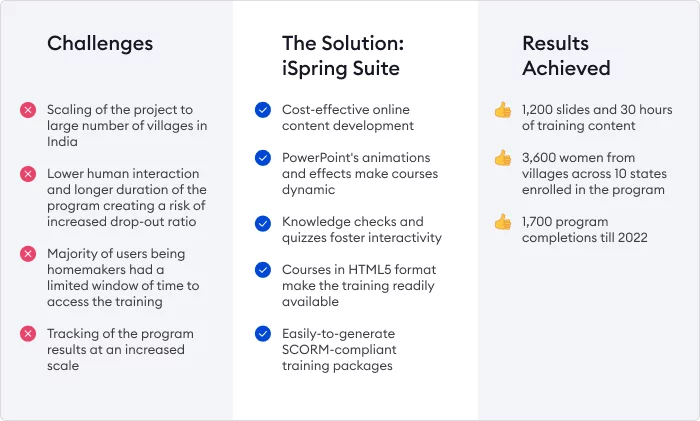 Background
CRISIL Foundation, a public charitable trust, was set up in March 2013 as CRISIL's corporate social responsibility (CSR) arm. Its mission is to empower socially and economically disadvantaged communities within and beyond CRISIL's areas of operations.
The Foundation's efforts have been recognized by the Government of India under the prestigious National Corporate Social Responsibility (CSR) Award, 2020 in the category 'Corporate Awards for Excellence in CSR' for financial capability building and environment conservation.
GramShakti Certification is one of the financial capability building initiatives which was conceptualized in 2017 and got developed in a couple of years thereafter.
The Certification aims at helping the rural community to take conscious efforts towards adopting financial planning and getting benefits from various financial products and services introduced by the government. It is specifically targeted towards a rural Indian woman who will champion financial inclusion for the community members in her village.
TrainingCentral Solutions was given the mandate for design, delivery, and support for this unique program, which, in turn, posed equally unique challenges.
The Challenge – Make the Corporate Social Responsibility project scalable at a lower cost
Earlier, such a type of program would be delivered through face-to-face training, but this approach had many limitations. The higher cost of delivery, longer time duration and other infrastructure-related limitations would hinder scalability of the project.
Being the extensive user of iSpring Suite, TrainingCentral identified the solution for these challenges through the use of iSpring.
The Solution – iSpring Suite
TrainingCentral has been using iSpring Suite for more than 10 years for its own product development as well as to deliver tailor-made solutions to its clients' training requirements. With this deeper level of understanding of the software, TrainingCentral had been fairly sure that the development needs of the GramShakti Certification will be fully met by iSpring.
The scope of work was quite ambitious, and delivery timelines were strict. The program was supposed to include 30 hours of training in eLearning format available in 3 local languages. However, the familiarity with the iSpring tool helped TrainingCentral expedite the development process and create a voluminous program rich in content.
The GramShakti development process
The Certification content was designed entirely in iSpring Suite. The Certification had over 1200 slides across 30 hours of courseware. TrainingCentral used artist-drawn images, photos, and voice-over besides special regional font for the courseware development. The basic storyboard, as well as the graphic design and animations were done in English. Then, the on-screen text and the voice-overs were translated in the 3 languages.
The technology team then inserted the voice-overs in each language prior to creating the chapter-wise SCORM files. The ability to insert voice-over text and set up synchronization for various languages was a very useful feature.
How GramShakti Certification works
The 30-hour certification program covers various concepts in banking and finance and is fully accessible through the LMS's native mobile app. To get started, the participant just needs to download and install the mobile app from the GS Website and log in using their mobile number. Thereafter, they can get started with the Certification module by module and access downloaded chapters offline in the same app.
The Certification user environment as well as the content are accessible in three Indian regional languages – Hindi, Marathi, and Assamese languages. The program contains 11 interactive modules that cover the complete span of Financial Inclusion and Literacy, including modules on Financial Planning, Savings, Investment, Loans, Insurance, Pension and Livelihood.
After viewing all the chapters within the Module, the participant has to pass a module-end test to be able to proceed with the next module. The participant has to answer simple, moderate, or difficult questions extracted from a large question bank in a randomized manner.
We have also included module-end context-specific questions and interactive exercises to ensure that participant applies theoretical knowledge to real-life requirements. It was easy to set up pre-defined parameters of grading in iSpring Suite.
Results
The project was initially launched in 3 states of India, which gradually expanded to 10 states by the collaboration of CRISIL Foundation with its partners. By the end of 2022, 1,700 women had successfully completed the certification.
Independent third-party impact assessments of the program have also reflected positive impact on the Sakhi cadre, and subsequently on the rural communities. We are sure that GramShakti has the potential to be a game changer in making every village of India financially literate, and acknowledge the role played by iSpring technology in this transformation.
About TrainingCentral
TrainingCentral Solutions Private Limited (TC) was established in 2009 and provides training solutions for the Banking, Financial Services, and Insurance (BFSI) domain. TrainingCentral has been offering training services to organizations across the country and currently has over 75 clients in the BFSI segment.
TrainingCentral is an ISO 27001:2013 certified organization. Some of its key offerings include:
32+ self-paced online courses on compliance, finance, productivity, and behavioral change.
Trainer network with 500+ of trainers in finance all over India
Learning Portals hosted for major clients like CRISIL, Volkswagen Finance, Greater Bank, Profectus Capital, etc.