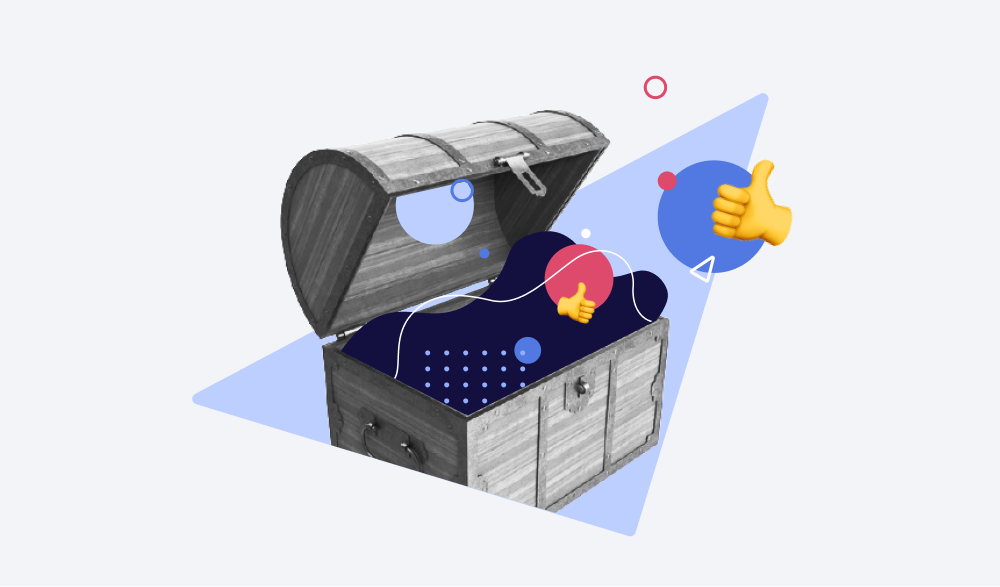 Choosing an eLearning authoring tool can sometimes feel as effortful as creating the course itself. Putting together an authoring tool comparison isn't as easy as it sounds, as it's not only about the technical feature set of a tool but also about how it will fit into your workflow. An ideal solution allows the instructional designer to focus on making great learning content without having to worry about technical issues, while at the same time being flexible enough to make the vision a reality. But something that is no less important to consider when selecting an app is how it corresponds to your authoring needs – what kind of content it allows you to create.
So, to facilitate your making the right choice, we have reviewed and compared eight popular eLearning authoring tools on the market: iSpring Suite, Adobe Captivate, Articulate 360, Lectora Inspire, Elucidat, dominKnow, Easygenerator, and Adapt. We've examined their authoring capabilities and key features, and concluded which tasks each solution is best suited for. By the way, we regularly check the tools reviewed for updates and refresh this post. Here's what we have for 2021.
So, let's get started. Before we do a deep dive, here's a quick comparison table of the best eLearning software tools if you're short on time.
eLearning Authoring Tools Comparison Chart
| | | | | | | | | |
| --- | --- | --- | --- | --- | --- | --- | --- | --- |
| Software | Type of solution | Ease of use | Supported eLearning formats | Video editing in-platform | VR/AR | PPT import | Best suited for | Price |
| | Authoring suite | Easy | HTML5, Video, SCORM (1.2, 2004), xAPI/TinCan, AICC, cmi5 | Yes | No | Yes | Easily and quickly creating interactive content from PPT files and authoring courses with quizzes, dialog simulations, and interactions | $970 per user/year |
| | Standalone authoring tool | Difficult | HTML5, Exe, SCORM, AICC, xAPI | Yes | Yes | Yes | Creating complex software simulations and courses with VR elements | Monthly subscription at $33,99 |
| | Authoring suite | Intermediate | AICC, SCORM, Tin Can API, Word | Yes | No | Yes | Teams needing to create different types of courses, including simple learning 'blocks' and customized slide-based courses | $1,299 per user, annually |
| | Standalone authoring tool | Difficult | HTML5, Tin Can, SCORM, AICC | Yes | No | Yes | Creating highly customized projects with programming elements | $2,595 for one lifetime license |
| | Online authoring tool | Easy | SCORM, HTML5 | No | No | No | Companies with dispersed L&D teams and requirements to deliver course variations by locality. | No price listed |
| | Online authoring tool | Easy | SCORM, xAPI, AICC, Web | Yes | No | Yes | Building courses with embedded system simulations | From $997/year single user |
| | Online authoring tool | Easy | SCORM, xAPI (TinCan), LTI | No | No | No | Creating simple HTML5 courses quickly | $99/month/user |
| | Online authoring tool | Difficult | HTML5, SCORM (With Adapt Framework) | No | No | No | Technical developers creating customized HTML5 courses | Free |
1. iSpring Suite
Rating: 4.7/5 – 725 reviews (Capterra)
Platform: Windows
Price: $970/year (subscription)
Discounts: Academic, non-profit
Trial: 14-day free trial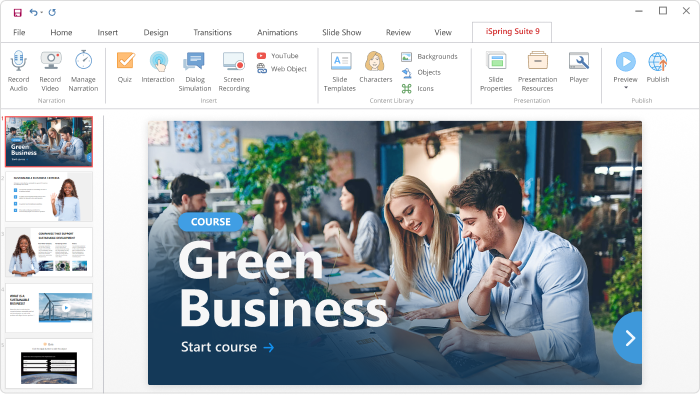 iSpring Suite is a set of eLearning authoring tools designed to rapidly build responsive online courses. It is integrated into PowerPoint, so existing presentation content can be easily leveraged and repurposed. You can create great-looking courses that include interactive quizzing and dialog simulations without the need to get into technical coding or go through extensive training. Developed courses can be output to all popular eLearning formats, including SCORM, xAPI, cmi5, and HTML5.
Has an easy learning curve and familiar interface.
You can turn PPT presentations into e-courses with two clicks.
You can create 14 graded and non-graded question types.
You can turn Word and PDF documents into SCORM flipbooks.
Has a built-in audio & video editor.
It's easy to create interactive dialog simulations with branching scenarios.
Has a huge library of eLearning assets: course templates, characters, and more.
You can easily create interactions such as diagrams, timelines, glossaries, and more.
You can't create slide-based courses without PowerPoint.
Has no advanced features like VR and interactive video production.
Best suited for
iSpring Suite is a simple tool that will have you authoring courses immediately after purchasing. If you've ever created a PowerPoint presentation, then iSpring Suite will feel intuitive to you. You'll be able to create your first course without any prior training.
It's a good solution for those who want to quickly launch their online or mobile training. This tool will allow you to focus on rapidly designing learning content rather than dealing with technical issues.
You can try out iSpring Suite by signing up for a free trial.
2. Adobe Captivate
Rating: 4.6/5 – 127 Reviews (Capterra)
Platform: Windows and iOS
Price: Monthly subscription at $33,99, or $1299 for a lifetime license
Discounts: Student and teacher for $399 full license
Trial: 30-day free trial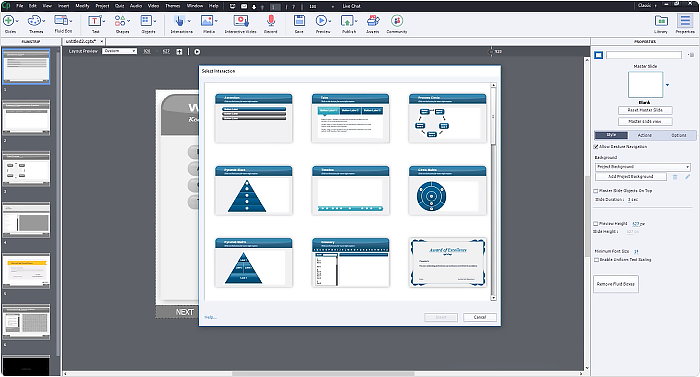 Adobe Captivate is a professional-level tool for developing eLearning content and responsive learning experiences on mobile devices. It's a fully-featured authoring solution that gives you vast control over all aspects of your course and allows for customization via advanced programmatic elements such as objects, variables, and triggers.
Captivate can boast of a robust feature set; however, it has a traditional linear style design compared to more modern authoring tools.
You can create custom interactions with the built-in system variables.
You can create assignments that tally scores when learners interact with on-screen elements like buttons.
Has a special editor for recording software simulations.
Your courses will automatically be assigned fluid boxes that create sensible mobile versions.
You can create virtual reality (VR) learning experiences.
Has an App for iPad that is convenient for prototyping courses.
You can publish courses as mobile apps.
Steep learning curve. It definitely requires training classes.
It will be easier for you if you have some basic programming skills.
The responsive solution often doesn't deliver on its promise.
It's quite difficult to update and maintain existing content.
Best suited for
This is a great program if you want to provide your students with an extensive mLearning experience, incorporate VR features, or create software simulations. It's best suited for experienced eLearning developers who are comfortable working with variables and some coding to make magic happen.
3. Articulate 360
Rating: 4.7/5 – 122 Reviews (Capterra)
Platform: Windows
Price: $1,299 per user, annually
Discounts: Academic, team licenses
Trial: 60-day free trial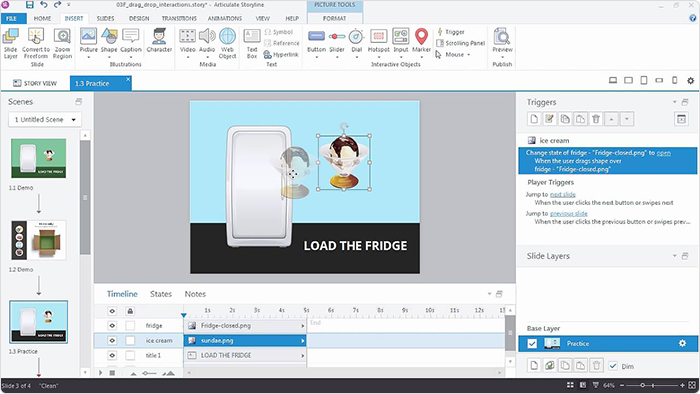 Articulate 360 is positioned as an all-inclusive solution for eLearning authoring, review, and deployment. The set of tools in 360 comprises nine Articulate products:
Storyline 360,
Studio 360,
Replay 360,
Preso,
Peek,
Web services Rise, Review, Content Library, and Articulate Live.
Three of these tools are mainly aimed at course authoring.
Articulate Studio 360
If you are new to eLearning but know how to work with PowerPoint, it will be easy for you to start with Articulate Studio 360, which is a Powerpoint add-in.
Articulate Rise
Articulate Rise is 100% web-based and uses blocks to allow you to build up simple linear courses by dropping in your content.
Articulate Storyline 360
Articulate Storyline 360 is the more advanced standalone authoring tool. Its interface is somewhat similar to PowerPoint, so some options will be intuitive for novice users. It allows you to build eLearning courses that include voice-overs, video, and animation. You can also create quizzes for assessing your learners, simulations, and drag-and-drop interactions.
Has solutions for most eLearning tasks and authoring options for all levels of developers.
Similar to PowerPoint interface of Storyline 360, but with more opportunities for customization.
You can create responsive HTML5 courses quickly with drag and drop in Rise.
Has Replay 360 tool for recording webinars and screencasts.
You can create 20 interaction types quickly and easily.
Content library with 5+ million photos, templates, characters, videos, and icons.
To take full advantage of Storyline's capabilities, you'll need to employ states, layers, triggers, and variables.
You will need some training on the main tools before you start developing courses.
No editing of responsive versions e.g., you cannot increase the text size on a slide for on the mobile version of the course.
Can get expensive fast if you have a lot of authors and want to scale content.
Best suited for
Teams who will make use of all of the components, otherwise you will significantly overpay for the full solution. The drawback is that most individual developers and small to medium organizations won't need all of these tools, some of which duplicate each other, but will still have to purchase the whole set as part of the subscription license.
4. Lectora Inspire
Rating: 4.5/5 – 35 Reviews (Capterra)
Platform: Windows
Price: $2,595 for one lifetime license
Discounts: Academic/Government: Price on application only
Trial: 30-day free trial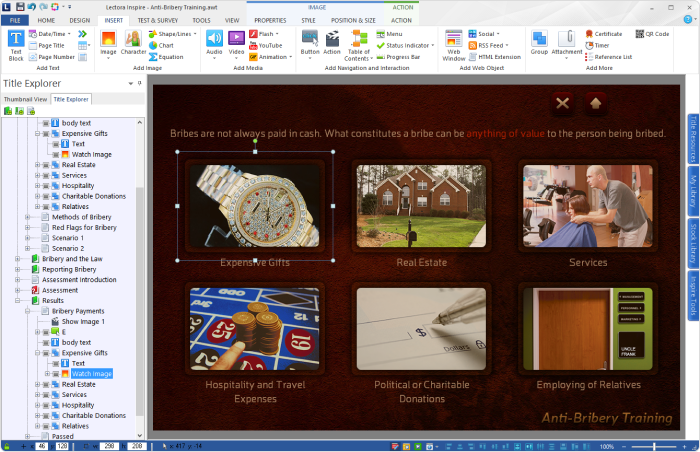 Lectora Inspire is a suite of tools designed to address the different needs of course creators, from building basic slide-based courses to creating in-depth custom projects. It differentiates itself from other tools by including external services as part of the package like eLearning Brothers templates, avatar characters, and an interaction builder. It's easiest to think about Lectora as the main tool with lots of included 'plug-ins' that you can use to build different types of content.
You get access to eLearning Brothers content library and Interaction Builder, BranchTrack dialogue simulator, Camtasia and Snagit video editors, and ReviewLink collaboration service.
Has extended capabilities for building custom interactions if you have programming skills.
Supports conditional branching and sequenced events.
A new set of templates is now available, and each focuses on different learning styles and common course types.
You can globally manage content and update of assets.
A license for Lectora Inspire, Snagit and Camtasia is good for life, but to keep on using ReviewLink, BranchTrack, and eLearning Brothers, you'll have to prolong the maintenance.
The interface is not user-friendly, intuitive, or easy to use.
There is a steep learning curve with limited support.
The built-in audio and video editors have limited recording capabilities: cut and paste
Best suited for
This is a powerful yet complicated tool. It allows extensive customization via programming code, external libraries, and scripts. Because of this extensibility, Lectora requires developers to be well-trained. So, this is a good choice if you're an experienced developer with programming skills, have a designer on your team, and build courses that are mostly based on complex interactive elements.
5. Elucidat
Rating: 4.6/5 – 17 Reviews (Capterra)
Platform: SaaS
Price: No price listed; must contact the vendor.
Discounts: Not specified
Trial: Free trial offered only at the end of live demo, which must be booked online and scheduled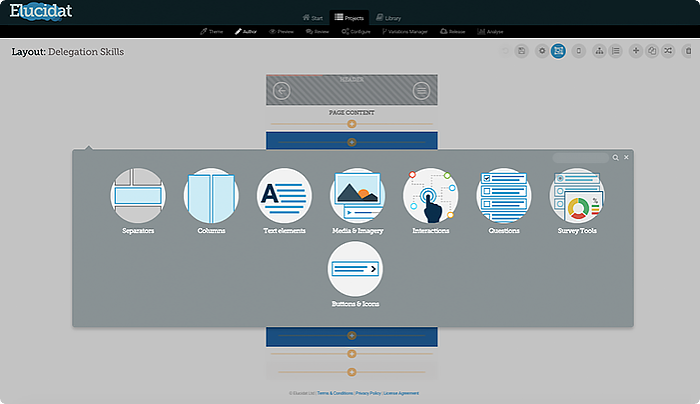 Elucidat is a cloud-based eLearning authoring tool that lets you produce HTML5 and SCORM-compliant content. It allows the whole team to contribute to making eLearning, review and take part in the authoring process.
Elucidat offers many of the basic features that you would expect from an HTML5 authoring tool, such as creating tests and quizzes, video and audio management, and populating a course with images and text.
It's easy to insert interactive elements such as buttons, flip cards, and input boxes.
Less experienced content developers can create high-quality output.
You can create single courses that are responsive to any device.
It's easy to manage your content at scale with collaborative working and role-based development.
You can see detailed data on how learners are interacting with their course via analytics dashboards.
You can easily translate projects across multiple geographic regions with XLIFF Translation support for automatic course localization.
You don't have as many options as other authoring tools for creating custom interactivity or other elements.
Experienced developers may feel constrained by the workflow and lack of flexibility.
Can seem expensive, especially if you're not producing much eLearning content.
The Translation suite is available only for Enterprise plan users, with 10,000 learners.
Best suited for
Elucidat is well suited to organizations with dispersed L&D teams and requirements to deliver course variations by locality, but who do not have a need to create slide-based or highly customized courses for themselves or their clients.
6. dominKnow
Rating: 5/5 – 15 Reviews (Capterra)
Platform: Windows only
Price: From $997/year single user
Discounts: Nonprofit/Educational: Price on application only
Trial: Free 14-day trial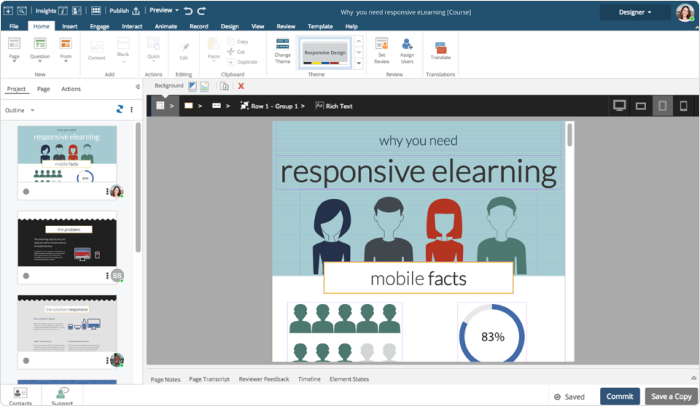 dominKnow is a cloud-based authoring platform designed for teams and large organizations. It aims to allow you to build many different types of eLearning with templates, stock assets, a central library to share and reuse content across projects, and real-time collaboration and review.
dominKnow is actually three main tools. There is a responsive course builder, a more traditional course builder that allows you to convert PPT presentations, and a tool to capture and generate system simulations. All content used in either authoring tool is saved as a discrete object that can be reused and published to various formats such as Knowledge Base or Job Aid.
Outputs single-source, multi-purpose HTML5, responsive, and WCAG AA-compliant content.
There are customizable themes, pages, sections, and dynamic backgrounds.
Has a built-in image editor.
You can employ branching, navigation, and conditions to build content that lets learners take control of their learning path.
You can easily share, reuse, and update existing content, and roll back to earlier versions without losing content.
Has role-based adaptive workspaces that can be changed to meet the needs of different developer roles.
Expensive single-user license.
There is a learning curve for new authors.
The security model doesn't allow creating hierarchical domains and security roles cannot be customized.
Best suited for
Those looking for an eLearning authoring tool that produces high-quality output while being quite easy to learn and use, especially organizations using freelance authors who need to keep content managed and accessible to large teams.
7. Easygenerator
Rating: 4.9/5 – 37 Reviews (Capterra)
Platform: SaaS
Price: $99/month/user
Discounts: Nonprofit/Educational: Price on application only
Trial: Free 14-day trial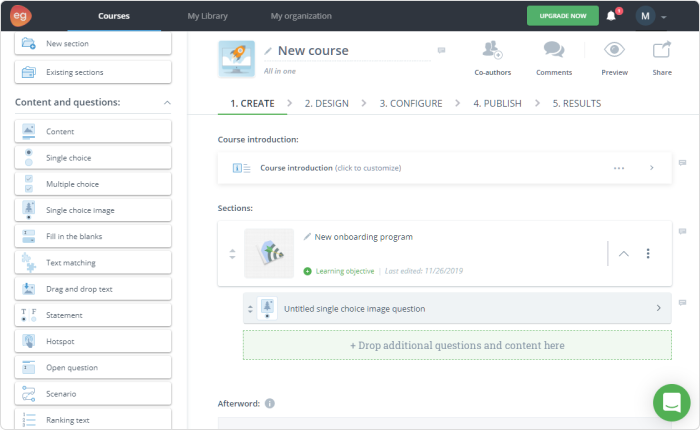 Easygenerator is an online eLearning authoring tool for people without a development background. It lets you create courses and quizzes to host on the built-in cloud environment and track results. Uploading to a website or LMS is also possible.
Has a clean look and feel without spending time customizing themes and graphics.
You can easily create a course structure as a template and reuse it for future courses.
Has a variety of templates that you can use as a base for your courses.
You can use HTML code blocks to add custom content.
Easy tracking of results and reporting from a simple dashboard.
You can add co-authors to collaborate on course development.
Some users have reported difficulty in adapting to mobile.
May feel very limited to more experienced developers.
Cannot create custom interactions.
Cannot change style or customize course player, it all looks the same.
Very expensive for limited functionality.
Best suited for
Those looking for an online solution to easily create simple responsive courses using drag and drop features as their main requirement.
8. Adapt
Rating: No ratings
Platform: SaaS
Price: Free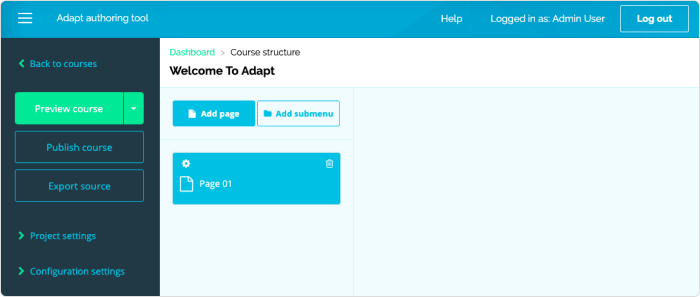 Adapt is an open-source HTML5 authoring tool and is designed to let you author a multi-device responsive learning product through their Learning Pool Adapt Builder site. This is how it works. You enter a topic by tapping or clicking on the block and then scrolling down the page, working your way through the content, opening and closing tabs in accordions, narrative sequences, image hotspots, and other interactive tools.
It is open-source software that is free for anyone to use.
Responsive publishing so your courses will play on any device.
Has built-in interactives such as image hotspot, accordion, and multimedia.
Has 6 different customizable question types, including graphics multi-choice, matching, and slider.
Support is mainly in the form of user forums.
Requires installation and setup of Adapt framework to a local PC or server.
May be technically challenging for inexperienced developers.
Limited functionality compared to commercial alternatives.
Best suited for
Those looking for a flexible and free HTML5 authoring solution who don't mind overcoming some installation requirements and being self-sufficient.
To Sum Up
Any one of the apps listed here will allow you to create courses, but now you should have some insights as to which is the best eLearning authoring tool for you, according to your particular situation and the type of content that you want to create. Here's a quick synopsis for takeaway:
iSpring Suite – A perfect solution for those who want to start creating professional-looking courses immediately after purchasing, even with no prior experience in instructional design.
Adobe Captivate – Appropriate for experienced eLearning developers who need to create unique learning interactions with a bit of programming skills, VR projects, or software simulations.
Articulate 360 – The right choice for teams that need an extensive set of authoring tools and collaboration options.
Lectora Inspire – A good match for experienced developers who have programming skills and want to build eLearning courses with extensive customization.
Elucidat – Well suited for companies with dispersed L&D teams and a need to deliver course variations by locality.
dominKnow – A good fit for those looking for an authoring tool that produces online courses for formal learning, training games, infographics, or a knowledge base.
Easygenerator – Good for those with no development background who want to build basic eLearning content quickly.
Adapt – An authoring tool that's perfect for those who want to create courses for free, who have technical skills, and don't mind overcoming some installation requirements.
Do you use one of these authoring tools? We'd love to hear about your experiences, good or bad, in the comments.