It's pretty awesome when an instructional designer can focus on making great learning content without having to worry about technical issues. Finding a tool that will allow this is like trying to find Waldo in a picture with hundreds of colorful little people.
Questions like, "How is your tool different from others?" or "Do you have a detailed comparison?" are among the top two most frequently asked questions in the iSpring sales and support departments. We're sure that the situation is quite similar at many other software companies. Given the frequency of these questions, finding a clear and unbiased review must be very difficult.
How We Wrote This White Paper
To write this article, we first tried to create a course with each of the tools. Second, we studied some reviews and comparisons of popular tools on the web, and tried to understand what they lack. Third, to ensure that our review was fair and unbiased, we contacted the e-Learning experts and asked them to share their experiences working with each tool.
In this white paper, we will have a closer look at five popular authoring tools from leading developers: iSpring, Articulate, Adobe, TechSmith and Trivantis. For this purpose, we've defined the main criteria that instructional designers and developers expect from a convenient e-Learning tool:
Learning curve.

Most agree that it's important for a tool to be easy to get started with and to master. For advanced capabilities, there should be comprehensive instructions and guides.

Assessment.

Testing is a necessary complement to learning. It helps to ensure that the learner assimilates the learning and is able to show evidence of that newfound knowledge, and it also helps to validate the effectiveness of the learning materials.

Interactive modules.

Students will be more involved in learning if they can interact with the course, rather than passively watching slides.

Built-in audio and video editors.

Do these editors have enough capabilities, or will you need to install additional editors?

Communication skills training.

The need to master communication with customers is a very common reason for launching e-Learning.

Mobile learning.

Gadgets live in our pockets, which is why a modern tool should be able to create courses that allow people to learn on the go.
So, let's get started. Here's a table for those who are short on time (or just a little bit lazy):
Tool
Type of solution
Main advantages
Best suited for…

iSpring Suite

Fully-stocked toolkit for a quick start making eLearning content.

It includes special modules for different types of training: knowledge check, video lectures, and dialogue simulations. These allow you to focus on the learning content of the course (not manual tweaking and testing).

Anyone who's created PowerPoint presentations can easily start using iSpring Suite.

The output works smoothly on any device.

The whole kit is offered at a relatively low price.

Those who are under a deadline;

Those who develop courses on their own;

Those who need to turn pre-existing PowerPoint presentations into e-courses.

Articulate 360

Bundle of nine tools for deploying a large-scale authoring environment.

It includes tools for creating any type of learning materials, from simple longreads to collaborative development of complex interactive courses.

Includes solutions for most e-Learning tasks.

Some components of the toolkit are of use for beginners at e-Learning, while experts can create more complex things.

Those who develop courses as outsourcers;

Those who have large training departments;

Those who have a basic understanding of programming (preferably).

Adobe Captivate

Standalone e-Learning authoring solution that allows extensive control over the mobile experience.

Thanks to the special fluid boxes feature, you need to make only a minimal amount of manual edits to versions for each device.

Another main feature of Captivate is the software simulation editor.

It is the only tool among the compared which can be used via a monthly subscription – $29.99 a month.

Advanced developers;

Those who need to teach how to use software;

Those who develop courses as outsourcers;

Those who have a basic understanding of programming (preferably).

Camtasia

Easy-to-use editor for creating interactive video lessons, video lectures, and screencasts.

You can make video interactive by asking test questions during playback, using pop-up tips, graphical highlighting, etc.

Those who have a lot of video content within courses;

As an additional tool to complement any full authoring tool.

Lectora Inspire

Standalone solution that allows for extensive augmentation via programming code, external libraries, and scripts.

Easily extended with external code, libraries, or scripts.

For advanced developers;

Those who have programming skills.

1. iSpring Suite 9.7
Rating: 4.8/5 – 169 reviews (G2 Crowd)
Platform: Windows
Price: $970/year (subscription)
Discounts: Academic, non-profit, government, and volume discounts
Trial: Free 14-day trial
Guarantees: 30-day money back guarantee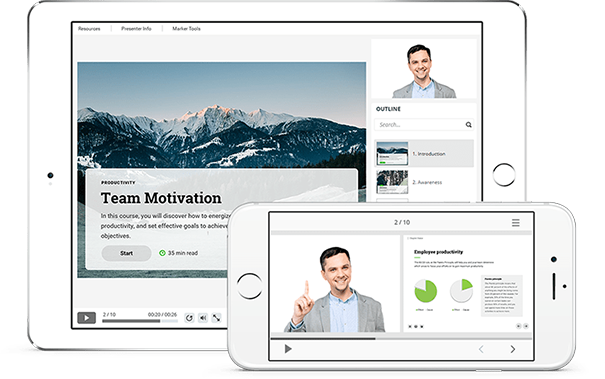 Overview
iSpring Suite is an authoring toolkit for rapid building of e-courses. It is an add-in for Microsoft PowerPoint, the most popular presentation software on the market.
Learning Curve
According to instructional designers, one of iSpring's best features is the intuitive interface. If you've ever created PowerPoint presentations, you won't have to learn the interface from scratch or take training classes.
After installation, you'll find a new tab on the PowerPoint toolbar. The new features will bring life and interactivity to your teaching materials: tests, polls, dialogue simulations, video lectures, etc.
If you already have PPT presentations, two clicks is all it takes to turn them into e-courses. All this will help you start creating courses immediately after purchasing and installing of the program.
Assessment
iSpring Suite users can take advantage of the built-in test constructor, iSpring QuizMaker. It allows you to create 23 types of questions: 11 graded and 12 non-graded questions. Assessment settings are flexible. For instance, you can limit the time for passing a test or the number of attempts.
For more advanced assessment, you can set up a branching scenario. For example, if a sales representative can't answer a question about a product, s/he will have to study additional information on the topic before continuing with the test. This way your learners will better understand the subject, which will certainly improve their results.
Interactive Modules
iSpring interactive modules are useful for training beginners: you can create handy directories, glossaries of terms, product catalogues, pyramids, media cards, step-by-step instructions, and more. iSpring Suite offers four basic types of interactions; plus, it flawlessly supports all transitions, animations and triggers created in PowerPoint.
Built-in Audio & Video Editor
You don't need to install any additional software to create video lectures with iSpring Suite. With the built-in editor, you can make live lectures without leaving PowerPoint.
The editing functions are basic: you can cut out unnecessary parts, or remove background noise. For course developers, it's usually more than enough.
Communication Skills Training
If you're facing the task of teaching client negotiation, an interactive simulator is an absolute must-have. This tool will help you to master soft skills and to hone rebuttals.
For instance, let's say you need to train hotel staff. To make it more true to life, you can choose a suitable location (a hotel lobby), characters (a receptionist and a guest) from the Content Library, and get started with the dialogue. With an intuitive interface in the form of a dialogue tree, you can now create a true decision-based branching scenario.
Your learners are to help the virtual guests of the hotel. Just like in real life, they see the guest's reaction to their answers: the guest gets nervous and upset if learners fail to help, and thankful if everything goes smoothly. The employees who have completed the task will know how to treat customers so that they will return in the future.
МLearning
iSpring Suite offers automatic adaptation of courses for mobile devices. You don't need to create different versions of courses for smartphones, tablets and PCs. Once done, your courses will work on most devices, thanks to the fully responsive player, quizzes, interactions, and simulations. However, if a slide is full of text, you'll likely have to zoom in.
With iSpring Suite, you can publish courses in HTML5; this format is read by all modern devices. For example, students may find it convenient to take a course both on a computer and on an iPhone on the subway. Thanks to the mobile app, they can study even without an internet connection.
Summary
iSpring Suite 9.7 is an easy tool that you can start using immediately after purchasing. If you've ever created PowerPoint presentations, then iSpring Suite will be intuitive to you. You'll be able to make your first course without prior training, though there are many step-by-step tutorials on the developer's site, should you need additional insight.
If you want to quickly launch mobile training, have a look at iSpring Suite. This tool will allow you to focus on rapidly designing learning content, rather than dealing with technical issues.
Pros

Cons

Easy to use

No learning curve

Perfect PowerPoint compatibility

Built-in dialogue simulator

Suitable for mLearning

Mobile app for offline course viewing

Relatively inexpensive

Can't work without PowerPoint

No Mac OS support

2. Articulate 360
Rating: 4.5/5 – 30 reviews (G2 Crowd)
Platform: Windows
Price: From $999 per one licence annually
Discounts: Academic, non-profit, government discounts; discount for renewing a license; volume discounts
Trial: Free 30-day trial
Guarantees: 30-day money back guarantee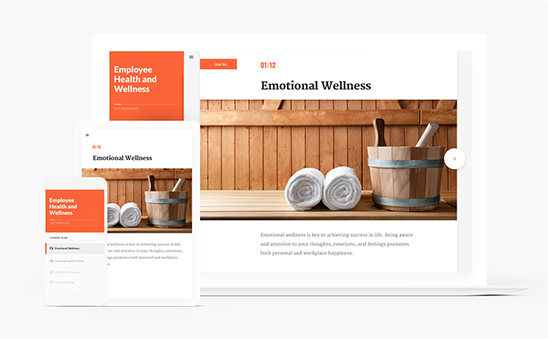 Overview
Articulate 360 positions itself as an all-inclusive solution. The set of tools includes nine products from Articulate: Storyline 360, Studio 360, Replay 360, Preso, and Peek, as well as the web services Rise, Review, Content Library and Articulate Live. It seems Articulate has tried to gather solutions for all possible e-Learning tasks under one roof.
Learning Curve
Articulate 360 consists of nine different components, three of which are direct tools for e-course development.
Articulate Studio 360
If you are new to e-Learning, but know how to work with PowerPoint, it will be easy for you to start with Articulate Studio 360. This software is an add-in for PowerPoint, which can help you to use pre-existing presentations, add tests or interactive modules, and convert them into e-courses.
Articulate Rise
If you prefer easy online tools, have a look at Articulate Rise. It is a limited (for now) web-based authoring tool, but if you have at least minimal experience with web services, it's easy to get started with Rise. Just make sure you have an internet connection and your company's security policy allows you to use web services.
Articulate Storyline 360
Articulate Storyline 360 is a more advanced standalone solution. Its interface is somewhat similar to PowerPoint, so some options will be intuitive for novice users. However, you should keep in mind that for successful work with Storyline, you'll have to spend some time to master the tool.
Assessment
The built-in Quizmaker 360 allows you to create 11 evaluation, 9 questionnaire, and 6 free-form questions. Among the free-forms, it's worth noting the well-implemented drag & drop and pick one capabilities. By using some imagination, you can turn an ordinary knowledge check into a mini-game.
If you want to surround test questions with extra context, configure branching. Add information slides that will explain to students why the correct answer is right, and the incorrect ones are wrong.
Interactive Modules
Interactions are a strong aspect of Articulate Storyline 360. With their help, you can perform the miracle of captivating students with educational material. However, to take full advantage of Storyline's capabilities, you'll want to employ states, layers, triggers, and variables.
Plus, Articulate Storyline 360 is a delight for fans of buttons, sliders, and controls. For example, you can create a simulation where students should choose the right baking temperature on a dial. They turn the regulator and see what can be cooked at the chosen temperature.
Built-in Audio & Video Editor
The audio and video editors built into Articulate Storyline 360 have basic editing capabilities. You can record a file and improve it: crop, adjust the volume, set brightness/contrast, etc.
Also, there's Replay 360. This is a tool for recording webinars and screencasts. It allows you to record people talking and their screen activity. You can also adjust the display: reduce or completely hide the speaker's window when it's more important to show the screen, and vice versa.
The Peek component included in Articulate 360 is also designed for screencasts. It's focused on recording how to work with software. It recognizes all running programs and offers to choose which one you want to capture. After recording, you can save the video as it is or edit it in Storyline.
Communication Skills Training
While Articulate 360 does not include a specialized conversation simulator, the existing capabilities of the tool allow you to create similar tasks manually, but you will have to devote a lot of time to tuning, setting up and testing.
To do this, you will have to go deep into working with layers and states of objects. To help developers, there are templates in the Scenarios section. They are relatively universal, but they won't work if you need something specific: simulating a conversation with a patient, a client at a coffeeshop, or an airplane passenger. In general, you can create exercises with dialogues in Articulate 360, but not as quickly and conveniently as in a special editor.
МLearning
Articulate 360 supports HTML5 output format, which is the standard for mobile and online learning. Courses created with Articulate Storyline 360 will work on any device, thanks to an adaptive player. As for content, if some test questions look small on a smartphone, it isn't possible to enlarge them only in the version for smartphones.
As for Rise, it's a cool thing for mobile learning. Rise, unlike Storyline, provides information in the form of responsive web pages. Plus, courses created with Rise can be shared via links. The weak point of Rise is that its capabilities are very limited in comparison to Storyline and other out-of-the-box solutions.
Summary
Borrowing a food metaphor, on the one hand, with a food processor, you can cook a wide variety of delicious dishes. On the other hand, in reality a blender will work just as well. Articulate 360 is more like a food processor with different attachments for all the facets of an e-Learner's life. Make sure you need all of the components, otherwise you will significantly overpay for the full solution. At the moment of writing, there's no way to get some components (like Rise) without buying the whole bundle.
Pros

Cons

Free-form questions

Custom interactions

Collaboration function (Articulate Reviews)

Suitable for mLearning

Extensive online community

No lifetime license, only a 1-year subscription

You'll need some training to start

No built-in dialogue simulator

No mobile app for offline course viewing

No Mac OS support

3. Adobe Captivate 2017
Rating: 3.7/5 – 82 reviews (G2 Crowd)
Platform: Windows, Mac
Price: Monthly subscription at $29,99 (annual commitment and monthly payments required; early termination will attract a cancellation fee), or $1099 for a lifetime license.
Discounts: Academic, non-profit, government discounts; discounts for renewing a license; volume discounts
Trial: Free 30-day trial
Guarantees: 14-day money back guarantee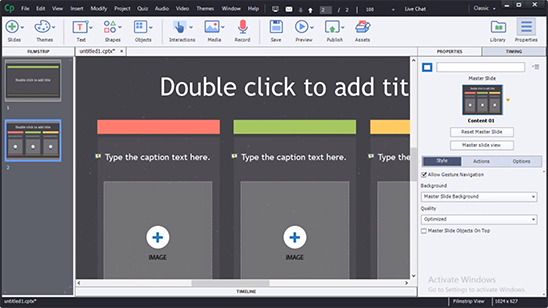 Overview
Adobe Captivate 2017 is a professional tool for developing e-Learning content and a better learning experience on mobile devices. To achieve this, Adobe Captivate allows you to edit versions for different devices and create courses for any screen size you need. In addition, it has robust capabilities for developing realistic software simulations.
Learning Curve
Captivate is a powerful tool with a steep learning curve. Despite the fact that Adobe offers many video tutorials, this tool definitely requires training classes.
Assessment
To evaluate learners' knowledge, you can create only nine types of questions, which is really few in comparison with competitors. However, you can create assignments that tally scores when learners interact with on-screen elements like buttons.
Also you can ask control questions during the course (Pre-test and Knowledge Check). The answers to these questions do not influence the learner's final score; their purpose is to check how well the material is digested, and to adapt the course trajectory.
In addition, you can configure branching scenarios. That way, you'll be able to create a course with a complex structure to provide an individual learning experience for each student. Of course, this work will take time.
Interactive Modules
The choice of built-in Captivate interactions is great: from standard clickable buttons to small games like catching letters in a cart by shifting your smartphone left and right (these types of games are implemented as widgets). In addition, you can create cool custom interactions. Thanks to the built-in system variables, you can give your imagination free rein by working with the states of each object.
By the way, it will be easier for you if you have some basic programming skills. Of course, you won't have to actually write code, but understanding the principles will help you to see how it works.
Built-in Audio & Video Editor
For quick recording and editing of video, you can use the VideoDemo mode, and for recording a separate audio track, you can use System Audio.
However, Captivate's strong point is its special editor for recording screencasts and software simulations. The editor captures and highlights mouse movements and clicks, and adds pop-ups with tips and comments to perform actions. Plus, Mac users can connect their iPhone or iPad and record what's happening on their screens. If your main goal is to teach how to use a program, Captivate is a good choice.
Communication Skills Training
There's no specialized built-in dialogue simulator for training communication skills in Adobe Captivate. However, you can create similar simulations on your own with the help of effects, triggers, slide settings, and a library of ready-made characters. Of course, it will take some skills and time.
Captivate license holders have access to the eLearning Brothers content library of 75,000+ assets, where you can quickly find the necessary graphics, templates, and more.
МLearning
Letting courses go mobile is the main mission of Adobe Captivate, and the tool really deals well with the task. You create a version of a course for desktop, and Captivate adjusts it to the size and orientation of the screen (portrait or landscape) of a device. You can see how the course will look on iPhone 6, iPhone 7+, iPad, Google Pixel and Galaxy S6, or manually add the screen size of any device you need.
If the automatic display adaptation for a mobile device isn't correct, you can configure it manually. For instance, you can remove some objects from the mobile version so they don't crowd the screen. Plus, Adobe Captivate has a unique feature called Fluid Boxes. These are containers for text, pictures and other objects on the slide. Thanks to these boxes, the tool automatically creates sensible mobile versions, and you spend less time on fine-tuning versions for different devices.
In addition, Adobe users have a special app for iPad called Adobe Captivate Draft. It's convenient for prototyping courses or showing projects to stakeholders. Corrections can be made right on the spot, then the course can be imported into the Adobe Captivate editor.
Summary
Adobe Captivate is unmistakably unique: it has its own look, feel, and unique features. This is a great program if you want to provide your students with an extensive mLearning experience. It's also great at creating software simulations.
Pros

Cons

Monthly subscription or a lifetime license

Software simulations

Custom interactions

Extensive mLearning capabilities

Can publish courses as mobile apps

Mac OS support

Requires training before it can be used at its full capacity

No mobile app for offline course viewing

4. Camtasia
Rating: 4.5/5 – 114 reviews (G2 Crowd)
Platform: Windows, Mac
Price: $199 per one lifetime license
Discounts: No information
Trial: Free 30-day trial
Guarantees: No information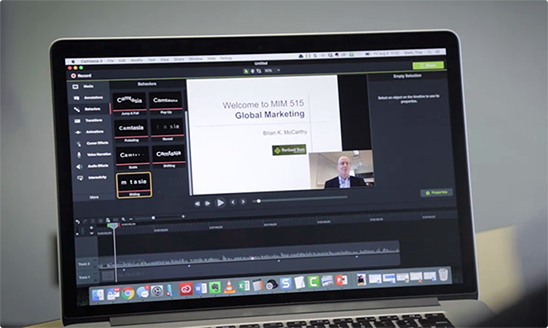 Overview
Camtasia is perfect for people who love to use video in their e-courses. Using Camtasia, you can perform any task related to recording, editing and publishing video lectures.
Learning Curve
It's easy to start using Camtasia: a few minutes to install, a few more to learn the interface. The purpose of each button is clear. Even if you don't have any experience with video editors, you can easily record your first video lecture.
Assessment
Despite the fact that Camtasia is a video editor, you can add test questions directly into your video lecture and check how well students are learning the material. The program allows you to create four types of questions, send responses to email, and save the results in SCORM 1.2 and 2004.
Interactive Modules
This feature is not provided.
Built-in Audio & Video Editor
Camtasia will provide you with everything you need to record videos from the screen and webcam. In addition to the standard set of crop/mute/trim tools, there's a whole bunch of additional features.
Add effects to a cursor, highlight important elements on the screen, insert pop-ups and tips, zoom in, and much more. All this will help make your videos more interesting and informative.
The tool also includes a speech recognition program. Thanks to that, you can add subtitles without too much effort.
Communication Skills Training
This feature is not provided.
МLearning
This feature is not provided.
Summary
Camtasia is a video editor that perfectly combines functionality and ease of use. If you plan to create e-courses that contain only video content, then Camtasia is a great choice. However, it has a narrow set of capabilities. So, if you would like your course to require more learner input, or create full-fledged interactive HTML5 courses with text, testing and exercises, use Camtasia as a secondary tool.
Pros

Cons

Easy to use

A lot of video effects

Relatively low price

Mac OS support

Limited functionality for creating full-fledged courses

5. Lectora Inspire'17
Rating: 4.0/5 – 36 reviews (G2 Crowd)
Platform: Windows
Price: $2,174 for one lifetime license + sales tax
Discounts: Academic, government discounts
Trial: Free 30-day trial
Guarantees: No information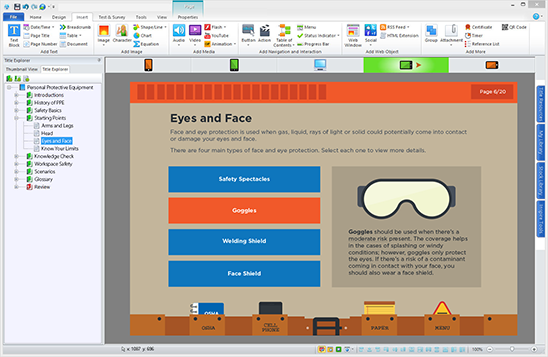 Overview
Lectora Inspire is a bundle of tools for people with different needs, from creating simple slide-based courses to hardcore custom projects.
What makes Lectora Inspire different from other tools is the amount of external services included. When you purchase a license, you get access to eLearning Brothers templates, characters and Interaction Builder, BranchTrack dialogue simulator, Camtasia and Snagit video editors, and ReviewLink collaboration service. A license for Lectora Inspire and the additional Snagit and Camtasia components is good for life, but to keep on using ReviewLink, BranchTrack, and eLearning Brothers, you will have to prolong the maintenance.
Learning Curve
Some users compare Lectora's interface with PowerPoint. In fact, it resembles PowerPoint only in the design of its toolbar. If you are a novice developer, keep in mind that it'll take up to a month to master the tool.
Behind the Lectora Inspire interface is the metaphor of a book. The structure of the course is analogous to a book, which is divided into chapters, sections and pages. It is assumed that this content organization paradigm will be intuitively understood by course developers and teachers.
Assessment
The quiz editor allows you to create nine graded and three non-graded questions. In comparison with other tools, that's not a lot, but the questions can be customized. For example, you can choose different designs for buttons and checkboxes.
Also, many will like the built-in function of issuing a certificate after a test is successfully completed.
Interactive Modules
The Interaction Builder by eLearning Brothers is responsible for interactive modules in Lectora Inspire. You can add 17 types of interactive content: from popular drag-&-drop to whole animated mini-games like "Who Wants to Be a Millionaire?"
One of Lectora's strongest points is its extended capabilities for building custom interactions. If you have programming skills, you will be able to create unique learning experiences with the help of programming code, external libraries, and scripts.
Built-in Audio & Video Editor
The built-in Lectora audio and video editors have limited recording capabilities: cut and paste. However, after buying a license, you get access to the full version of Camtasia Studio for quickly creating spectacular screencasts, and Snagit for making screenshots and processing graphics and video, so you can take the best of all the tools and make ordinary videos interactive.
Communication Skills Training
Lectora Inspire license owners get access to the BranchTrack service. This is an interactive tool for creating dialogue simulations: communication with customers, mastering scripts for negotiations, etc.
With the eLearning Brothers content library, you can simulate a realistic situation: select a character and a location to surround learners with familiar context. And with the help of a dialogue tree, you can make a true-to-life branched scenario so that trained staff members can answer any customer question.
Unfortunately, one cannot get acquainted with the service with the trial version of Lectora Inspire.
MLearning
Among the advantages of the Lectora tool is the ability to create responsive content. You can manually configure the versions for PCs, smartphones and tablets for optimal display on each type of device.
Summary
Lectora Inspire is a powerful yet complicated tool. It allows extensive augmentation via programming code, external libraries, and scripts. Because, of this robust environment, Lectora requires developers to be well-trained.
This is a good choice if you are an experienced developer with programming skills, have a designer on your team, and build courses that are mostly based on complex interactive elements. It will also appeal to those who like to control every aspect of the authoring process and manually create hardcore custom elements.
This might not be the tool for you if you are a novice developer, your budget is limited, and deadlines are tight.
Pros

Cons

Easy to extend via external code, library, and/or script

Suitable for mLearning

Focus on WCAG/s508 accessibility

Collaboration function (ReviewLink)

Extensive online community

The most expensive of the reviewed solutions

Steep learning curve

Must prolong maintenance to use some of the included services (ReviewLink, BranchTrack, and eLearning Brothers)
We would like to express our gratitude to the following e-Learning experts for their help with this material:
Joe Ganci

, an eLearning consultant, the owner of eLearning Joe.

Michael Sheyahshe

, a Developer and a Technologist at alterNative Media.

Alexander Lopar

, an e-Learning developer, an expert in HR and corporate learning.

Andrey Matjukov

, an e-Learning developer, the winner of EdCrunch Award–2016.

Vladislav Volokhov

, an Adobe Certified Expert, the founder of Captivate community in Russia.

Anna Tsareva

, an instructional designer and an e-Learning expert.
This is the first edition of this article, but not the last one. We're open to dialogue, so if you want to contribute your experience and make this material more useful and objective, please contact the author at olga.kokoulina[at]ispringsolutions.com, or leave your comments below. Thank you!