December 11, 2015
3 Reasons You Need A New Employee Training Checklist and One to Get You Started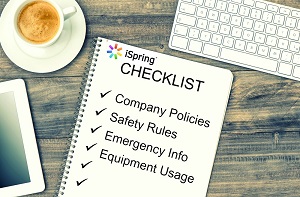 Hiring a new employee can be a costly adventure: "Not every new hire will demand the entire process, but even an $8/hour employee can end up costing a company around $3,500 in turnover costs, both direct and indirect."
Those costs don't factor in the brain drain that occurs when an employee leaves, taking their knowledge and experience with them. It is essential, therefore, that new employees (and existing ones) receive ongoing training: all the evidence shows that timely and relevant training are strongly tied to employee engagement.
For existing employees, it's important that "…employees have to see the link between where they are now and where they want to get to and how training is going to bridge this gap." Source
So what about new employees?
Why do you need new employee training?
Providing a positive orientation period for a new employee accomplishes several things:
It helps a new employee feel comfortable and allays any anxiety they might be feeling;
It helps a new employee understand the organization in terms of mission, work structure, expectations, rules and regulations;
A new employee becomes socialized to the existing staff, including management level.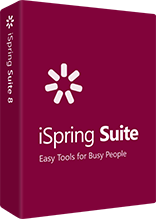 Fully-stocked eLearning authoring toolkit for PowerPoint. No training required to start!
Why do you need a new employee training checklist?
A checklist is simply a knowledge management tool that helps the organization avoid the expensive pitfall of reinventing the wheel. It also ensures that new employees are treated equitably and provided with all the information that they require to be successful in their new roles.
Whether most of the training is on the job or an e-Learning environment or a blended approach, having a consistent checklist ensures that no essential aspect of the the organization or the individual's role is being overlooked.
What should the checklist include?
The checklist needs to be made up of standard organizational information and specific items that reflect the role that the new employee is undertaking. That said, there are some general areas which should be covered. Many of these are the kind of things that can be communicated in an e-Learning or mobile learning format.
Company policies and regulations – reflecting human resources issues such as absenteeism, holiday policies, complaints procedures, performance reviews and the like. While this is likely covered in a staff handbook, it's important to ensure that this book is read and acknowledged by a new employee. This can all be managed through an eLearning tool, to ensure that questions can be posed but the employee can take their time to review and understand the material.
Safety rules and regulations – even an office based role can have safety considerations (and no, we're not referring to paper cuts!)
Emergency procedures – what to do and whom to report to in case of an on-site emergency situation.
Special equipment usage and maintenance – this could be as simple as where the photocopier is or how to setup the email.
Specific job duties and responsibilities including expectations around start and finish times, limits and permissions of the role, expectations within the role and available e-Learning or other training opportunities for growth.
Having a digital version of the materials being shared with the new employee ensures that they have a resource to return to, if they need to, as well as a forum for asking questions, obtaining necessary forms and generally having clarity on their role and responsibilities. A training checklist will go a long way to ensuring that both staff and management have the information they need, when they need it.
We'd love to hear your ideas. What else would you add to these checklists? Share in the comments below.