How to reset statistics in iSpring LMS
With the new "Reset statistics" option you can clear data on a particular content item, a certain user or a group of users / an organization. To clear statistics, go to the "Settings" tab and click "Reset Statistics" on the left. In the list that will open you'll find all files uploaded to iSpring LMS.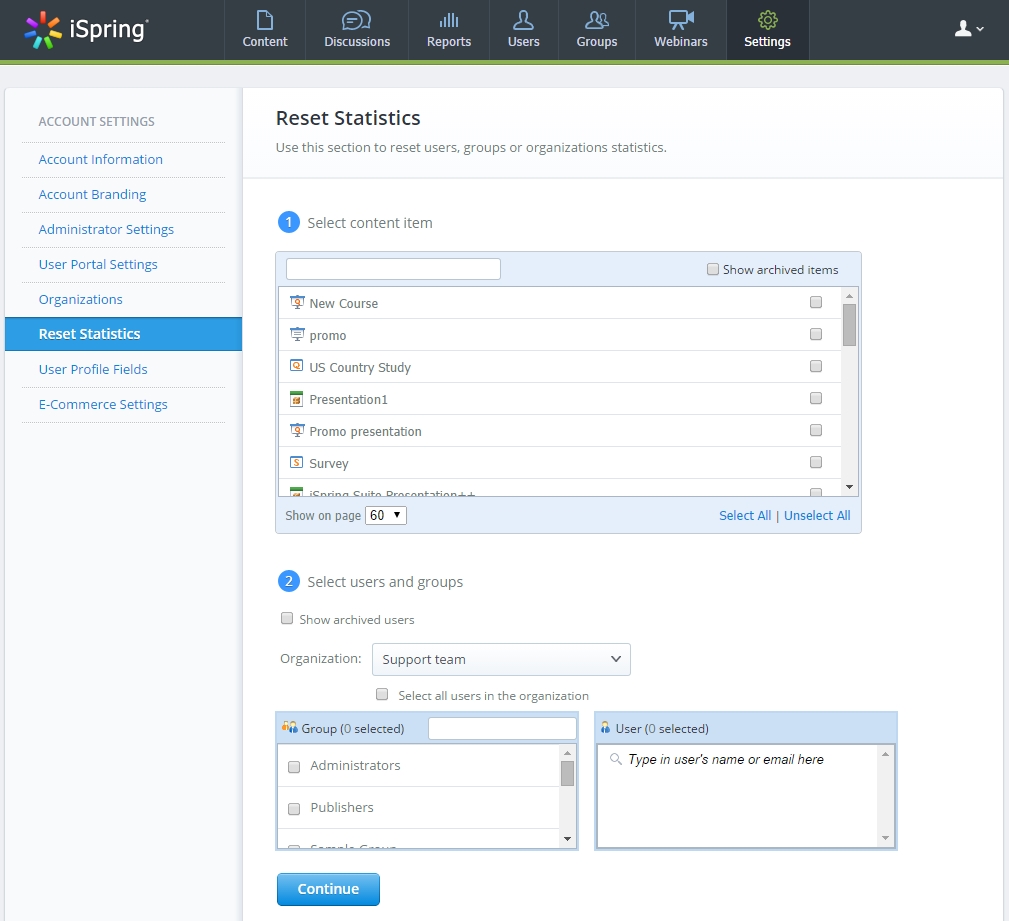 Let's proceed to resetting statistics. It takes just 3 steps:
1

Selecting a content item

Check the box found next to the content item. If you have dozens of content items, use the search field to quickly find the item needed. You can check the "Show archived items" box to clear the data on removed items.

2

Selecting groups and users

Decide which organization statistics you would like to delete and find this organization in the drop-down menu.

In order to remove the data on inactive users, check the "Show archived users" box.

If you wish to reset statistics for all members of the organization, check the "Select all users in the organization" box.

By choosing a group of users in the "Group" window you can clear statistics on this certain group.

To specify certain users whose data you want to delete, type in their names in the "User" window.

3

Deleting statistics

After you have selected organizations, groups and users, click "Continue."

You will see a short summary: Selected Items and Organization. If any changes need to be done, click the "Edit List" link. To clear statistics, click the "Reset" button.

After clicking the "Reset" button, you will see a message stating that the statistics were reset successfully.

Now you know how to clear data for any organization, group or user in 3 simple steps as well as how to keep full control over your statistics.
Was this article helpful?
Thanks for your feedback!
Your request to iSpring has been submitted.
Please check your email for support replies. We reply to every message asap. If you don't hear back from us, check your spam folder and add to your list of approved senders.
Oops! Something went wrong...
Please contact them at .