July 22, 2022
onCOGITE: "With iSpring, we managed to deliver 31 cognitive recovery courses to cancer survivors"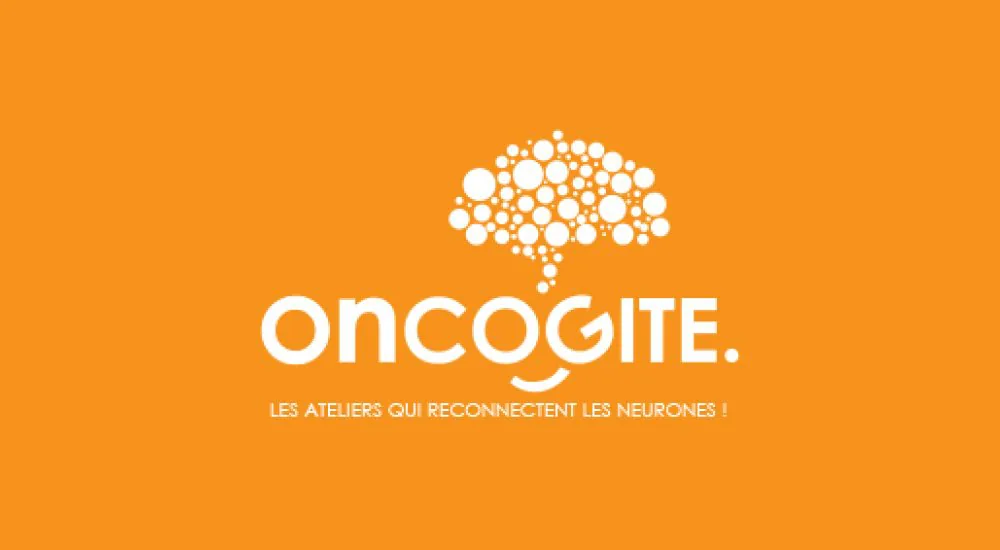 onCOGITE is a mental health support association based in Bordeaux, France. It is focused on helping cancer patients who experience cognitive change and mental cloudiness during chemotherapy post-treatment. onCOGITE brings together neuropsychologists who run cognitive remediation courses in groups and support learners in online brain exercises. Activities provided by onCOGITE help hundreds of cancer survivors in France rehabilitate and live a full life.
Véronique Gerat-Muller, President of onCOGITE, shared how iSpring helped onCOGITE preserve exercises as intended and facilitate secure content delivery when the association had to move their work online.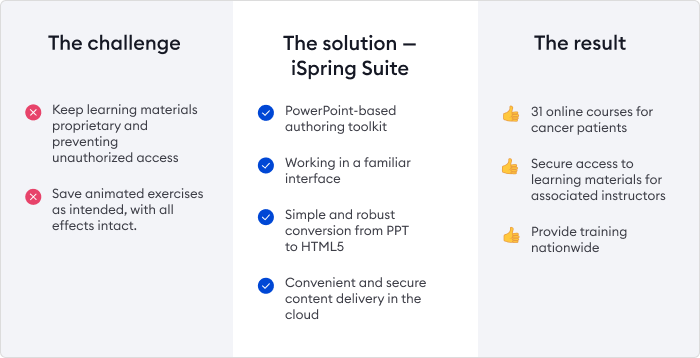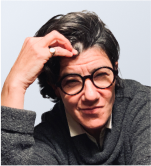 onCOGITE Background
The history of onCOGITE begins in 2019, in The Institut Bergonié, which is a comprehensive care center for cancer patients in Bordeaux. Back then, I realized that cancer survivors face a challenge that stands out from many others and is often hidden from view and kept secret. It's called chemo brain syndrome and manifests in cognitive decline, difficulty with attention and memory, mental fogginess, and other symptoms.
Chemo brain results from undergoing chemotherapy and impairs the quality of life of those who have just overcome cancer and had hoped that it was all over. That's why I founded onCOGITE to help cancer patients in France repair brain pathways with a series of mental exercises based on the original method.
The Challenge: Sharing Online Materials Safely with Remote Instructors
As a group of neuropsychologists, we initially set up cognitive remediation workshops for breast cancer patients. The workshops included brain training exercises that boost cognitive functions, like concentration, memory, or dual-tasking. Our fellow instructors, who applied to participate in the onCOGITE association, implemented these exercises with groups of patients.
We saw the genuine enthusiasm of our participants and understood that our work was highly relevant, and that we were onto something. Up until March 2020, we had conducted our face-to-face workshops in the physical classroom setting. Then, lockdown policies required everyone to stay at home and especially those at risk – our cancer patients.
It was evident that we needed to move our workshops online and transform them into virtual training sessions. We established an online platform that provides digital materials to neuropsychologists so they could use standardized materials for learning and practice. Since brain exercises constitute the bulk of the learning content, when moving online, we needed to convert them into a suitable format safely. Our priority was protecting our work from unauthorized access and keeping it proprietary.
Initially, I embedded our exercises as animation slides into PowerPoint presentations. I published those PPTs on our platform where instructors could access them. But it didn't guarantee the needed level of data protection, which was a priority. So, I found myself wondering which tool would help us address that challenge. Then, a professor from the University of Bordeaux recommended I try iSpring Suite.
The Solution – iSpring Suite
iSpring Suite really had everything we needed to create and share digital brain exercises safely. As the person responsible for content creation, I particularly liked the fact that the tool is PowerPoint based. I didn't need to master any complex techniques and just continued to work in the familiar interface. Now I simply build a sequence of exercises in PowerPoint and then convert a PPT into HTML5 with iSpring Suite. It can take approximately 3 days to create a course with PowerPoint, but publishing it with iSpring Suite is instant.
This is an example of brain exercises that we at onCOGITE have for learners.
Patient training at onCOGITE starts from weekly 90-minute virtual sessions. During each session, 10-12 patients meet with their instructor, receive comfort and support, and practice exercises to regain a certain level of cognitive performance. This cognitive remediation course lasts between 4 and 6 months. After about ten sessions, patients can intensify training and start completing online exercises on their own in their free time.
All our exercises are beautifully simple, but they do require animation effects to work. With iSpring Suite, I can be sure that all these effects will be intact in HTML5 as well. In addition, it is great that we can change the types of buttons on slides. Whatever effects I plan, the output is always very neat and clean, and looks good on any screen.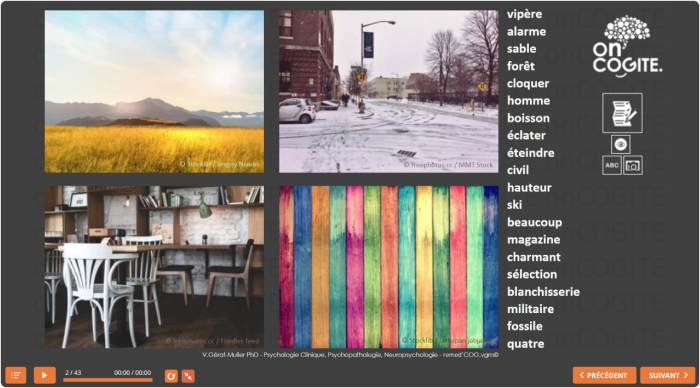 As for the content delivery, we make great use of iSpring Space. It's one of the components of iSpring Suite Max. Its extended functionality lets you store and deliver courses in the cloud, as well as collaborate on them simultaneously.
We leverage iSpring Space to prevent unauthorized access or our learning materials getting leaked. It also helps us manage the access of certain collaborators to specific folders in which they find needed support materials and then share them with learners. With iSpring Space, we have finally achieved the desired level of data protection: our files are only available on the platform and cannot be downloaded to the computer.
The Results
We've managed to establish systematic training and use iSpring Suite to implement every stage of training. The tool has helped us convert and share 31 courses with our community securely, via iSpring Space.
Over the last four years, onCOGITE has grown and expanded its activity throughout France. We now have 22 independent neuropsychologists, as well as local volunteers who help us greatly. The challenge of moving online, which the COVID-19 pandemic imposed on us, has actually driven us forward and made our services available for patients not only in Bordeaux, but nationwide. Thanks, iSpring for providing us the software solution that set our online activities and exercises up for success.