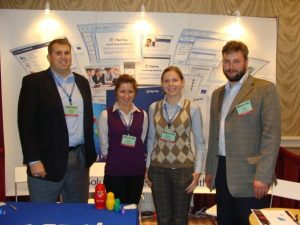 Our team successfully participated in DevLearn 2009 Expo hosted in a beautiful Fairmount San Jose Hotel 10-13 November of this year. The event held by eLearning Guild gathered over a thousand of participants. The marketplace Expo was represented by a winning collection of vendors that featured a great variety of tools for eLearning authoring.
Just like any other eLearning Guild event, DevLearn 2009 was perfectly organized and we are proud to have joined it again this time. We had a wonderful time and very productive too. Honestly, we hadn't expected that many visitors at our booth, so we ran out of all the hand-out materials and souvenirs pretty soon. So for the next tradeshow we will make sure we bring more. Out of the iSpring product line, eLearning professionals showed the greatest interest in iSpring Presenter course authoring tool, which is not surprising as this product comes with a QuizMaker option and audio and video narrations recorder that are so important for course creating. As for the giveaways, iSpring wooden dolls had a great success and became an absolute unofficial symbol of our company. People thought it was nice to take back an authentic piece of art brought all the way from the iSpring developers' home country of Russia.
We are looking forward to seeing you at our booth at Learning Solutions Expo on March 24-26, 2010, in Orlando, Florida. Come meet us there, learn more about our products and, of course, get your iSpring wooden doll as a unique handmade souvenir from overseas.
Fully-stocked e-Learning authoring toolkit for PowerPoint. No training required to start!