March 24, 2018
What's new in iSpring Suite 9.0
Interactive diagrams, timelines, media cards, and 9 more ways to present training content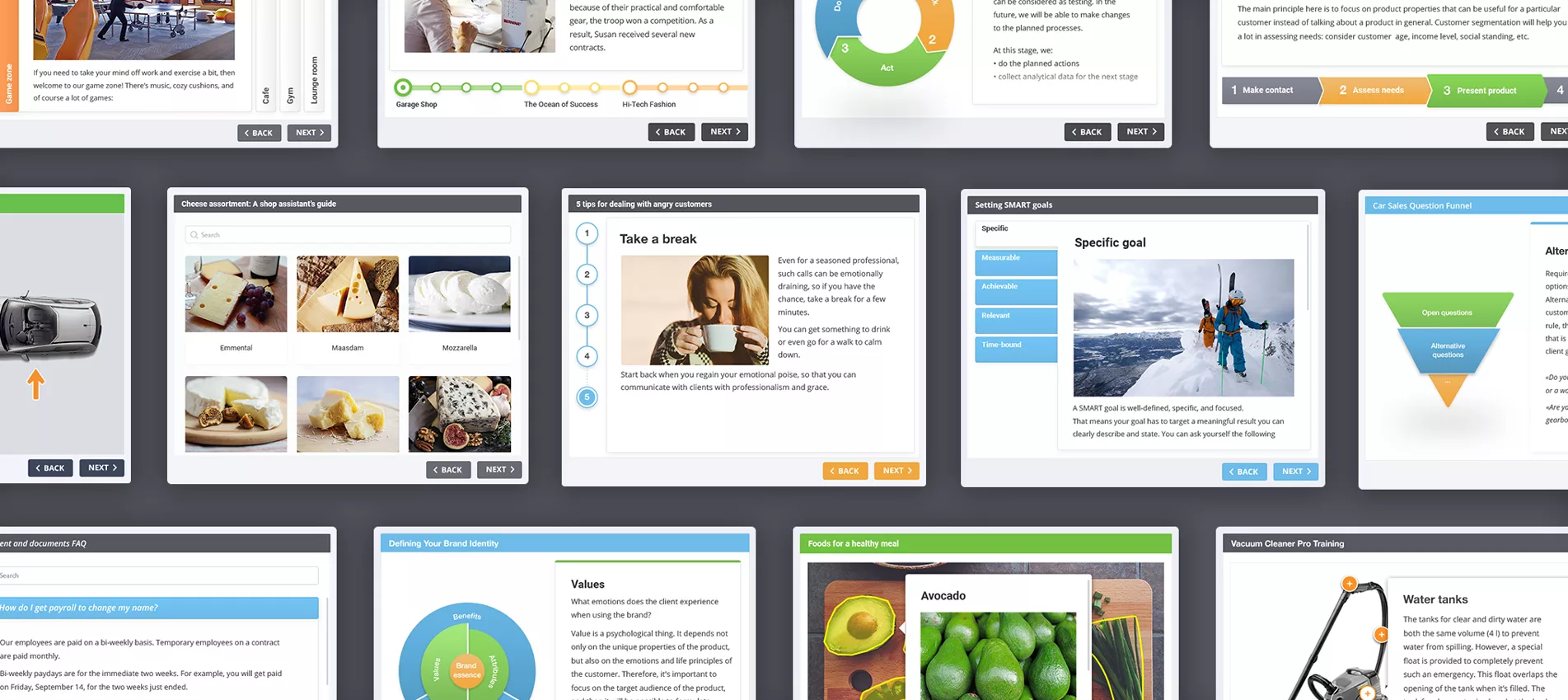 iSpring Suite 9 introduces 12 interactions for use in a huge variety of training situations. With these interactive templates, you can present your training content and engage learners. For example, interactions will help you show product development stages, transaction cycles, or the history of your company.
Working with interactions is no harder than heating up a slice of pizza: just choose a suitable template and fill it with your text and images. Interactions have a customizable design that's easy to fine-tune to match your corporate style.
Let's dive into some examples of how the new interactions will help you present course content and engage learners with a lot less work.
Tabs
This interaction will help you present well-structured content in a compelling way. For example, in a management course, you can explain how to set SMART goals or describe how a SWOT analysis is conducted.
FAQ
When a new employee starts their onboarding program, they have a lot of questions on corporate software, duties of team members, and payroll. With this interaction, you can create an engaging FAQ that will help newbies get answers fast without distracting employees from their tasks.
Glossary
Quickly create a glossary of terms, a directory, or a catalog with easy navigation. For example, you can compile a catalog of insurance products to quickly introduce newbies to this topic. Or, if your company is launching an e-Learning department, create an e-Learning glossary so that all employees can speak the same language.
Accordion
With this interaction, you can show a call handling procedure, or even organize an online office tour for interns so that they can explore your office and their future workplaces.
Timeline
This module will show an employee the key events of your company's history and explain to them how your values were formed. In a product training course, a timeline will help you present the product development stages to track changes from one version to another.
Steps
This interaction will help you train your employees to act automatically in problem situations. For example, you can use Steps to provide your tech support with a step-by-step guide on how to deal with an angry client, or describe the procedure for dealing with a fire in a general safety course.
Cyclic process
This interaction will be of help if you create e-courses on industrial processes and safety. For instance, you can show how part cutting or raw material processing is performed. With this template, you can show any repetitive process; for example, the Deming cycle, which is a cyclic decision-making process that is used in quality management.
Pyramid
With this template, you can explain your company hierarchy. Plus, it's a great template to use in soft skills training to show, for example, the Minto pyramid principle, which can help people communicate more effectively. Besides the standard pyramid, you can create an inverted one to present various funnels; for example, a classic sales funnel.
Circle diagram
In welcome courses, the Circle diagram will help you visualize your brand values or show how your target audience is segmented.
Labeled graphic
This interaction makes it much easier to describe what a complex device or mechanism consists of, show product features, or teach your employees to work with a new software interface.
Guided image
Draw learners' attention to details when explaining how equipment works, or when describing a complex diagram. One more use case for this template is a course for sales people who need to visually present a product to customers.
Hotspot
With this template, you can present a layout of products or components. And if your company sells products online, Hotspot is a great way to show regions with various shipping options so that managers can answer questions faster. In medical courses, this interaction will help learners to master the structure of human organs and systems.
Media catalog
Create a catalog to help employees quickly navigate through the products offered by the company. It's a great template for product training in the spheres where products can be easily shown visually; for example, if you sell clothes, furniture, devices, or food.
How to get iSpring Suite 9.0
All iSpring Suite users with an active Maintenance Plan will get the new iSpring Suite 9 for free. Just shoot us an email to find out when your Maintenance Plan is about to expire.