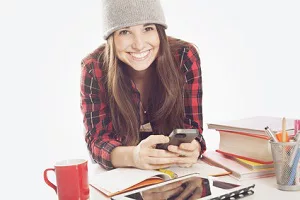 Mobile learning is becoming more and more popular, so our friends from Cell Phone City Advocacy prepared a post where they share statistics on the usage of mobile phones among kids and best practices for e-Learning with smartphones.
There was a time when parents argued whether a child should own a phone or not, or at what age owning a phone is appropriate. That time seems so distant now, when children and teens use cell phones just as frequently as adults do. One proof of the increasing number of teens and children with access to cell phones is the popular family cellphone plans, which include data bundles and features that allow parents to monitor their children's usage and activities.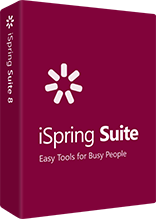 Fully-stocked eLearning authoring toolkit for PowerPoint. No training required to start!
Studies on teen mobile phone use point to a trend of increasing ownership and increasing dependence on smartphones for online access. Some of these studies expound on the learning and educational opportunities that cell phones bring, while some discuss the perils of excessive and unregulated use.
What these studies prove is that as cell phones proliferate among the younger generation, there will be impacts on homes and schools that parents and adults must anticipate. Beyond coping and tolerating excessive phone use, it is vital that parents know how to guide their children in using cell phones and train them to become responsible mobile citizens.
Fast Facts and Stats on Cell Phone Ownership and Use
How many teens and children own cell phones?
More and more teens are staying connected via cell phones. On average, an American receives his/her first cell phone at the age of 12.1 years old, that is, just as he/she is starting middle school.
More than 17.3 million teens or 88% of Americans ages 13 to 17 have or have had access to a cell phone, more than six times the number of teens who do not own a cell phone of any type (12%).
73% of teens, equivalent to roughly 14.3 million, own a smartphone, while 15% (or a little over 2.9 million) own only a basic phone. A basic phone is a mobile phone that can send SMS, call, and perform other functions without requiring the installation of applications. This kind of phone cannot be used to access the Internet, and is sometimes interchanged with the term 'dumb phone.'
How often do teens and children use their cell phones?
In the US, children as young as three years old already use cell phones. Around 27.1 million youths ages 3 to 18 (or 43%) use cell phones and 65% of these young users (or 17.6 million) use their phones daily. The percentages of weekly and less often youth users are 28% and 6%, respectively.
For children ages zero to eight, the average daily time on a mobile device is around 15 minutes, the equivalent of the average time it takes to consume a meal.
Broken down according to gender, cell phone use is more prevalent among girls. 75% of girls are reported to use their mobile devices, compared to boys at 67%.
How do teens use their phones?
Most teens use their phones to go online, with 91% of teens (an estimated 18.8 million) called "mobile teens", or those who go online from mobile devices. At least 94% of these mobile teens go online at least once a day.
These teens go online for social media, messaging, video chats, online discussion boards, or video games. Facebook rules social networking sites, with 41% of teens choosing Facebook as the social media site they use the most.
Teens still use their cell phones to communicate and send messages. 91% say that they use their cell phones for texting, either directly through their network or online. An American teen age 13 to 17 sends an average of 30 texts per day, while calls normally last four minutes or less.
Messaging apps are also quite popular; 5.7 million teens have installed apps such as Kik or WhatsApp in their smartphones.
How many teens and children bring their phones to school?
A fair number of students bring phones to school. One in four students takes a smartphone to school every day; that's 15.8 million K-12 students. For specific grade levels:
Middle School

—28% of students bring smartphones to school every day

High School

—51% of students take their smartphone to school daily
Teens' Attitude towards Cell Phones
How do teens feel about cell phones and safety?
In 2010, a survey revealed that 93% of kids ages 12 to 17 said they felt safer "because they can always use their cell phone to get help."
How do teens feel about cell phones and learning?
The majority of students think that communications with teachers can improve with the use of cell phones. 46% of all K-12 students view smartphones as the ideal device for communicating with their teachers, while 72% of the students think smartphones are the best devices to use when communicating with classmates.
How do teens view their cell phones as a means to interact and connect with other people?
Connecting with other people is one of a phone's main uses. 45% of teens say that cell phones allow them to feel connected to their social world.
Texting is a major social activity, with roughly 17.3 million saying they text friends occasionally, while 10.8 million teens admit to texting friends daily.
Cell Phones and Parenting: Rules and Etiquette
The question for parents today is not, "Are my kids ready to own and use a cell phone?" Instead, more parents are asking, "How can I guide and regulate my child's use of this device?"
Tracking and monitoring
Among smartphone users ages 8 – 17 years old, 43% say that their parents occasionally check their smartphones.
Using different tracking apps, parents monitor the following:
Web activity

—What websites or pages does my child visit?

Social activity

—Who are the people my child interacts with using their cell phones?

Apps usage

—What apps does my child use the most?

Location via GPS

—Where does my child go?
However, some kids are not aware that their parents are checking on them. In a survey among parents of K-12 students, 35% confessed to occasionally monitoring their child's phone without their knowledge.
For ease of access, 20% of parents prohibit their children from password protecting their smartphones. More parents allow children to use passwords if the children share them with parents.
Bad Smartphone Habits by Teens and Tweens
Unregulated cell phone use can result in bad habits and incidents that can harm children and teenagers.
Texting while driving

— The risk of a car crash is four times higher when a driver is using a phone, regardless of being hands-free or not.

Cheating in school

—In a class of twenty, at least 7 students have cheated using their phones. 35% of teens admit to using a cell phone at least once to cheat at school. Common cheating methods include storing notes, leaking test questions, and looking up answers on the internet.

Sexting

—An estimated 3,477 cases of youth-produced sexual images were reported to US state agencies from 2008 to 2009. Right now, there are eight states protecting minors from sex offenders using 'sexting', while 14 states have proposed bills pending in legislation.

Bullying

—According to a High School Youth Risk Behavior survey, 13,501 students surveyed nationwide have experienced electronic bullying (e-mail, chat rooms, instant messaging, websites or texting).
Smartphone Talk
Besides tracking and monitoring, having productive conversations with children can help guide them towards proper cell phone use.
The following are important talking points with children and teenagers when it comes to cell phone use:
Use of Apps
Download apps from legitimate sources ONLY
Read the license agreement before installing
Use parental controls to block invasive and inappropriate apps
Use of Social Media
Accept friend requests ONLY from people they know
Avoid giving private information such as home address and contact number
Report suspicious accounts immediately
File-video sharing
Take care in sending files or documents, as these can be easily copied and spread
Rules, limits and monitoring
Get a phone that suits your child's needs
Set a curfew to prevent losing sleep due to phone overuse
'Smartphone contract'
A Smartphone Contract between a parent and child is a contract containing a clear set of rules regarding cell phone use. Only 26% of youths have 'contracts' with their parents.
A Smartphone Contract usually contains rules about the following:
Security
Cyberbullying
Texts and calls
Internet access
App installation
Taking photos and videos
Use of cellphones in public
Use of cellphones during meal times
Responsibility over cell phone damage and repairs
Cell Phones in Schools: Opportunities for Learning
The use of cellphones in schools is still a long way from being a mainstream learning method. About 3 in 4 (72%) parents of K-12 students say that their children's school does not allow students to use family-owned mobile devices in the classroom. In contrast, only 16% of parents say their children's schools permit the use of mobile phones during class.
In schools where mobile devices are provided and allowed for learning, there are rules to be followed. Almost 4 in 5 parents (78%) of K-12 students say that their children's school implements a mobile device policy.
Progressive schools and educators take advantage of the ubiquity of cellphones in the daily lives of teens and children to make learning more interactive and productive. Cellphones, especially smartphones, are useful learning aids. With the array of functions and apps that a smartphone has, it proves to be a handy tool that helps students and educators do the following:
Top 10 Uses of Cell Phones inside Classrooms
Research
Snapping photos
As an e-reader alternative
Chat rooms
Sharing through blogs
Google SMS on the rescue
Mobile diaries
Tracking students' behavior
Calling a friend
Scanning codes
US Schools and Districts with Best Practices on the Use of Smartphones for Education
State

School

Innovation

North Carolina

Onslow County Schools

Most students of Onslow County do not have access to the Internet or even a computer at home. Through the Project K-Nect and its sponsor Qualcomm, Onslow County Schools received smartphones that would be used to bridge any learning gaps.

This school district used smartphones to teach Algebra I, Algebra II, and Geometry, aiming to improve the performance of several economically-challenged schools in math achievement tests. The district has observed higher rates in standardized tests since joining Project K-Nect. A study even found that the students with smartphones performed 25% better on their year-end algebra test than the previous year.

Colorado

Cimarron Elementary Schools

Fifth grade students in Cimarron Elementary School can use their smartphones in class to do web quests, check vocabulary and reading websites, graph science lab results, and communicate with their teachers. A year after allowing smartphones in classes, the school reported that fifth graders received higher test scores in math and science.

Minnesota

Crosby-Ironton High School

High School Science teacher Bob Kuschel allows students to use cell phones while working on lab or class assignments, except during lectures. He believes that cell phones improve the students' access to information and can increase interest in the coursework. True enough, his students improved and earned higher grades thanks to this hypothesis.

Minnesota

Mounds View High School

This school permits students to bring electronic devices to class, including smartphones. The school district has emulated Mounds View High School, and has approved a district-wide measure on bringing technology to the classroom. The Mounds View Policy states that the use of technology is a privilege and not a right, laying emphasis on the students' responsibility to follow rules on tech use while inside the classroom.

California

Lincoln Middle School

Sixth graders at Lincoln Middle School use cell phones to finish assignments, write essays, and track experiments. Called 'mobile learning devices,' these cell phones have been stripped of texting and calling functions and only allow for limited internet access. Teachers report higher interest and student engagement since the program started. This program is supported by Sprint.
Must Have Apps for Parental Guidance
The following are apps that aid parents in monitoring and guiding their children, especially teens, towards becoming responsible cell phone users.
Parental Control Board
Google Play Store Rating: 3.5/ 5
Downloads: 10,000
Parental Control Board allows parents to manage their child's cell phone activities even from a distance. The app can set up a timetable for cell phone use, prohibit certain sites and content, and contains alert features for emergencies.
Qustodio
PC Mag Rating: 4.5/ 5
Downloads: 100,000
Qustodio filters websites, blocks pornography sites, and monitors calls, SMS, and web activities. It can also track your child's location up to 30 days back.
Screen time
Google Play Store Rating: 4/ 5
Downloads: 100,000
Screen time uses keyword-based blocking and white/black lists to protect your children from unwanted content. It also tracks your child's Facebook and Instagram activities.
Educate with E-Learning
PBS Learning Media reported that 74% of teachers believe technology motivates students to learn. Parents also agree, with 71% saying that mobile devices open up learning opportunities. Here are e-learning apps that parents and teachers can introduce to students:
Class Dojo
Google Play Store Rating: 4.5/ 5
Apple Store Rating: 4.5/ 5
Downloads: 1 million
Turn class into an interactive learning session with Class Dojo. This app allows parents to check on their child's progress in real time via a messaging app that connects parents to teachers.
Classmessenger
Google Play Store Rating: 4.1/ 5
Apple Store Rating: 4.5/ 5
Downloads: 10,000
A unique messaging app, Classmessenger will keep parents, teachers and students on the same page. This app allows users to send photos, attach documents, and conduct surveys.
Zite
Google Play Store Rating: 4.1/ 5
Apple Store Rating: 5/ 5
Downloads: 500,000
Looking for an intelligent reference for students? Download Zite, a magazine app loaded with content on every topic under the sun. This app is optimized for all types of mobile devices to provide you with enjoyable reading time.

Christopher Ang is currently the lead editor, marketing strategist, and social media person for Cell Phone City Blog, an Online Resource for the latest iOS and Android Technology and Apps. He has an extensive background in journalism for almost 7 years and a Bacehlor's degree in Culinary arts. He recently found a calling in the area of building engagments through the sharing of in-depth knowledge on e-Lerning and everything in between.
Twitter: https://twitter.com/cjojw
LinkedIn: https://www.linkedin.com/in/angchirstopher