September 23, 2014
How to create great PowerPoint presentations: simple tips
Number 1 goal for any presentation creator is to engage the audience. When it comes to designing PowerPoint slides, visibility is definitely the key point. You need to choose proper combination of colors, templates, fonts, animations, graphic files and text.
To simplify your creative process and help you make your slides powerful and effective, we have prepared these simple but valuable tips: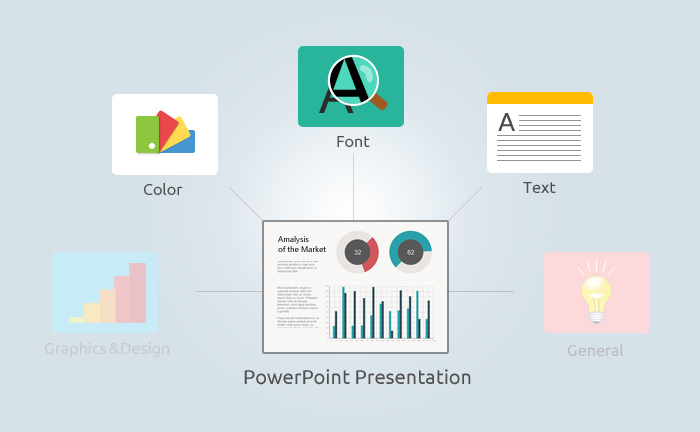 Font
When deciding what font to choose for your presentation, make sure you use the one that is readable and suits your company image. Sans-serif fonts which are plain and simple like Arial, Helvetica, and Calibri work best.
Font size should be big enough so that the audience could decipher the text easily. 24 points is the minimum eye-friendly size for text. Choose a larger font size for headlines, 36-44 points.
Try to avoid ALL CAPS.
Use italics sparingly, just to emphasize a certain word or phrase.
Color
The right color usage can increase interest and retention. If you'd like to draw your audience's attention, play with contrasting colors. Stick to 3 or 4 colors.
Avoid light text on dark backgrounds.
According to scientific studies, 5-8% of people have problems distinguishing colors. It might be a good idea to limit the usage of the green-red contrast on slides.
Read more about color combinations →
Text
Follow the 6×6 Rule: no more than 6 lines of text per slide, and no more than 6 words per line.
Try to avoid long sentences as well as "word" slides. Use short, bulleted statements instead.
If you expect a positive response to your presentation, do NOT include negations.
Use punctuation sparingly: you can omit full stops in headlines or at the end of a line when using bullets.
To be continued…
Follow our new blog posts to find more tips on PowerPoint content creation.