How about creating great e-Learning courses with challenging quizzes right in your PowerPoint? With the new iSpring Presenter, it's very easy! It has all you need to make your e-Learning courses effective and successful: video and audio narrations, media rich quizzes and surveys and more.
Installed as a PowerPoint add-in, iSpring Presenter appears on a new tab of PowerPoint ribbon to give you access to all of its advanced e-Learning features:
M-Learning courses from PowerPoint
Video narrations and voice-overs
Interactive HTML5 quizzes and surveys
No matter what sphere you work in, iSpring Presenter's professional opportunities will help you create stunning mobile content:
Instructional designers: If you create e-Learning courses for your job, you probably have high demands to the authoring software. iSpring Presenter provides an intuitive interface and an extensive set of professional authoring features.
Educators and teachers: How about enriching your lectures and lessons with a touch of technology? iSpring Presenter allows you to easily create interactive e-Learning courses that will totally grab students' attention. Besides, the courses can be taken from home, which will enable slowly progressing students to catch up.
HR specialists: iSpring Presenter can help you launch e-Learning in your company. Created in PowerPoint and enriched with effective narrations and quizzes, iSpring's courses will be the best way to train new employees or retrain your stuff.
Can't wait to boost your e-Learning materials with the new powerful tool? Take a look at what it can do!
All these opportunities are easily accessible on iSpring Presenter's handy toolbar in PowerPoint.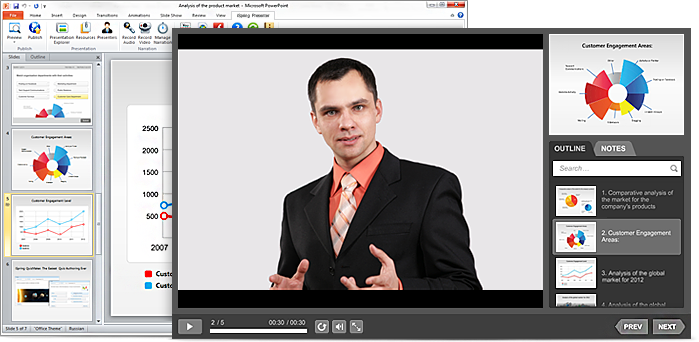 Create mobile e-Learning courses in PowerPoint
The new iSpring Presenter now allows you to create mobile courses that will play on all devices, including iPads. The secret is the conversion of your PowerPoint projects to one of these formats:
Flash (for playback on desktops);
HTML5 (for viewing on mobile devices);
Combined Flash & HTML5 format (for playing courses on all platforms)
As usual, iSpring Presenter preserves all the advanced features of PowerPoint, including animations, triggers and hyperlinks.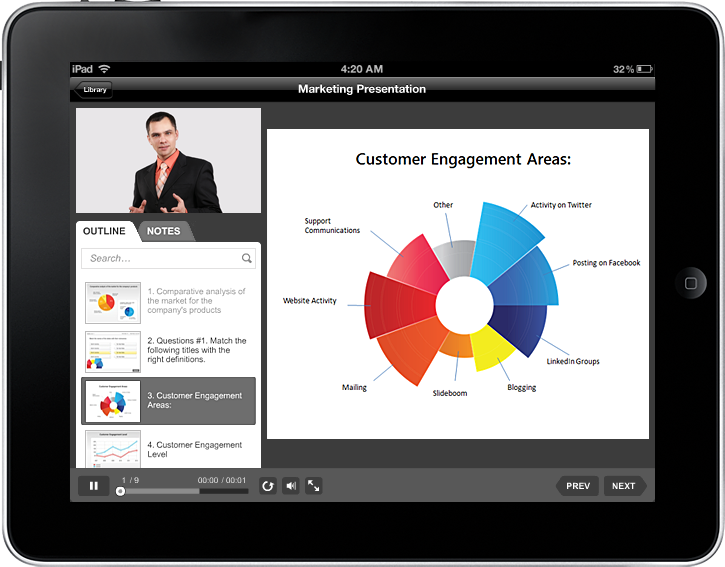 The toolkit also provides professional features for e-Learning authoring, like the ability to build branching scenarios, adjust the structure of the course, control navigation and customize the player.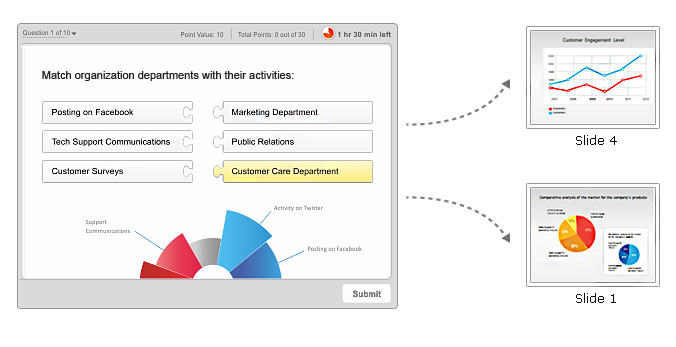 Fully packed with all these professional features, your e-Learning courses now become mobile, so all your students can learn wherever its convenient for them.
Control e-Learning effectiveness with mobile quizzes and surveys
Are you tired of hand-checking all those paper quizzes? Or are you looking for new, effective and innovative ways of testing your students? Then iSpring Presenter is what you need! The new toolkit has been equipped with a built-in QuizMaker. It allows you to create mobile-ready quizzes with advanced opportunities:
Inserted multimedia objects;
Advanced drag-and-drop questions;
Informational slides;
Branching scenarios;
Customizable feedback messages;
Adjustable quiz settings.
Interactive quizzes provide all you need to test students' knowledge and thereby control the effectiveness of your e-Learning courses.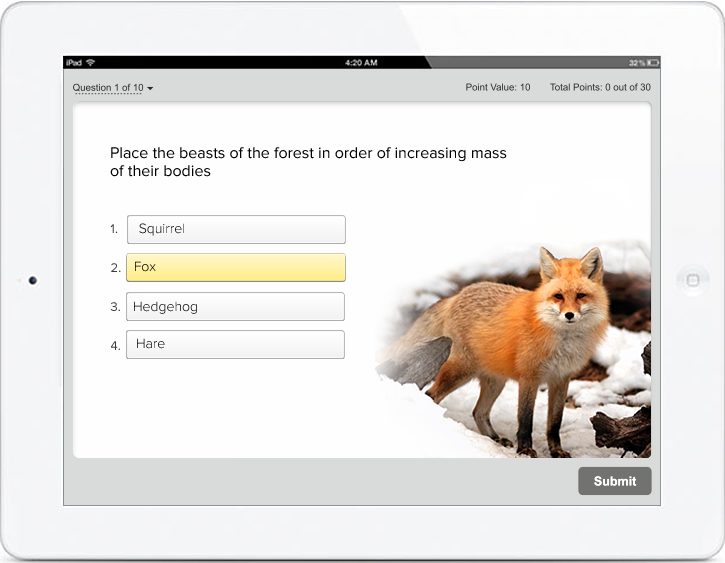 You know what else can make your quizzes more engaging? Video questions! iSpring Presenter allows you to enrich quizzes and surveys with video and audio narrations.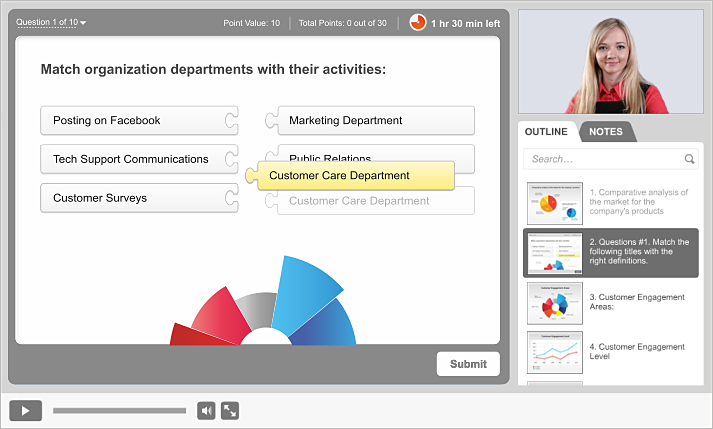 In addition, you can flexibly customize the look of your quizzes so that they blended well with the design of your course player.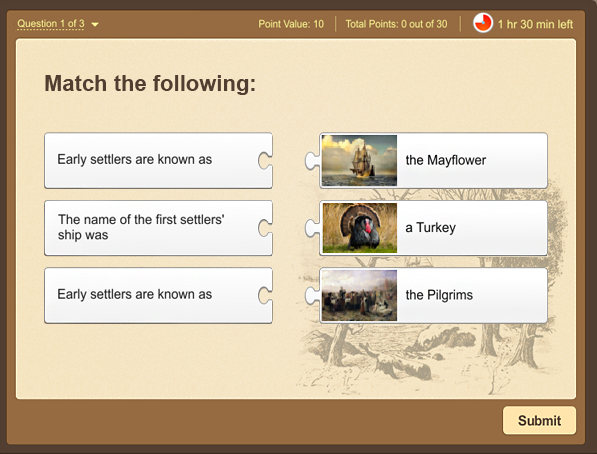 Record informative video and audio narrations
Learning is much more interesting when a teacher is nearby. With iSpring's video recording opportunities, you can actually be there for your students and help them view the slides and learn in the most effective way.
Easily record video narrations for all your slides, or insert and synchronize pre-recorded video lectures. All the recordings will perfectly play on mobile devices. Now your students will be able to take the teacher with them wherever they go.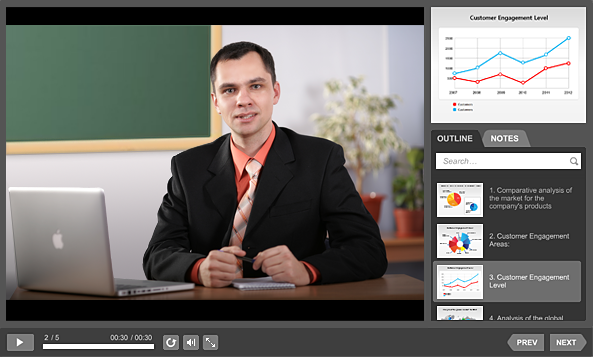 Integrate courses with LMS's
Of course, you're very concerned about the effectiveness of your e-Learning courses. With iSpring Presenter, it can be easily monitored via the LMS. The results and statistics of all created e-Learning courses, quizzes and surveys will be tracked by your LMS.

Once iSpring's course is uploaded to the LMS, it can be easily played on any mobile device, including iPad and iPhone.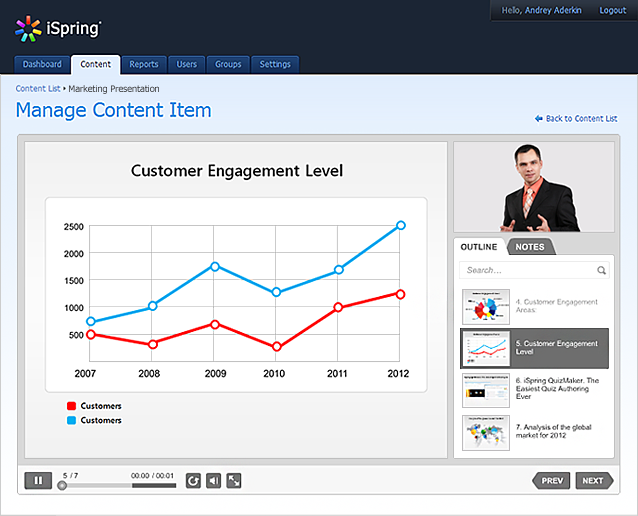 Did you like these features? Request a beta version right now and be among the first to test-drive the new iSpring Presenter!