August 2, 2019
Case Study: How iSpring Helps Effectively Communicate Scientific Information to the Public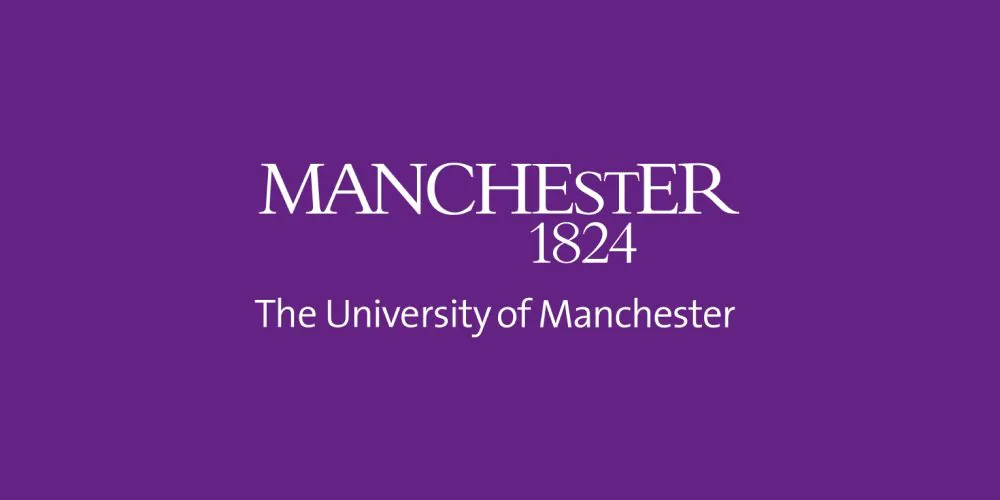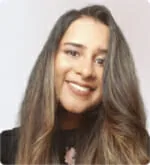 There has always been a gap between scientists conducting research and the public. Science is well documented, but that doesn't necessarily mean it is easily accessible to everyone.
Tahiya Alam, Junior eLearning Support Assistant at The University of Manchester, has done a lot of research on science communication. In this article, she shares her experience presenting scientific information in an accessible and engaging way with the help of iSpring.
The Challenge: Making Information about Alzheimer's Disease Accessible
There is a large consensus that science should be more available to the general public. Researchers have access to a vast amount of knowledge and evidence that underpin informed decision making at a local, national, and international level. The general public should also have access to the information they need to make informed decisions in terms of policy making, in a format they can understand.
During my final year studying Neuroscience at the University of Manchester, I was tasked with a Science Communications project. I was required to produce three pieces of work within this project, based on my research on Diabetes and its links to Alzheimer's disease. This consisted of two scientific articles and a creative piece of effective science communication.
I wanted to make information about Alzheimer's disease available to anyone, without over-simplifying or changing the meaning of the results of the research that was conducted.
My idea was to make a guide for those who were interested in their friend's or family's recent diagnosis of Alzheimer's disease. This guide would provide information about the symptoms, pathology, and diagnosis of Alzheimer's disease. I was also aware that research had shown that the quality of life of those with Alzheimer's disease is improved if people around them are more educated around the subject. During my research about public engagement, I found that a more interactive approach would be the most appropriate way of presenting the information.
Studies have shown that information displayed in a non- traditional format allowed increased retention and attention.
I chose to create the guide with interactivity so the user had more control over their learning and how they accessed information. From a pedagogical point of view, this method of transmitting information was also to allow deeper understanding, allowing more connections to the information by the use of multimedia.
Building an Interactive Alzheimer's Guide with iSpring
I was inspired by some of the tools that were already available on the NHS or Alzheimer's society website. I wanted to make these tools more user-friendly and relatable. So I gathered my research on Alzheimer's disease and then created the scenario to navigate from understanding the pathology to recognizing the symptoms, and then to being diagnosed.
My technical needs were to create a guide which included animations and triggers and allowed me to test the users and have quantitative information about their user experience. With the advice of the eLearning team, I realized my needs were best met with iSpring Suite.
I designed the slides in PowerPoint and created links within the guide using hyperlinks. As iSpring Suite is a plug-in for PowerPoint, a program I was very familiar with, it was very straightforward to use. I was able to build something very interesting without the need to be able to code, and easily make it interactive, fun and colorful using the tools and templates.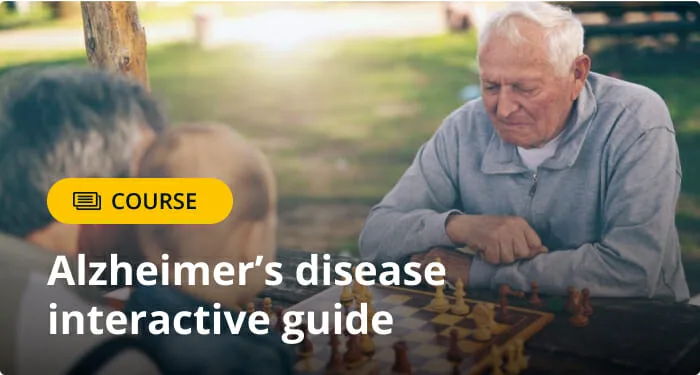 I was able to use scenario-based learning, working through a storyline. Theories which support the situated learning theory propose that scenario methods are effective because they leverage context-based learning. This knowledge is then revisited when you are within a similar context again, learning from your past experiences.
Scenario methods are effective due to context-based learning. When you are within a similar context again, the knowledge is then revisited.
As this project was part of a study I was conducting, I needed to collect information on how effective, useful and understandable this resource was. iSpring quiz tools allowed me to easily create quizzes to assess the knowledge of the subject before and after the resource to gauge its effectiveness, and also some survey questions about the user experience of the resource. I was able to choose from a variety of question types, including multiple choice, fill in the blanks and hotspot to measure understanding in a variety of ways.
Data was very easy to collect. The user entered a unique identifier at the start of each test, and the scores were sent automatically to my email address. This allowed me to process the data and analyze it using statistical tests.
I used Likert scales to find out how well the resource was regarded by the users.
Project Results: Interactive Content Made Learning More Effective and Engaging
I was able to collect survey answers from users about what they liked most about using a resource like this. Some of the examples included:
'Following the story and the use of the scroll-over images to help clarify how it happens in relatable terms. Gives a realistic idea of it all, which aids a clearer understanding. Highlighted words helped me to pick out the more significant facts.'
'It was particularly useful reading about Susan, the examples made the content easier to follow. The visuals also made it easier to remember certain aspects of the information that was given, e.g. Susan's keys and blood are taken for genetics'
'The interactive aspect. For example, the kitchen scene and doctors scene and hovering over the different items'
Overall, the resource was effective at keeping people engaged in the information. iSpring allowed interactivity in a way which was highly appreciated by the users, and I found iSpring Suite made my content extremely easy to create.
I continue using iSpring Suite for my projects. What I love about the tool is that I can do a lot of tasks using one piece of software, for example:
Build an interactive timeline
Narrate slides using audio/video
Embed iFrames – to combine the use of multimedia from different locations
Embed videos from YouTube
Create a labeled graphic
Plus, with iSpring, I can also make my content accessible on a variety of platforms and share it anywhere in the world, enabling effective science communication.