CSV file import into iSpring Learn LMS
iSpring hosted LMS has a handy option to add users by listing their emails. Administrator can just click "Add User" and type in emails separated by commas. However, when it comes to larger scales, manual listing becomes problematic. The solution is a bulk user import via a CSV spreadsheet.
What does CSV mean?
This abbreviation stands for "Comma-Separated Values" file format, which literally means that values are delimited by commas or semicolons. All values together form a datasheet with columns and rows that can be opened in Microsoft Excel or another table editor.
All users in the organization can be imported with the "CSV import" option at one time.
Also you can add, edit or delete language versions of User Portal in iSpring LMS using a Localisation CSV file. It can be accessed in the "User Portal Settings" panel under the "Settings" tab.
It's important to know criteria for uploading CSV files to the system before we start.
Requirements for uploading CSV
A datasheet file must have an extension .csv (UTF-8 encoded) or .txt (UTF-16 encoded).
Speaking about editing a datasheet, one of the most popular tools is Microsoft Excel.
Follow these steps to edit and upload a list of users:
1

Download a CSV list of users from your iSpring LMS. Log in to the Administrator panel and click "Users" on the top of the webpage. On the right hand side you will see the "Export" link. Point your mouse cursor over it and choose "Export to CSV."

2

Do the Excel part:

Open a CSV example in Excel
Edit it
Go and click on "Save As"
Choose the "Unicode Text (*.txt)" in the "Save as type" drop-down list

Note: While editing, you can add new users by filling new rows. If additional groups need to be added, just append columns next to the last column named "Groups." You can create up to 10 "group" columns in your table.

3

Now this datasheet in the .txt format can be uploaded back to the iSpring LMS:

Go to the "Users" tab
Click on "Add New User"
Switch to the "Import from file" tab
Browse for the users list file

There are two auxiliary options that can be used at the uploading step:

You may specify user passwords in a CSV user list. Requirements are: latin letters (a-z), at least one uppercase letter (A-Z) and a number (0-9), length should be 6 symbols and more. If you didn't enter passwords in the table, use the "Generate a random password for each new user if the password is not specified" option. If the respective checkbox is marked, all new users will get auto-generated passwords.
The "Send emails to new users with their login information" option will send users information automatically after uploading a CSV file. System will determine which users are new and will send updates only to them.

4

It will take some time to upload the users data. During the uploading process you will see a progress bar. If the number of users is around 1000, it may take up to 20 minutes to upload, verify all users' records and optionally send them automatic emails with login information.

As a result screen of successful upload, you will see this:

5

That's it! Now, when users are added, you can continue administering your iSpring LMS account.
Microsoft Excel is not capable of saving a CSV in the encoding that our system would accept. As an alternative solution, you can use a regular text editor to make changes to your CSV file.
All the steps except the process of saving the CSV file will be the same.
After opening the CSV in any text editor like Notepad++, pay attention to the Encoding area on the status bottom bar: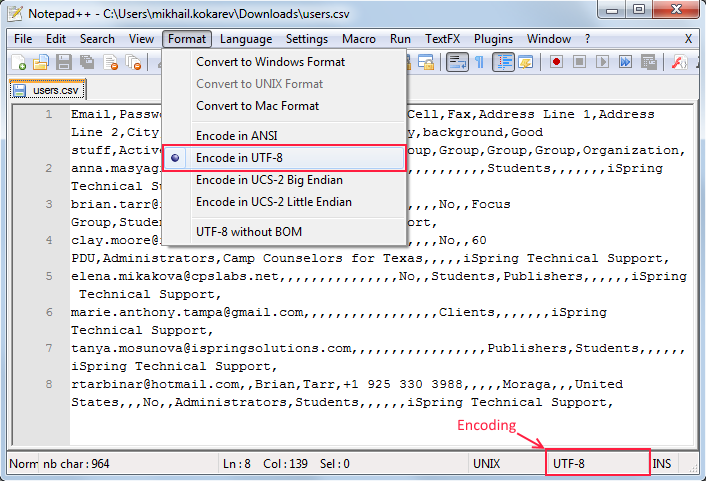 It should show UTF-8. If you see ANSI or other, go to the top "Format" menu and choose "Encode in UTF-8."
Windows Notepad doesn't have a status bar. However, when you go "File" – "Save As," there will be a drop-down list for Encoding as well.
Recommended software to work with CSV files:
Was this article helpful?
Thanks for your feedback!
Your request to iSpring has been submitted.
Please check your email for support replies. We reply to every message asap. If you don't hear back from us, check your spam folder and add to your list of approved senders.
Oops! Something went wrong...
Please contact them at .