How to publish PowerPoint to standalone Flash slides with iSpring Suite DX
iSpring products help not only regular users but also professional developers who use PowerPoint presentations within their applications and services. iSpring Suite DX is a desktop product with extended functionality featuring more output options and a Slide API.
The capability to generate standalone Flash slides was included in previous iSpring versions (6 and earlier). It's a real life-saver in situations when you need to build a slide deck in a third-party application or website by loading separate SWFs one by one. This option is now available in Suite DX 7.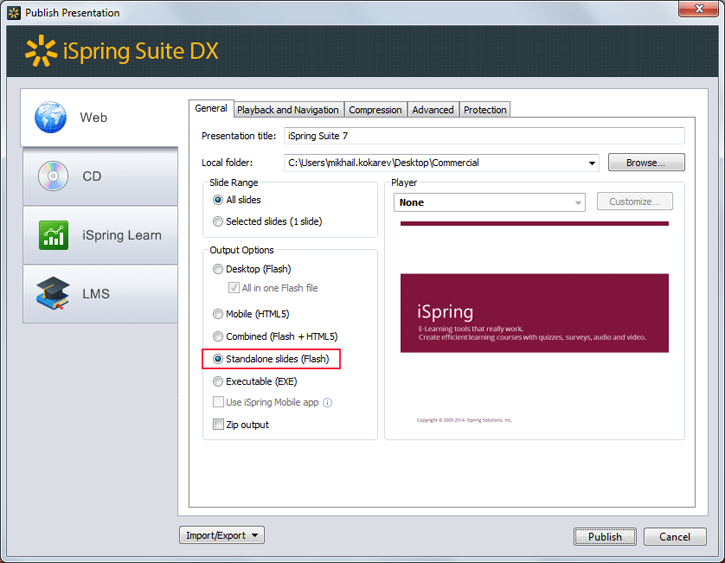 To convert a .ppt or .pptx file to standalone Flash slides, do the following:
Open a PowerPoint presentation you'd like to convert.
Click Publish on the iSpring Suite DX ribbon.
Check the Standalone slides (Flash) option.
Go ahead and hit Publish to start conversion.
This will create separate .swf slides and a data folder that may contain embedded objects on slides.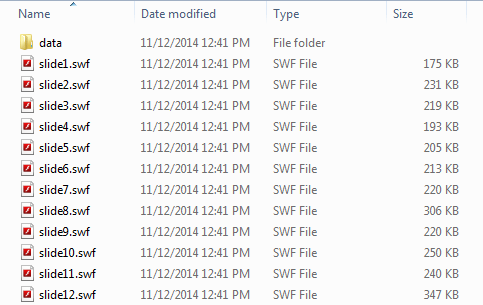 On the Advanced tab of the Publish window, set the Detach Media Content setting according to your preference. If unchecked, all media resources will be contained within the .swf – if checked, media files will be stored separately in the data folder.
Standalone slides are always used in a third-party player, so no iSpring Player (such as the Universal Player) will be included. Hence, in this mode, the Player drop-down menu and Customize button are greyed out.
The iSpring Narration Editor lets you add video and audio narrations to a presentation. Since narrations can be used only with the iSpring Player, Standalone Flash slides will not preserve any narrations added with iSpring. Use PowerPoint's internal audio or video insert options instead.
Keep in mind that transition effects will not be preserved either because slides will appear separately and won't be connected with each other.
Now you can design your own slide viewer and integrate your Flash slides into an application, a web page or a blog.
Was this article helpful?
Thanks for your feedback!
Your request to iSpring has been submitted.
Please check your email for support replies. We reply to every message asap. If you don't hear back from us, check your spam folder and add to your list of approved senders.
Oops! Something went wrong...
Please contact them at .
Fully-stocked eLearning authoring toolkit for PowerPoint. No training required to start!