April 30, 2020
Zoom Boom: How to Bring Training to "Live"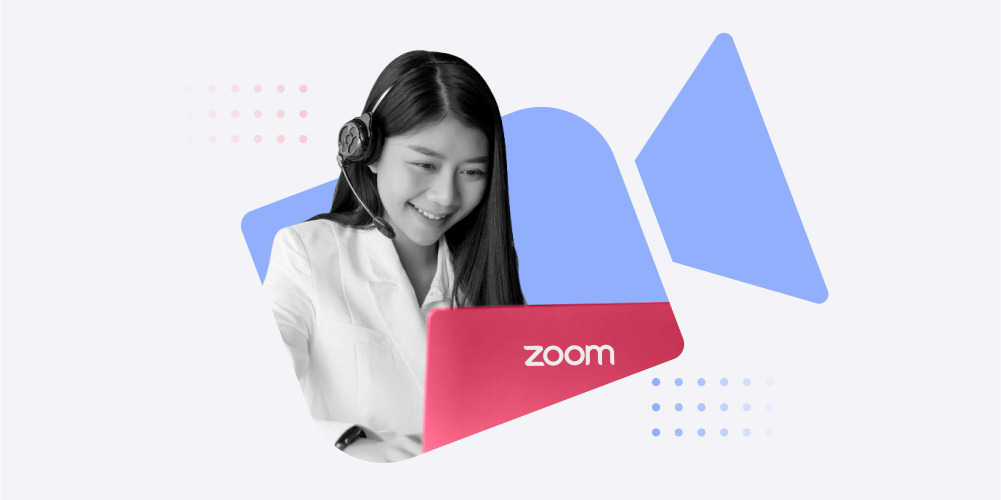 The world is facing unprecedented times with the rapid and global spread of COVID-19. Schools, businesses, and recreation are canceled until further notice, with strict social distancing measures in place. Consequently, more and more people are flocking to video conferencing tools to supplement their needs online. Fortunately, these technologies are sophisticated enough to make the transition seamless. As such, there's been a global shift toward remote work and learning.
The overnight celebrity of Zoom is a preeminent example of this shift. According to Forbes, on March 11th, 2020, Zoom had a record-breaking number of downloads in a single day – approximately 343,000 people worldwide, compared to 90,000 users just two months ago.
While Zoom has been widely adopted for social and academic use, businesses who'd like to move away from in-person employee training to online classes and/or supplement in-person collaboration with online meetings are leading the trend.
If you've yet to jump on the bandwagon, then read ahead! In this article, we'll show you how you can enhance remote employee training with Zoom.
Getting Started with Zoom: A Step-by-Step Guide
If you work from home, you've likely already heard about or used Zoom to interact with your employers, colleagues, or clients. Zoom is a cloud-based video or web conferencing service that can be used for one-on-one training sessions or group meetings.
It provides HD video and audio to facilitate a host of functions, such as recording and transcribing meetings, screen sharing, co-annotation for interactive team meetings, and streamlined calendar integrations for scheduling support.
Even pre-COVID-19, Zoom was an indispensable tool for small, medium, and large businesses to keep in touch and continue their operations remotely. As a matter of fact, 60% of Fortune 500 companies already use it!
If you're keen to start using Zoom, here's a step-by-step guide that will walk you through the process.
Step 1. Create an account
First thing's first. You'll need to register and activate your account. Navigate to the Zoom site and click Sign Up Free. You'll be asked to provide your email address and activate your account by clicking the emailed link.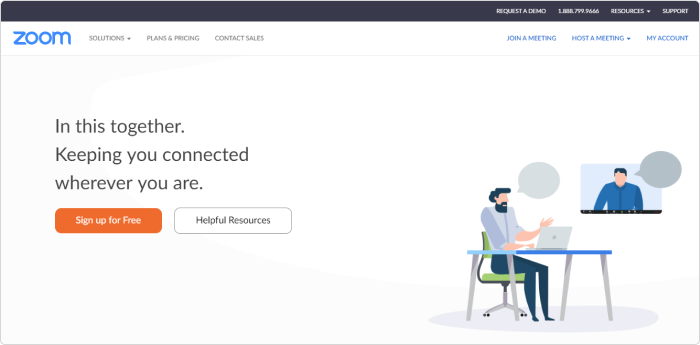 Once verified, simply login. From there, you can set up your profile, adjust your settings, and schedule and host meetings.
Step 2. Set up your profile
Updating your profile is quick and painless! Navigate to the left margin of the page and click Profile. From there, you'll be able to add a profile picture, adjust your time zone, change your password and email info, and sync your calendar or contacts by integrating with third-party apps like Google, Outlook, or Exchange.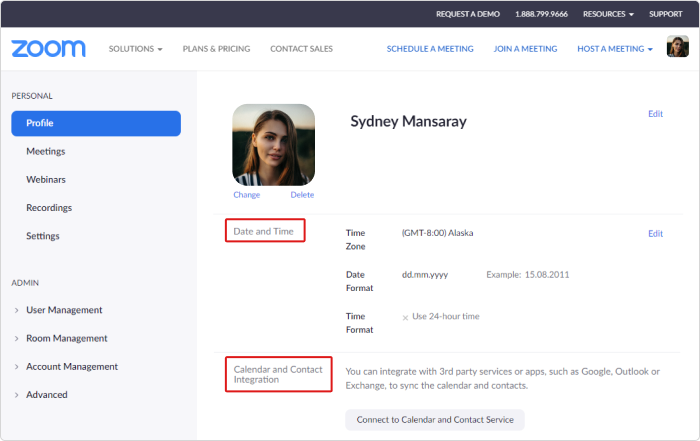 Step 3. Schedule your first meeting
Once you've made all the necessary adjustments to your profile, you're ready to schedule, host, or join your first meeting. Let's start with scheduling. Navigate to the top-left of your account page and click Meetings in the left margin.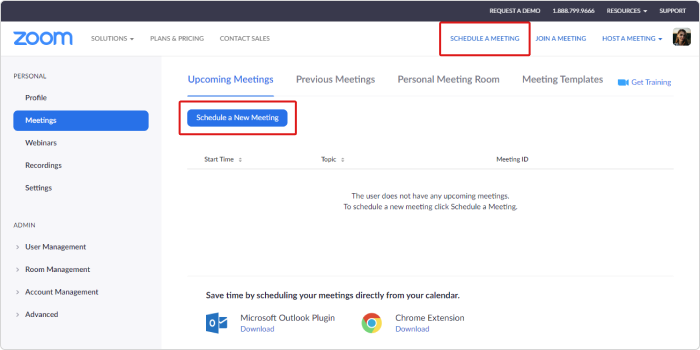 Click Schedule a New Meeting to input details such as the meeting topic/title, date, time, and recurrence. You can go even further by enabling video for the host (yourself) and the participants, generating automatic (vs. personalized) meeting codes, and setting a meeting password to allow invitees to join.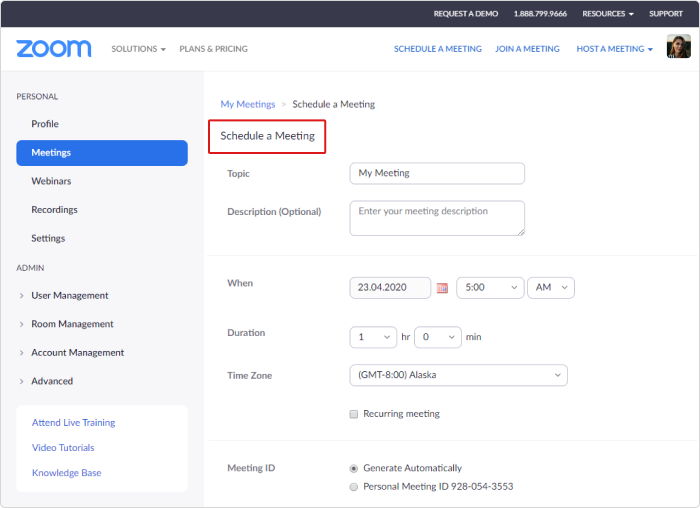 Once you've set and saved all your meeting parameters, you can sync it to your Outlook or Google calendar and, when the time comes, email invitations to your employees. These emails will provide a link that synchronizes the meeting with their respective calendars and issues reminder notifications.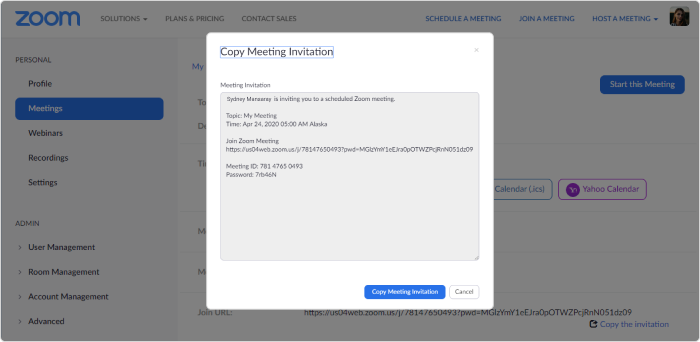 Note: With Google, you can schedule meetings directly from its Calendar app or browse Chrome to add the Zoom Scheduler extension to the browser, as shown below: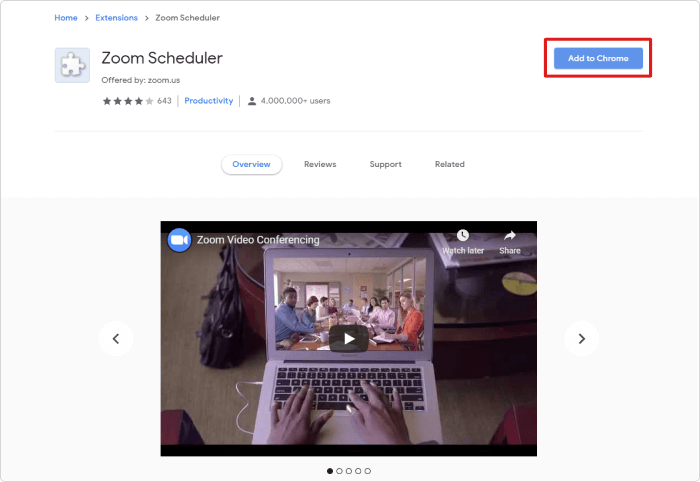 As for Outlook, it requires you to download and install the plug-in from Zoom's Download Center. The option to schedule meetings is near the top of the window.

Step 4. Start your first meeting
Before jumping into your first Zoom session, download the Zoom app from the Download Center and install it on your computer. After you run the app, make sure your microphone and speaker are functioning correctly. You can do this by going to the settings on your app.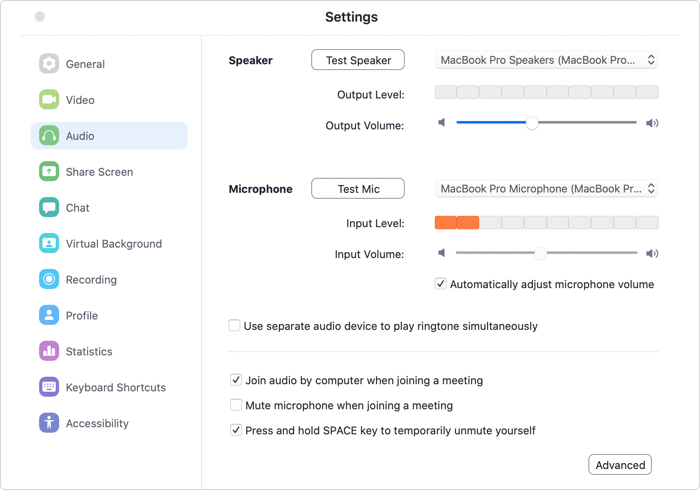 Better yet, if you'd like to check your camera, mic, video, audio, and internet connection all at once, you can conduct a test meeting.
Once you're good to go, start your meeting! You can do this right on the Zoom website. Simply find the scheduled meeting and click Start.

Or you can start a meeting directly from your Zoom app.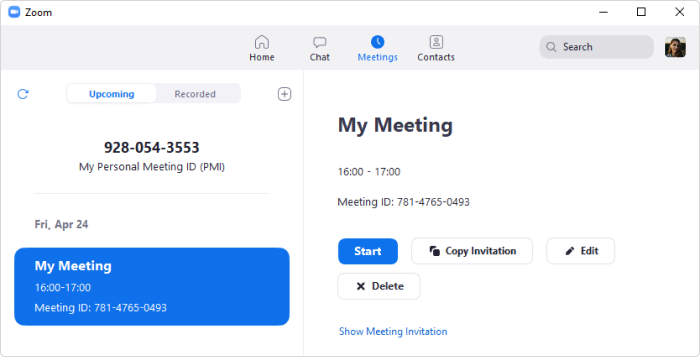 Step 5. Join a meeting
When you're not the host, then joining a Zoom meeting is as simple as clicking the invitation link that was emailed to you. Don't forget to add it to your calendar! Then, when it comes time to join the meeting, you can simply click Join on the app: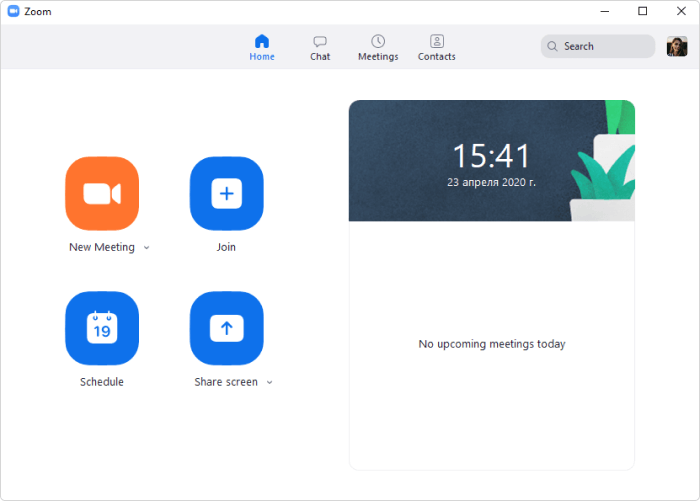 Or, you can navigate to your email inbox or calendar and click the link there.
Zoom Teaching: Features and Instructional Aids
If you're remote but would like to deliver live training or video presentations, Zoom not only delivers HD video and audio, but also allows for high interactivity and engagement during your meetings. Rather than your team passively receiving information and zoning out, you can engage them directly. Here are the bells and whistles that make Zoom perfect for remote training:
Screen sharing
Zoom meetings allow participants to screen share across all desktop and mobile devices. This means that instead of seeing you, your audience sees your screen and what you're doing on it in real time. But you can also manually turn on your webcam.
Screen shares are great for collaboration. They're often used to get feedback on a document, digital sketch, or mock-up and to conduct live training or screencasts. Just make sure your private information isn't visible on the screen.
Video recording
Zoom enables you to record entire presentations or meeting sessions and upload them to the cloud. So record your online classes and share them with those who missed the conference, or archive them for new hires to watch.
Audio transcription
Zoom also enables precise voice-to-text audio transcription, and they're searchable. So instead of watching or skimming through entire videos, simply search for keywords within the transcription. This will save you lots of time and provide trainees with a rich library of reference materials.
Zoom chat
If you remember AOL or MSN Messenger, then you'll have no problem using Zoom's group messaging feature. It has all the regular functions, such as setting your visibility and saving message histories. It also lets everyone transmit files, archive conversations for future reference, and switch from messaging to meetings at the click of a button.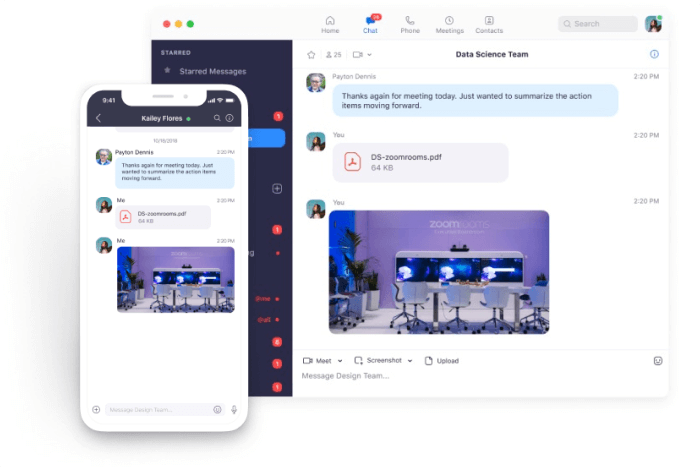 Digital whiteboard
This instructional feature provides another avenue for widespread collaboration. The host can set up digital whiteboard sessions in virtual conference rooms called "Zoom rooms." And, as with screen sharing, trainees can view and annotate it. Once the session's complete, save the whiteboard as an image or PDF and share it with your team.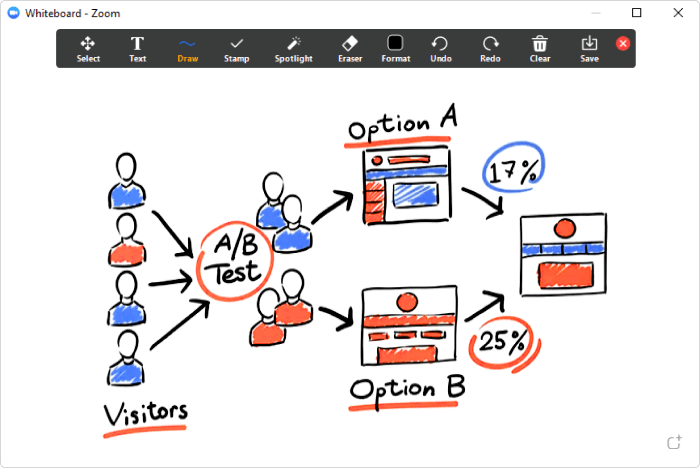 Virtual backgrounds
Your online training doesn't have to be all work and no play. Throw some fun and color into the mix by exploring Zoom's virtual backgrounds. This state-of-the-art feature doesn't require a green screen, yet perfectly converts your background into an image of your choice and is especially handy when your background is messy or unprofessional.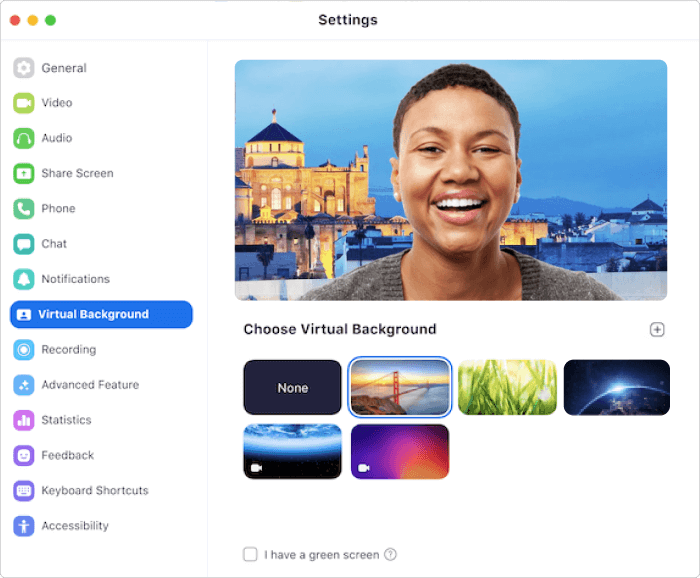 Travel to Easter Island, blast off into outer space, or commute to the office! There are tons of free, fun, and professional background images available online, plus more in the making.
Interactive polls
The polling feature allows you to create single-choice or multiple-choice polling questions for your meetings. You can launch the poll during your meeting and gather the responses from your learners or download a report after the session is finished. Polls make it easy for you to measure audience engagement and results.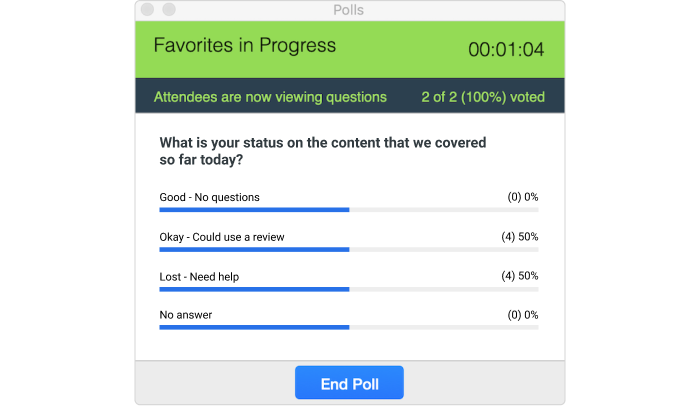 Usage and learner activity statistics
Zoom provides solid usage and learner activity reports. When training is remote, it becomes especially important to observe how the organization is faring and determine who is remaining on target and who needs assistance.
These statistics help you track how many meetings you've hosted, how many and who attended, and poll results for a given session. You can view who dialed into meetings via phone and any associated charges, what recordings have been uploaded to the cloud in a certain date range, and which hosts were inactive for a given period.
Integrations
While Zoom is saturated with state-of-the-art web conferencing features, it still manages to take things up a notch by integrating with some of your favorite applications. We already mentioned Google Calendars, Microsoft Outlook, and Exchange for scheduling or starting meetings. But to further enhance collaboration, it allows you to integrate with Google Drive, Dropbox, OneDrive, and other content-sharing cloud apps and services.
Click here to see Zoom's full list of native and third-party integrations.
Enhancing Your Zoom Online Training
Now that you're familiar with the Zoom's most beloved features, you're likely wondering how to leverage them for online training. It's tempting to simply host live training sessions; they most closely mirror the synchronous nature of face-to-face instruction. The problem is that you would also be mirroring the shortcomings and limitations of in-person classes.
For example:
Passive learning. While you can engage your students directly, you can't force them to participate. This gives way to passive learning.
Lack of control. Adult learners, especially company trainees, need to feel in control of their learning experiences. But with instructor-led Zoom sessions, this control is placed solely in the hands of the instructor. In other words, the online classes and materials are based on the teacher's timetable, pacing, and perception of what's relevant.
Instructor-centered approach. Research shows that a learner-centered approach is more effective and engaging. Such learning experiences place more emphasis on the trainees' unique backgrounds, voice, interests, and abilities.
Limited learning styles. Synchronous learning primarily depends on words and speech. There's less opportunity to cater to different learning styles (especially for tactile-kinesthetic learners).
Time constraints. Because Zoom meetings and webinars occur in real time, they require undivided attention. Such time commitments can be conflicting, inconveniencing, and thereby distracting – not to mention that it's harder for trainees to pause or take much-needed breaks.
Basic assessments. With the instructor-centered approach of synchronous training, it is harder to assess student engagement, productivity, and comprehension. The teacher can engage learners directly and create polls, of course. But alas, their assessments of learner progress are largely subjective.
With all that said, you can easily work around these constraints by mixing up your virtual, real-time Zoom training with asynchronous, self-paced eLearning courses. These blended learning experiences enable your trainees to self-pace, focus on what's most pertinent to their role, and determine when is the best, distraction-free time to train.
Moreover, e-courses put the "active" in interactivity. You can incorporate dialog simulations to create immersive environments, make interactive quizzes, or develop interactive graphics for tactile-kinesthetic learners (e.g., click-to-reveal, drag-and-drop, and sorting) with a course authoring tool like iSpring Suite on your own. Or you can buy off-the-shelf courses on the topic you need or outsource content development to professionals.
Whatever you choose, let's imagine that you already have eLearning courses. How can you easily supplement your virtual training via Zoom with e-courses? You'll probably email them to your learners or upload to some storage service your learners have access to. But you risk getting caught in your learning materials and lose control over training.
The easiest way to keep things organized is to integrate your Zoom account with a learning management system (LMS) like iSpring Learn LMS. If you're new to eLearning and fear having to confront yet another learning curve, iSpring Learn is highly intuitive and easily navigable. Simply upload your learning materials to the LMS, invite trainees, and track their progress and results.
The benefits of integrating Zoom with an LMS are immense, allowing you to adopt a more hybrid approach to learning that is more convenient, cost-effective, and learner-centered.
Zoom Learning: FAQs
Are there any Zoom alternatives?
Absolutely! There are many, with Skype, WebEx, Google Hangouts, and GoToMeeting among them. While they all offer video conferencing services, you'll have to research their features to determine what's right for you.
Why is Zoom a better choice?
Not only is Zoom great for remote work and productivity, but it's fun and easy to use. You'll be hard-pressed to find web conferencing software with instructional aids like whiteboards, virtual conference rooms, and LMS integration.
Does Zoom provide free access?
Zoom offers a free and full-featured Basic plan with a Pro, Business, and Enterprise plan for small, medium, and large companies, respectively. If you're planning to host group meetings with 3+ participants, there's a 40-minute time cap. You'll need to upgrade to one of their paid pricing plans otherwise.
Are there any special offers for teachers?
In response to COVID-19, on March 29th, 2020, Zoom temporarily lifted the 40-minute time cap on Basic accounts for elementary and high schools. But generally, the paid plans account for any unique features a teacher might need. As such, there are no special offers for teachers at this time.
Final Thoughts
Although the sudden and unprecedented Zoom boom is largely occurring in reaction to the increased remote communication needs stemming from the COVID-19 pandemic, this service is here to stay, as it is rapidly changing how we communicate and educate, especially with live training. Though endowed with a rich and diverse set of instructional features, Zoom is incredibly intuitive for new users. Live meetings, webinars, and digital whiteboards enable you to effortlessly recreate the classroom environment online.
But there's an even better way of training than the classroom environment. When you leverage the power of LMSs by integrating it with Zoom, and all of its unique features, you practically eliminate every instructional limitation encountered in both online and real-time instruction.
While countries around the world try to flatten the COVID curve, why not get ahead of the Zoom curve, credit card and commitment free? Create a basic Zoom account and sign up for a free 30-day trial with iSpring Learn LMS, today!