November 15, 2017
Lesson 6. Attention Please! Creating Interactive and Immersive Content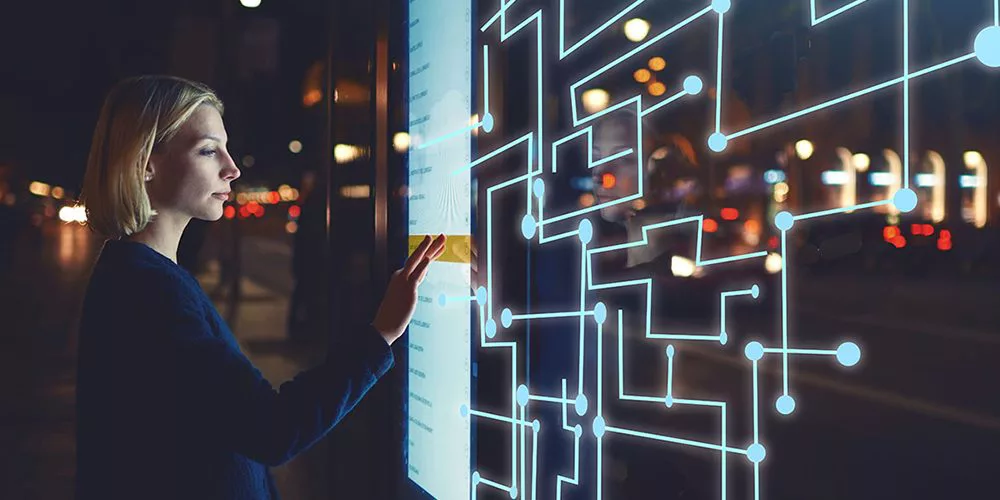 Michael Sheyahshe, an artist, author, developer, and technologist at alterNative Media, presents a whole series of 10 lessons on making e-Learning cool: "How To Create Great e-Learning Content From A To Z."
If you're new to this series, it's better to start from the first lesson.
In this lesson, we're going to cover some theoretical information on what makes content interactive and why it's important for learning. We'll talk about branching and look at some real-world examples of how to do this with iSpring TalkMaster.
Watch the recording or skip to the article if you prefer reading.
Understanding Interactivity In e-Learning
There are two terms that we often use as synonyms: interactivity and engagement. Actually, sometimes they mean the same thing. But there needs to be a recognition of the difference between the two.
Interactivity means learners are interacting with content or environment: they're clicking on something, they're revealing something, they're watching a video. Engagement is more about the intrinsic value of all of the content. What does all that interactivity do? Is there any interest from the learners?
The overarching goal is to create interactive content that engages learners, helps to make information stick within learners' memory, and encourage communication.
Another thing that's important for engagement is making sure that the learners are allowed to branch off and use their own methodology and ways through the content.
Why Branching
You've probably heard about the Choose Your Own Adventure gamebooks first published in 1979. It was an interactive, multiple-choice, multiple-ending fiction series for children. The reader assumes the role of a key character and is able to make choices that determine the plot's twists.
In the earlier lessons, we've already discussed level one and level two e-Learning content. Level one e-Learning is what we jokingly called page-turners: the information is presented as a plain text, a page after a page or a slide after a slide. So being our learners' advocates, we need to make sure that learner experience is the utmost goal. That's why we need something engaging and fun like Choose Your Own Adventure branching rather than a linear page turner with no control and no intrinsic value.
When we create branching, we need to provide several outcomes in order to make each experience fresh and feel like it's unique. The whole idea is to make the experience robust from the perspective of being an advocate for the learners.
How To Create Branching With iSpring
One of the ways to create branching with iSpring is to use the iSpring Presentation Explorer feature. Depending on what you'd like to do, you could forward learners to different slides, different quizzes, or, as we discussed in the previous lesson, to a whole new section if the learner needs to review the information. If you already have a linear presentation, play around with the Presentation Explorer to see if you can make it more interactive.
The other way to implement branched scenarios is to explore the capabilities of the iSpring TalkMaster component. Let's create a branched conversation simulation demo just to demonstrate how easy it is.
Open your PowerPoint, go to the iSpring Suite tab and click on Simulation. There you'll have a starting TalkMaster screen; click on New Simulation.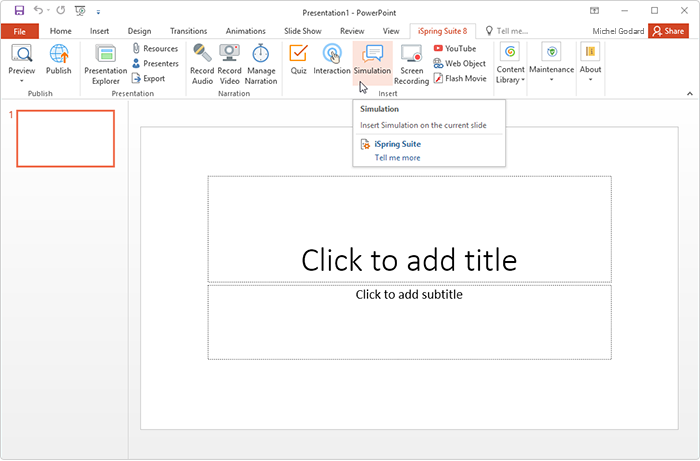 After doing this, you'll have a blank canvas. Start with a New Scene. Each of these scenes will have visual representations, so before moving forward let's choose a character.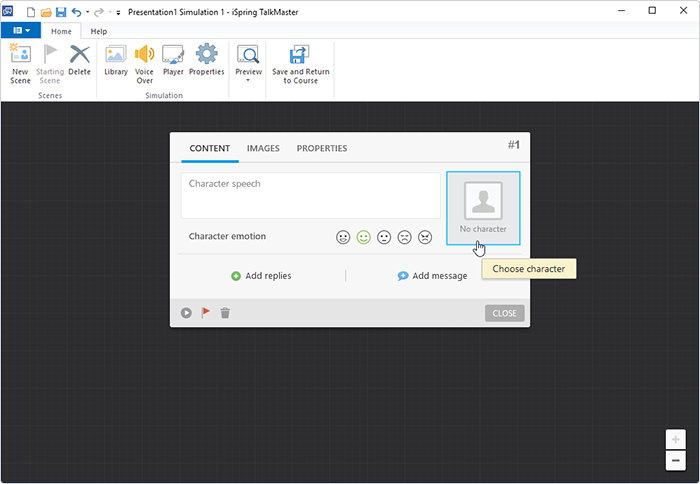 Here you'll have a lot of options to choose from. You can start with built-in ready-made characters and backgrounds, import them from the Content Library, or add your own photos. You can also set different emotions for your character.
When you have an image of a character, you can begin entering the text that this character will be speaking and different replies.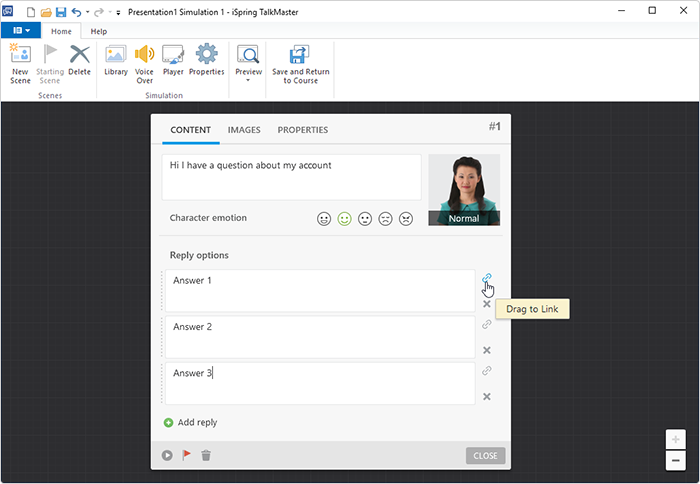 Each of the replies can lead to different outcomes. For example, we can say that the first answer was good and that it made the character happy.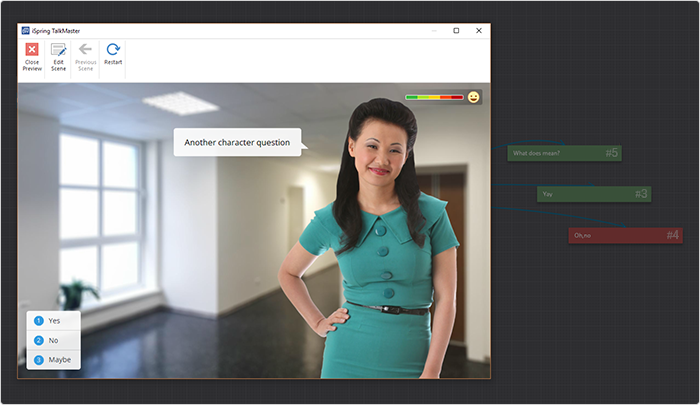 Plus, in the TalkMaster editor you can adjust properties: rename the simulation, send it by email or to a server, adjust how the player looks, whether or not the title shows up on the screen, colors to match your overall layout, and text labels.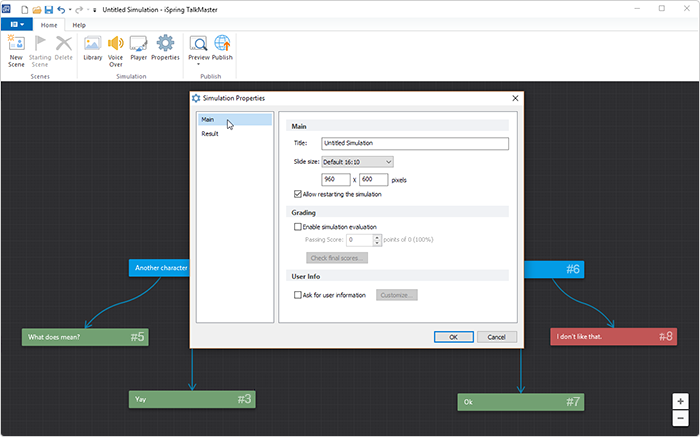 This was a rather simplistic demonstration of how easy it is to branch and how you can use the assets to support your information and learning. As you publish, everything is responsive and looks great on all devices. You can also make it ready for your LMS or LRS.
Have a look at a TalkMaster conversation demo from the iSpring website:
​
Note, this doesn't have to be just talk simulations. The idea here is that we're creating our own "e-adventure." This particular example is an interactive FAQ built by Michael with iSpring: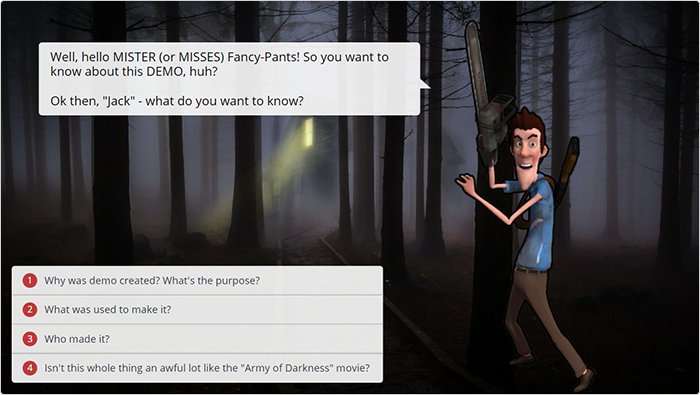 How To Enhance Your Content
There are several ways you can customize and augment learning content, make it look visually appealing, and convey its meaning and importance.
Joining The iSpring Content Library
It's a great resource with ready-made characters, backgrounds, images, items, icons, buttons, and more.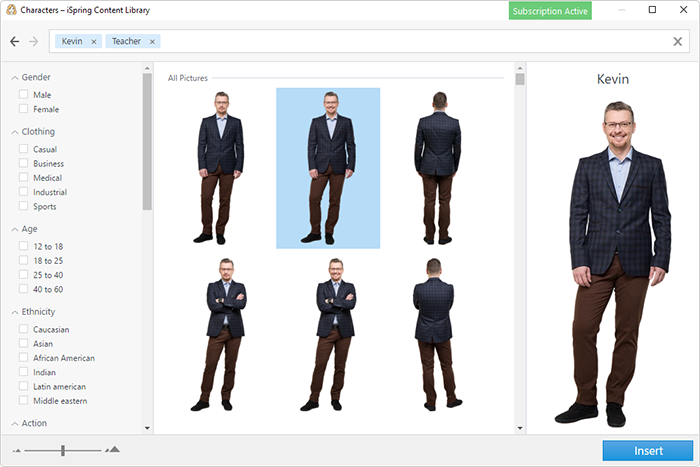 Adjusting TalkMaster Scenes
You can add additional information in the areas marked in the image below. For instance, you can:
1) add an image;
2) select a scene color;
3) change the character's speech;
4) change the character's emotion;
5) add several replies and messages.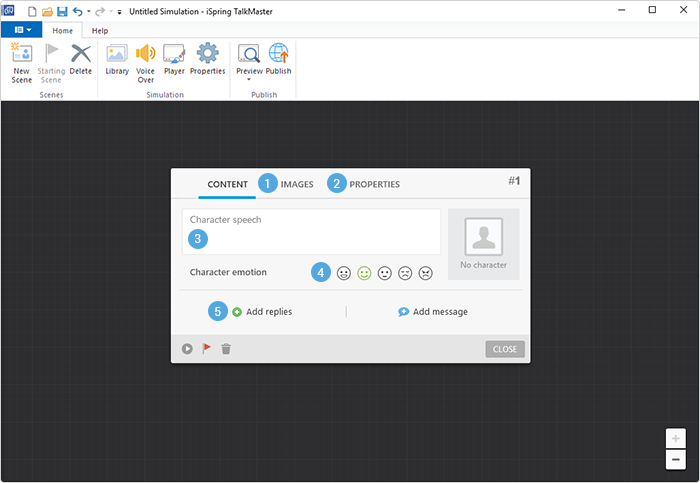 Plus, you can add voice overs to each message and reply.
Digging Into Advanced Possibilities
You can also push the interactivity a little further through the use of different web objects, assets, and external Javascript libraries. For example, BabylonJS allows you to see 3d objects or interact with 3d objects through the use of WebGL.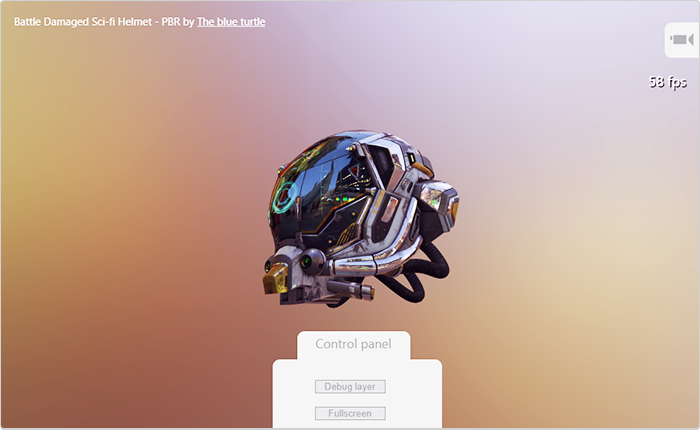 Finding the right balance of visual appeal and interactivity, you can create a lasting impression on your learners, and make the learning experience more memorable. This is an essential part of any e-Learning course.
---
The next lesson will be dedicated to e-Learning UI and UX, and how to implement these in your e-Learning content. Stay tuned!
Did you like this lesson, or would you like to provide us with some feedback? Please tell us in the comments below; we'll be happy to incorporate it in our future endeavors!