February 14, 2022
7 of the Best Healthcare LMSs: Best Buy Roundup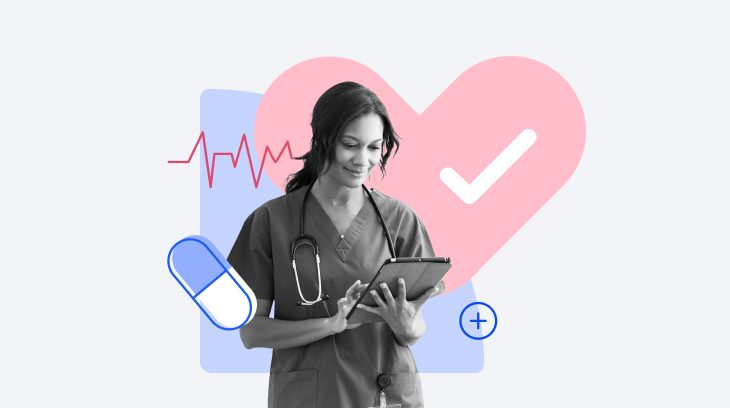 The importance of training in the healthcare industry is indisputable. This necessity is magnified when it comes to ongoing training, since the nature of disease and the overarching healthcare landscape are constantly in flux. And with the inherently hectic schedules of medical professionals, it's no wonder that healthcare organizations favor online training.
That's why one of the hottest products on the eLearning market is healthcare learning management systems (LMSs). In this article, we'll lighten the load for our healthcare heroes by reviewing 7 of the best ones:
1. iSpring Learn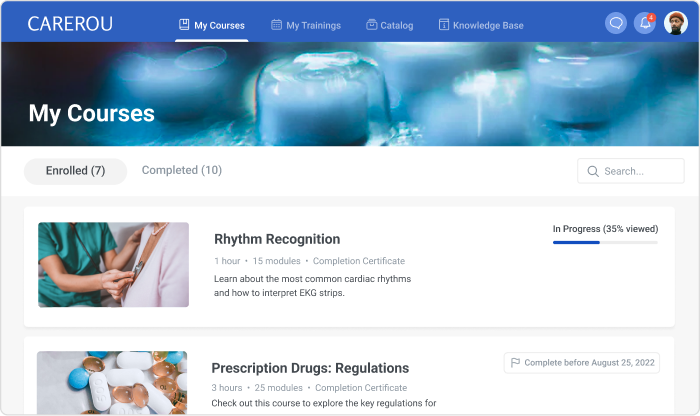 iSpring Learn LMS is an ideal healthcare eLearning solution that allows medical professionals to learn whenever, wherever they are, despite their hectic schedules. It has a native mobile app, making it even easier for Android and iPhone users to learn on the go.
Given the wide breadth of healthcare employees, it's necessary to have an LMS that helps you create different learning tracks effortlessly. It's obvious that nurse practitioners need a different set of courses from those made for doctors, pharmacists, and health-tech specialists. With iSpring Learn, you can design each course catalog for trainees for ultimate customizability.
But what makes it a top healthcare LMS is that you can create your own courses. This ability helps you keep up with industry knowledge, advances, and compliance standards. For simpler courses and tests, you can use iSpring Learn's built-in tool. But if you'd like to create interactive courses with video tutorials, advanced quizzes, and role-plays, then you can use iSpring Suite, a full-featured authoring toolkit that's perfectly integrated with the training platform. Here's what a course created with iSpring Suite looks like: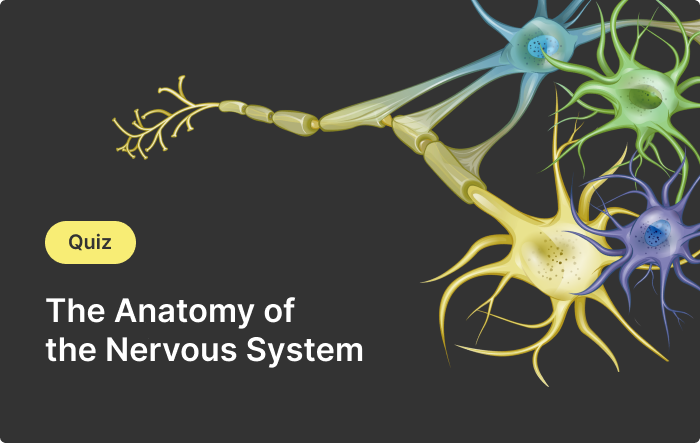 To measure how well students are interacting with the content, iSpring Learn incorporates a comprehensive analytics and reporting tool.
Simple, easy-to-navigate interface
Enables different learning tracks
Course creation capabilities with built-in tool and integrated iSpring Suite
Advanced reporting system
SCORM compliant
Gamification
Completion certificates
Native mobile app
Integrates with Zoom and MS Teams for blended learning
24/7 live technical support
No support for social forums
No eCommerce functionality
Pricing
iSpring Learn offers two types of subscription – Start and Business – which come with a different sets of features. The pricing starts at a monthly rate of $2.87 for up to 100 active users.
2. Docebo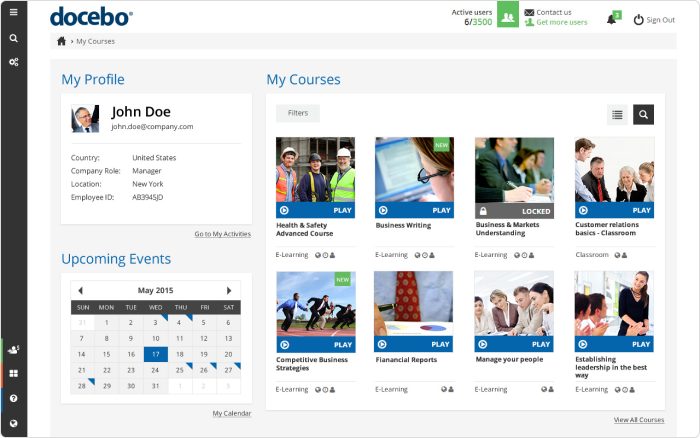 Docebo is a solid LMS for healthcare when you're looking to largely automate the learning management process. It prides itself on being customizable to any business of any industry and size, including the healthcare industry. It also segments departments by assigning role-specific courses, so you can easily customize your training program to the various types of healthcare providers within your organization.
The LMS comes with a library of ready-made courses, but you can also build sophisticated healthcare training from the ground up, which includes blended learning programs with instructor-led training, social learning, and gamification. Another feature that sets it apart from other healthcare LMSs is its wide variety of integrations. For example, if you're looking for eCommerce tools that allow you to sell and market online courses for healthcare organizations, it integrates with Shopify and Zendesk.
Library of ready-made courses
Wide selection of integrations
Course-authoring capabilities
SCORM/AICC compliant
Incorporates social learning
eCommerce functionality
Counterintuitive interface to navigate
Limited functionality for custom reporting and analytics
Non-transparent pricing
Pricing
You need to contact their sales team for pricing information.
3. TOPYX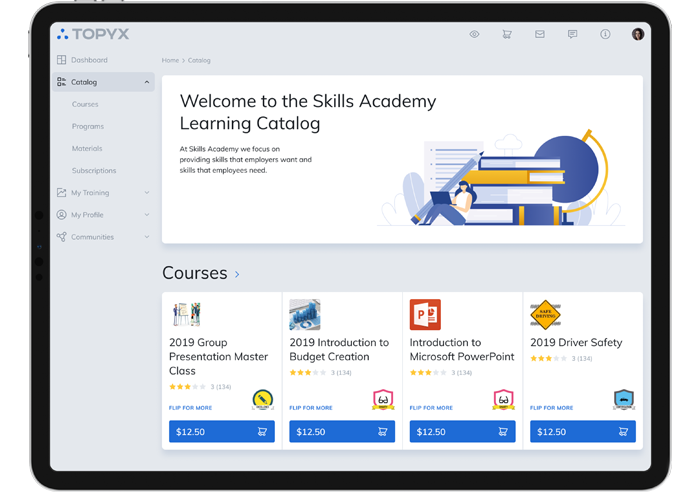 For large organizations looking for healthcare training software, TOPYX LMS is a popular choice. This learning management system is great for organizations in rapidly-changing industries and includes many helpful healthcare features. For example, it's quite common for healthcare professionals to work in teams. As such, TOPYX enables chat, blogs, web conferencing, forums, media galleries, etc. for social learning. Moreover, if you're training many different departments and roles, then its "communities" feature will help you organize different learning paths across the full spectrum of staff.
TOPYX is one of the few healthcare LMS vendors that offer a vast learning catalog to kick-start training. For example, your healthcare staff can benefit from ready-made safety and compliance courses. TOPYX also partners with Epic, which provides healthcare courses that are curated for the various specialties and certifications within the field. However, if you're looking to create engaging training from scratch, you'll need a third-party course authoring tool like iSpring Suite because the LMS doesn't have any built-in functionalities. But regardless of your "course source," you'll be able to generate comprehensive LMS reports and analytics to track trainee progress and KPIs using TOPYX's customizable dashboard.
Focus on social learning
Catalog of healthcare courses
Ability to create learning paths
SCORM compliant
Issues customizable certificates
No course authoring capabilities
Limited built-in interactivity
Pricing
The lowest pricing plan allows up to 500 users and costs $6,850/year.
4. CertCentral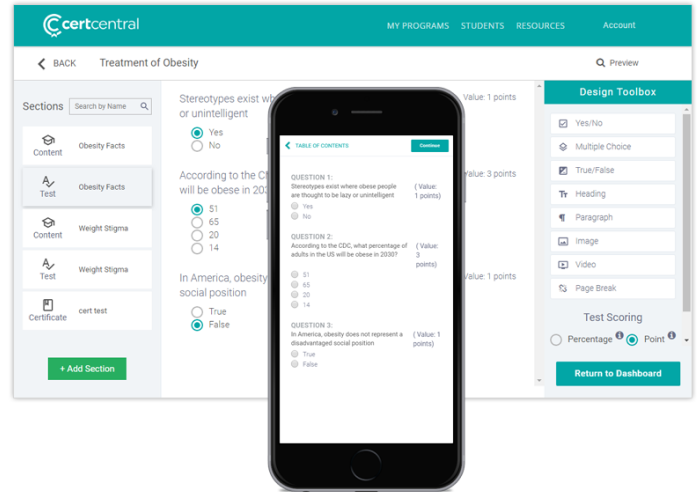 CertCentral functions as Continuing Medical Education (CME) software. That is, nurses, physicians, and other healthcare professionals can receive effective training that reflects the latest advancements and compliance measures in the healthcare industry. For example, you can effortlessly maintain accreditation with governing bodies like the AMA (code of ethics for medical professionals), ANA (code of ethics for nurses), NASW (code of ethics for social workers), as well as the APA (American Psychological Association).
The platform supports a wide range of content, including images, HD videos, and digital downloads. But, like many healthcare LMSs, it doesn't come with any built-in course authoring tools beyond a basic text editor. So, for more sophisticated courses, you'll need third-party eLearning development software. It also doesn't offer much in the way of web conferencing tools for blended/synchronous learning.
However, CertCentral has a built-in assessment tool with multiple-choice questions, true/false, and those that can be randomized and timed, with weighted scoring, thus keeping your healthcare staff accountable. So, you can test your healthcare professionals' knowledge right in the LMS. And if they get good results, issue them certificates that prove that they are ensuring compliance and meeting accreditation standards.
Functions primarily as CME software and is widely used by universities, medical organizations, and hospitals
Keeps trainees compliant with national agencies like ANA, AMA, APA, and NASW
Has a built-in assessment tool
Enables effortless tracking of trainee progress
Issues custom certificates
No web conferencing for blended/synchronous learning
Not SCORM compliant
No course authoring capabilities
Pricing
A starter plan costs $29/month for 25 active users.
5. EthosCE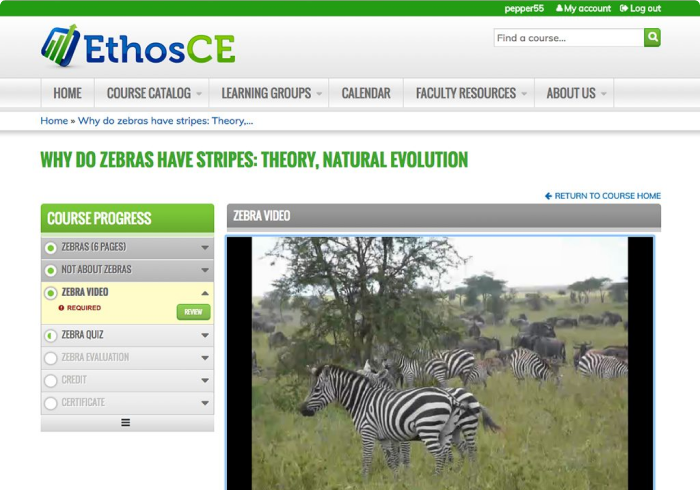 EthosCE is one of the top healthcare eLearning solutions because it was made specifically for medical professionals. Its main clientele includes healthcare organizations, medical associations, universities, and medical education companies. As such, they not only generate PARS-compliant analytics and integrate with ACCME (Accreditation Council for Continuing Medical Education) web services, but also offer a variety of features that help training managers implement and monitor medical risk management practices.
Being a cloud-based solution, it provides the flexibility of training via eLearning, live classes, or web-conferencing tools like Zoom, Cvent, and Webex. And due to its support for multimedia and SCORM content, you can use third-party software to create sophisticated courses with interactivity. You also have the option of keeping your healthcare staff on their toes with built-in assessment tools containing different question types, automated response-based feedback, and follow-up assessments. Based on learners' results, EthosCE can then generate certificates that also display their continuing education credits (including CME, CNE, and CEU) for nurses and medical professionals.
Though it's an LMS for healthcare, it incorporates custom branding and integrates with Shopping Cart, so you can easily sell them with fixed-price or subscription plans, and incentivize trainees with discounts and coupons.
Geared toward healthcare professionals by integrating with ACCME web services
Generates CE certificates that showcase CEU, CNE, and CME credits
Offers medical risk management framework
SCORM compliant
Solid eCommerce features
No basic authoring capabilities
No native apps/not mobile friendly (uses desktop structure on mobile devices)
Pricing
EthosCE offers fixed-rate pricing packages starting at $1750 per license.
6. SAP Litmos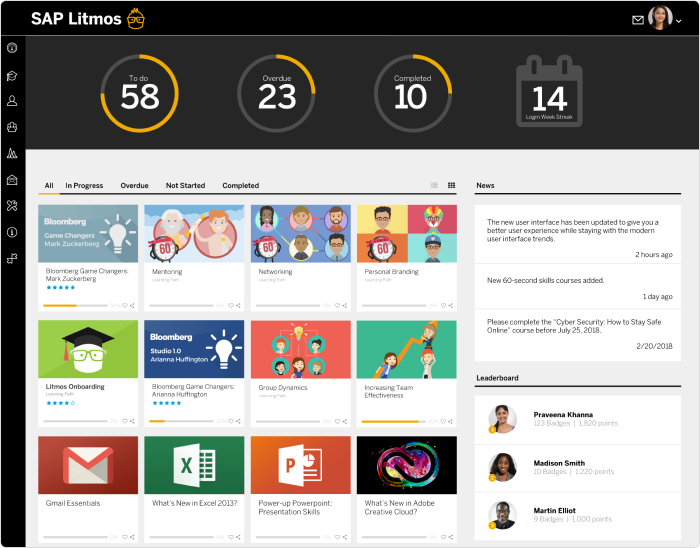 Litmos is a popular healthcare LMS due to its user-centric design. It covers all your bases by allowing you to build your own courses within the platform or upload different types of content, including audio, video, PowerPoint slides, and SCORM content. It also comes with a large library of off-the-shelf courses that can help you improve your healthcare workers' skills. For example, you can offer them courses in areas such as policy and compliance (including HIPAA Privacy and Security 101), health and safety, health and well-being, and care certificate (EU).
Litmos has all the bells and whistles of a corporate LMS. Whether you're working with in-house or distributed staff, you can effortlessly assign courses and have trainees self-register. And because they're laser focused on the user experience, the interface is easy to navigate – even for the least tech-savvy among us. Litmos strikes a fine balance between wide functionality and simplicity by incorporating an above par level of interactivity, gamification with points, badges, and leaderboards, and strong analytics and reporting capabilities.
Offers a comprehensive suite of sophisticated eLearning tools
Supports rich multimedia content, including SCORM packages
Provides a library of ready-made courses
A one-size-fits-all solution for all industries
Has a native mobile app
Is easy to use, but involves a small learning curve
Has limited customizability for user roles
Pricing
You need to contact the vendor for a quote.
7. LearnUpon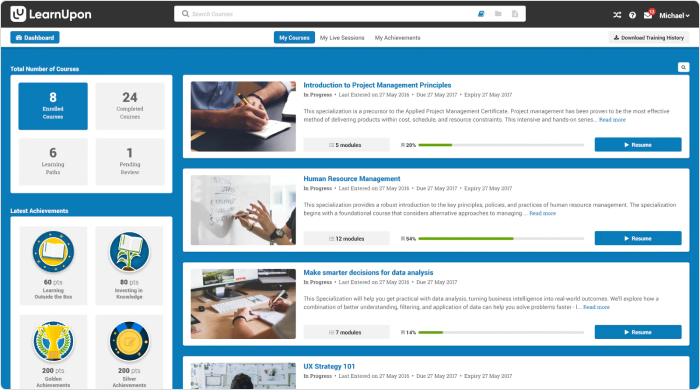 If you're looking for a healthcare LMS that's a one-man show, then LearnUpon is a solid choice that satisfies all the LMS requirements. Its Learning Portals feature takes this up a notch by enabling you to train nurse practitioners, lab technicians, doctors, etc. with role-specific content – all from a single system. You can think of each portal as a mini LMS within a larger one.
LearnUpon also applies the same principle to admin tasks. For example, you can assign roles to individuals and groups. A valuable aspect of sectioning off content this way is the pointed insights its robust reporting and analytics engine provides. By zooming in to each healthcare position or department, you can more easily and strategically adjust your training strategy.
The platform supports a diverse range of training materials, including text, images, videos, PowerPoint presentations, and SCORM and Tin Can packages, and allows you to combine them into learning paths. However, it doesn't feature a built-in authoring tool, so you need separate software to build courses.
Supports a vast array of content formats (including SCORM and Tin Can)
Supports blended learning
Issues course completion certificates
Offers eCommerce features (branded digital storefronts, Salesforce and Zapier integrations, etc.)
Uses learning portals to provide tailored training to a vast pool of users
Doesn't work with HTML5 courses
High price point
Lacks basic security features
No built-in course authoring tool
Pricing
To get pricing information, you'll need to contact their sales department!
Final Thoughts
There are countless LMSs on the market, and sifting through the options might feel like swimming through uncharted waters for someone in the healthcare industry. In summary, the best LMS for healthcare is one that not only empowers healthcare professionals to receive high-quality training without removing them from their core responsibilities, but also accounts for the ever-changing nature of the industry, as well as the broad and growing number of fields within it.
If you'd like to start off on the right foot, take advantage of iSpring Learn's free 30-day trial, credit card and commitment free!