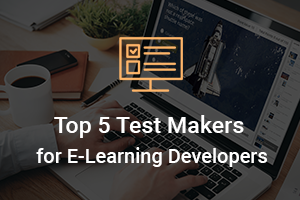 Once executed with paper and pencil, more and more tests are becoming digital nowadays. Assessment tools allow users to choose from a variety of interactive question types, publish tests for the Web and LMSs, and automatically collect statistics. The following comparison of the top five test makers will help you find the best tool according to your specific needs.
1. iSpring QuizMaker 8
iSpring QuizMaker 8 is an easy-to-use tool for creating comprehensive, mobile-ready quizzes and surveys. Apart from various questions, this test maker allows users to design helpful information slides and feedback messages. It's also possible to enhance questions with various forms of media, such as images, video, and audio (the latter can be recorded right in iSpring QuizMaker).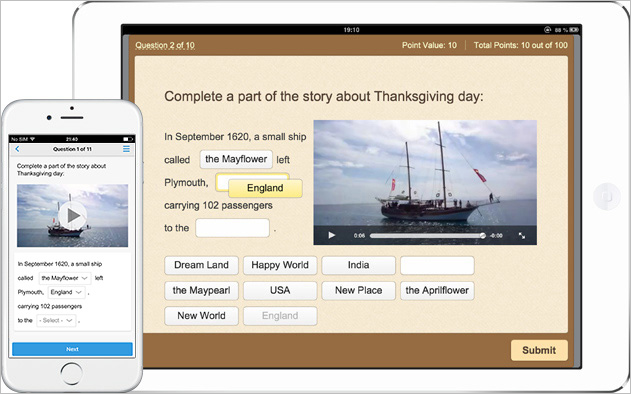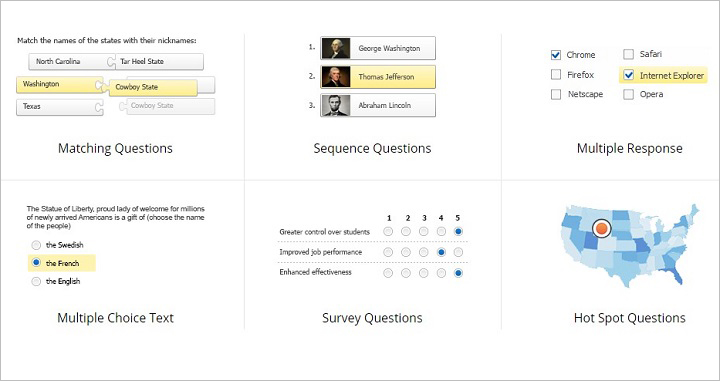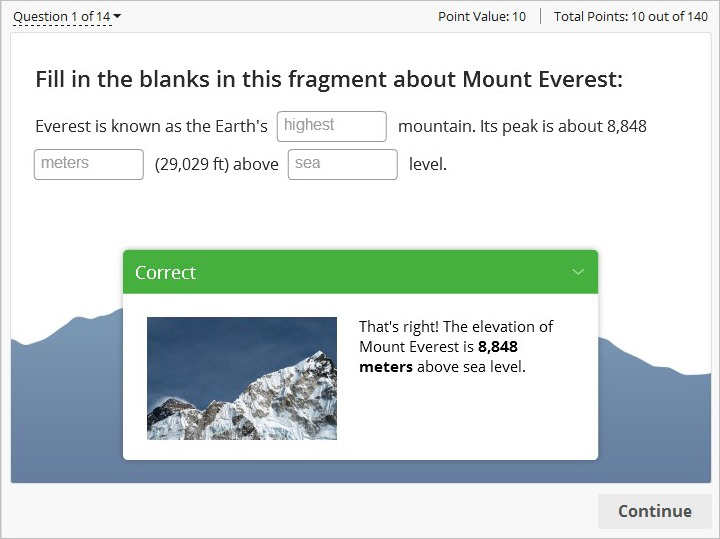 Pros
intuitive interface, simple to use
23 graded and survey question types that users can organize into question groups, and randomized question pools
flexible grading options (customizable score, number of attempts, partial answers, time limit, and more)
tests can be published for the Web (in HTML5 or Flash) and for LMSs (in SCORM, Experience API, and other formats)
detailed test results can be printed and sent to an LMS, LRS, email, or to your own server
answer-specific branching
customizable quiz design and layout, including backgrounds, images, animations, font and color schemes
responsive design on mobile devices with automatic layout adaptation for smartphones and tablets and accurate reproduction of all effects
works to the fullest without the full iSpring Suite package and doesn't cost a lot
Cons
iSpring QuizMaker is only available for Windows (to install iSpring on Mac, use this workaround)
the fonts appear small on large screens with higher DPI
no ability to add audio replies to answers (only to question and feedback)
the drag-n-drop question can only use text
A free, 30-day, fully-functional trial is available. A lifetime license of iSpring QuizMaker costs $397 USD and covers free major and minor upgrades for one year. There are special discounts for educators, students, non-profit organizations, and government institutions.
Summary
iSpring QuizMaker is a full-featured test maker widely used by educators, as well as businesses for corporate training, marketing and other tasks. Using an LMS to collect test results is not compulsory, as detailed reports can be sent to a chosen email. Overall, the software is intuitive and requires no special training, so users can start creating tests and surveys right away.
2. Articulate Quizmaker '13
A part of Articulate Studio '13, Articulate Quizmaker '13 boasts a streamlined user interface with two development modes, allowing you to switch between form view and slide view. In that and other features, this tool is similar to iSpring Quizmaker, though it has a few more options (with a corresponding price).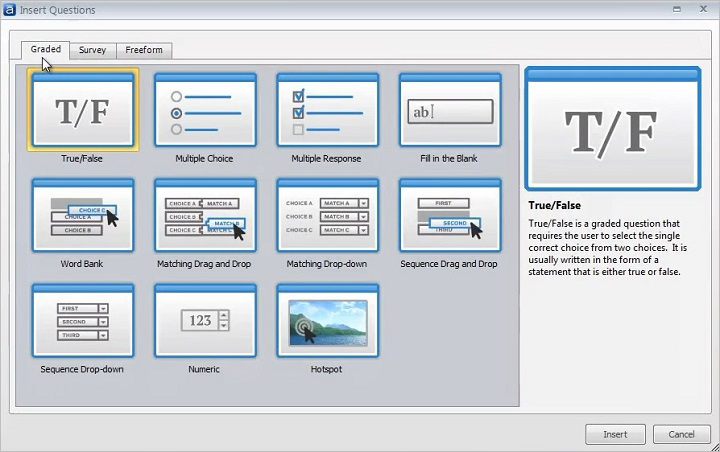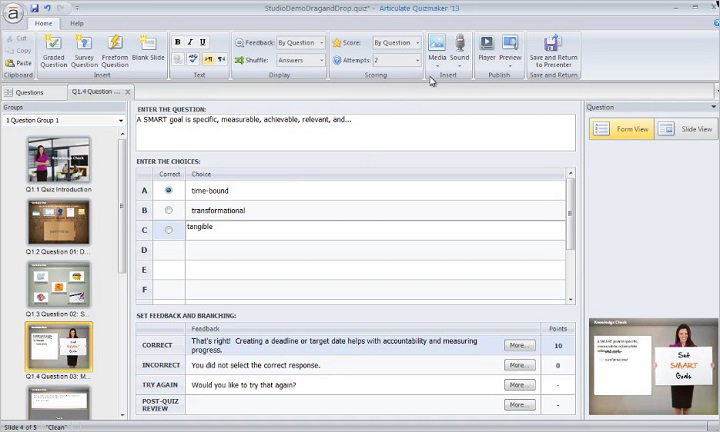 Pros
built-in library of photographic and illustrated characters with different poses and expressions
can import, record, and edit video and sound
25 different types of questions
drag-and-drop questions can be created with any object (for example, a picture or a text box)
users can use a ready-made design theme, or create their own template
questions can be pulled into groups and shuffled
the ability to create branching scenarios where students are lead to next slides based on their answers
tests can be published to Flash, HTML5, and the Articulate Mobile Player to run quizzes on desktops, laptops, iPads, and other mobile devices
Cons
there is no Mac version available; Articulate Quizmaker '13 is for Windows platform only
according to user reviews, old style, non-animated characters need updating
no possibility to use triggers, scripting objects, and states without purchasing the full package, Articulate Storyline, which is twice as expensive as the standalone Quizmaker
must purchase entire suite to get the most out of the software
Articulate's Quizmaker '13 costs $699 USD, which allows a single user to install the software on up to two computers. Quizmaker may also be purchased as a part of Articulate Studio '13 Standard for $999, or Articulate Studio '13 Pro for $1,398. A fully functional, 30-day free trial of the software is also available.
Summary:
Articulate Quizmaker '13 is a powerful tool with many sophisticated features that help users build comprehensive quizzes and surveys. The variety of question types and flexible settings make this tool perfect for professional e-Learning content developers.
3. Respondus 4.0
Respondus 4.0 bills itself as an assessment tool for learning systems. It is primarily used for creating and managing exams that can be printed to paper or published to a number of LMSs. Exams may be created in a Windows environment or imported from one LMS to another.
Exams in Respondus are made up from the available publisher test bank, or by using the exam wizard. Questions may also be imported from other exams made with the software.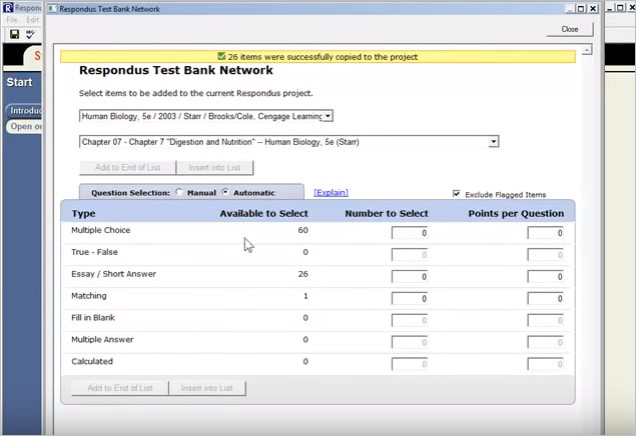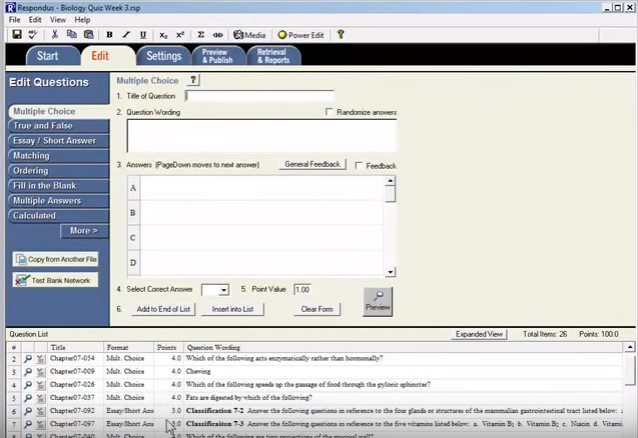 Pros
supports up to 15 question types, including calculated and algorithmic formats
can spellcheck exams in American, Canadian, and British English, and five other languages; also includes a dictionary of medical terms
questions can be imported from MS Word (including embedded images), rich-text, QTI, and tab/comma delimited formats
users can add multimedia components including images, audio, and video materials
"batch publish" feature allows assessments to be published to multiple courses in a single step
generates custom reports of results, including student scores, statistics summaries, and answer distributions
results can be printed or saved to MS Word or rich-text format
can publish exams directly to online course, complete with media files
Cons
Respondus is only available for Windows
retrieval of custom reports and answer databases in Excel-compatible format is only available with certain e-Learning systems
the software is compatible with only a few LMSs
batch publishing feature is only available with a campus-wide license
A free 30-day trial is available for download, but you must purchase a permanent password or register for a temporary password to activate. Licenses are available for $79 USD if you purchase it over the Internet with a credit card, or $149 if you purchase via purchase order or have to mail a check. Larger institutions may purchase a license for the entire campus for $1,695 per year for up to 2,500 students to $2,945 for up to 40,000 students. There is also a one-time registration fee of $200 for all institutions.
Summary:
Respondus seems to be the go-to software for a number of LMSs in use in post-secondary institutions, as well as some secondary institutions. Since the main function of the software is to administer and collect secure, timed exams, it would have little appeal for the business and training sectors.
4. QuestionWriter HTML5
QuestionWriter HTML5 allows you to use 20 different templates to create tests, which can be posted online or burned to disc. Results can be viewed online or downloaded to Excel for analysis. The software allows an unlimited number of quiz takers, easy-to-use forms, and online reporting.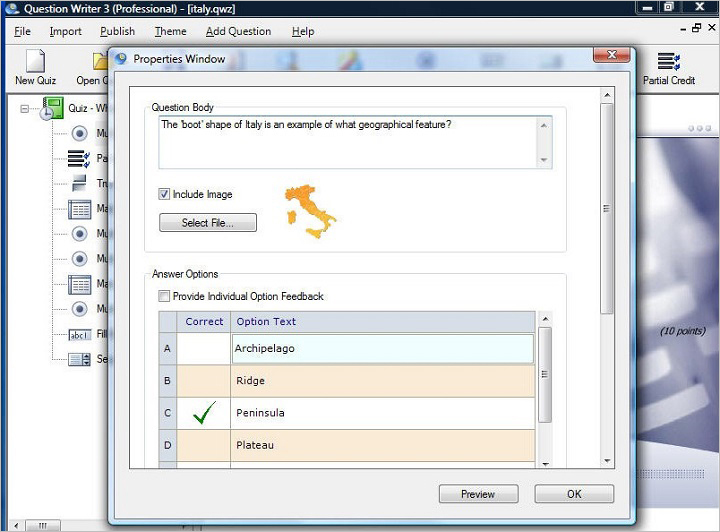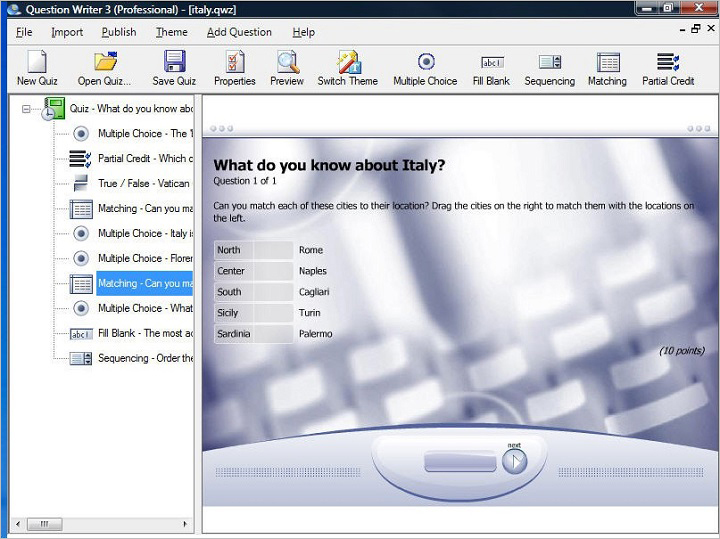 Pros
users can drag questions between tests
a time limit can be set, so that at the end of the limit the test ends and the results are automatically sent to the instructor
a conditional redirect which sends the user to different locations, depending on his/her test score
randomizable question ordering
answer options can contain images, sounds, and animation
tests can be printed, published to the Web, SCORM compatible LMSs, or exported in text format
test results can be emailed
versions in 10 different languages, including Korean, Portuguese, Italian and German
Cons
only 8 question types are available
some settings are difficult to configure (for example, question points)
there is no widescreen template available
no drag-n-drop question
the software is only available for Windows
expensive upgrades and phone support
For $495 USD you get use of everything the software has to offer, including unlimited quiz authoring, use by an unlimited number of quiz takers, email and forum support, and access to the quiz management software. It is $295 to upgrade from a previous version of the software. Custom themes for your organization are available for an additional $495. If you prefer to speak with someone rather than use email or the forums for help, one hour of phone support may be purchased for $200.
Summary
QuestionWriter HTML5 allows users to create simple tests for the Web and a number of LMSs, using basic question types, such as Multiple Choice, Fill in the Blank, and some others. Users can take advantage of the built-in templates, provided that they suit the test topic. Even though the price covers lifetime usage of the software, an upgrade to a newer version is paid.
5. Hot Potatoes
Hot Potatoes is a free test maker which includes six applications for Windows, designed to make interactive exercises for the Web. It was created by the University of Victoria, British Columbia. There's also a Java version available, but it is not SCORM compliant.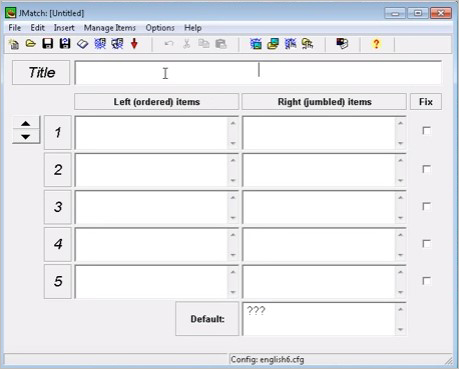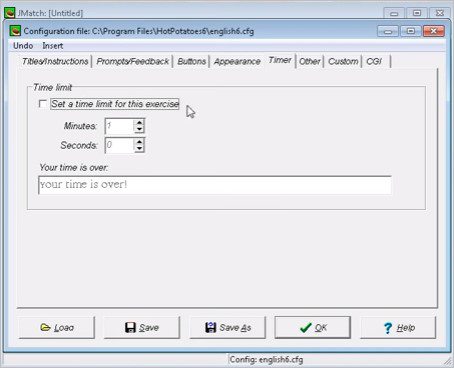 Pros
multiple-choice, short-answer, jumbled-sentence, crossword, matching and gap-fill interactive exercises
lets users connect different tests so that students can go from one activity to another
can add audio, videos and images
customizable fonts, colors, prompts, and feedback
based on HTML and JavaScript, but non-tech-savvy users can choose from the built-in templates
Cons
no technical support for the program, though the web page does provide a link to an online help forum
the last entry to the bug reports page for the Java version was in 2011 and there are still some unresolved issues
no built-in provisions to prevent cheating
doesn't generate reports with detailed results (no answer breakdown)
Hot Potatoes is now available as a freeware download from Half-Baked Software's homepage. There is a dedicated Windows version available, as well as a Java version that will work on both Mac and PC platforms. This test maker is free for non-profit individuals or educational institutions, with the condition that materials produced are freely available to anyone via the Web. Otherwise, a license starts with 1 user for $100 US
Summary
Hot Potatoes seems to be designed with K-12 educators in mind, particularly those in the Language Arts disciplines, probably due to the fact that there is also a language teaching clipart library available for use in Hot Potatoes exercises (also available for free download from the site). When combined with the lack of feedback given to the teacher regarding student progress, Hot Potatoes is best for drill-and-practice exercises to help students work toward mastery of a concept, rather than graded quizzes and tests.
An interactive test is a perfect way to assess the progress of your students and keep them engaged during the learning process. Use this list of e-Learning test makers to choose the software that will suit your training needs best.
Do you use a convenient test maker that doesn't appear on this list? Share your experience in the comments below!
Fully-stocked e-Learning authoring toolkit for PowerPoint. No training required to start!