How to Set Up Domain Alias for iSpring Learn
Every iSpring Learn LMS account has its own URL (yourcompany.ispringlearn.com). As an account owner, you can choose the name of your account (yourcompany) and change it at any time. However, all accounts in the LMS are subdomains of ispringlearn.com and you cannot change it in the iSpring Learn settings.
If you want to hide the part of the URL that says ispringlearn.com, you can do that by setting a domain alias.
Please note that it's a paid feature. Contact us for more details.
Prerequisites
Be an account owner of the iSpring Learn LMS account.
You must own your domain name, have access to it, and verify your ownership.
Web systems administration knowledge.
What is domain aliasing
A domain alias is an alternative domain name for another domain (similar to a shortcut icon that launches a program). For example, if you set your domain learn.yourcompany.net as an alias for your LMS account at yourcompany.ispringlearn.com, all visitors of learn.yourcompany.net will land at yourcompany.ispringlearn.com without seeing the iSpring name.
Original iSpring Learn web address: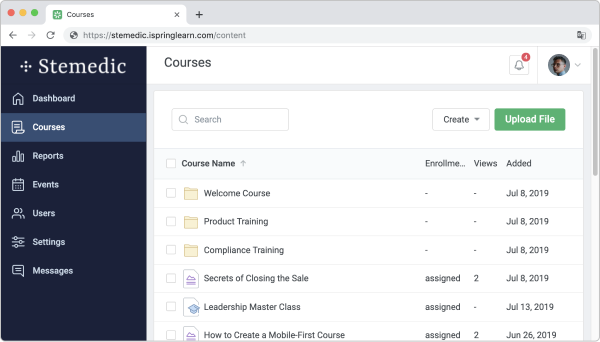 Aliased address: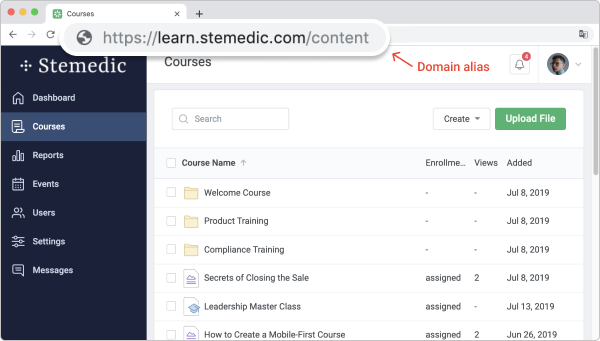 As you can see, the aliased address will appear on all pages of the learning portal (on the content page in this example). It will be shown to all visitors: admins, publishers, and users. You can set a favicon for your portal in your domain's settings.
It's recommended that you set a third level domain as an alias (learn.yourcompany.com). It will be easier for you to configure the aliasing in your domain control panel by changing the CNAME record.
Steps to set up a domain alias
In your domain control panel
1

Access the control panel provided by your domain name registrar. Somewhere in this control panel, there will be a section for managing DNS settings. In this section, find the

CNAME

field. Your domain name registrar should be able to help you find and use this feature.

2

Specify the

Target domain

in a

CNAME Record

using your current iSpring online address.


yourcompany.ispringlearn.com

3

Make sure that the

Hostname

(3rd level domain name) is the same as you have previously set in the Domain alias setting.


learn.yourcompany.com

4

Save changes.
Domain name registrars provide different features and services. For example, here is a picture of the Rackspace hosting provider:

Note: Some domain name registrars require that you put a dot after "com" in Target (Domain)—if you don't, the system will think it's merely a subdomain.
You may have to wait a while before you can access your iSpring LMS portal with the new domain name. It depends on the TTL (Time-to-live) setting on your domain control panel. In most cases, the user can change the TTL. We recommend that you set some longer time, about one day.
Once the CNAME information has been upd ated, you can access your iSpring Learn portal using both the original domain name and the new name you've chosen.
Second level domain alias
Unlike third level domains (learn.yourcompany.com), the second level domains (yourcompany.com) cannot have CNAME records.
Setting a second level domain as a domain alias is not recommended but still possible. You need to set an A Record and do a manual IP assignment. The main drawback of this method is that any IP change on our side will require your IT specialist to fix the domain alias. The respective discussion at StackOverflow may also help you set a second level domain alias.
Note: You cannot se t an IP address as a domain alias. Regular names can be used only.
(e.g. 192.168.1.1 for yourcompany.ispringlearn.com).
Support note
We at iSpring are always eager to help our customers achieve their goals. Setting up a domain alias is related to third-party server administration and must be performed by a qualified specialist, which is not covered by our free tech support agreement. If you need help with it, we will be happy to provide you with our consulting services.
Related Articles