How to add a scrollable text box to your online presentation
Everyone has run into this problem: when putting long text explanations on a PowerPoint slide, you are forced to sacrifice images completely or diminish them in size. However, using a scrollable element allows the text to occupy only a very modest area and leaves a lot of space for the image.
In this tutorial we'll explore how to add a scrollable text box to a PowerPoint presentation.
The Original PowerPoint Slide
Start by creating a new PowerPoint presentation or adding an extra slide to an existing one. For our sample slide we borrowed an image and info from a Wikipedia page: http://en.wikipedia.org/wiki/Mars.
The slide is white by default, though a dark background matches better with a presentation about planets. Let's change the background color to charcoal. Right-click the slide and go to "Format background":
Check the Solid Fill option and click the Color icon. After the palette appears, click More Colors to set a custom shade for the slide background:
Go to the Custom tab and set the Red, Green and Blue values to 25. This way, you get a charcoal background:
The next step is to add an image to the slide. Open the page with the Mars image, right click it and select the Copy Image option:
Go back to your PowerPoint presentation, paste the image and add a title:
We are done with the preparation stage, and it's time to start configuring a scrollable text box now. We are going to add it as a Web Object using iSpring Converter Pro.
Step 1. Making up the content
The text content for a scrollable element has to be in HTML format. The best and easiest way to prepare this type of content is to use Microsoft Word.
Create a new document and put the text there. In the Page Layout tab click Page Color → More Colors. Then go to the Custom tab and set Red, Green and Blue to 25.
White is perfect as a font color, as it's easy to read against the dark background. Save the Word document as Filtered HTML. To do this, please go to File → Save → Web Page, Filtered.
Microsoft Word will create a solid HTML file with no additional files and folders, which is easy to distribute and work with.
Step 2. Insert Web Object in PowerPoint
Download and install a fully-functional iSpring Converter Pro free trial and a special iSpring Converter Pro tab will appear in your PowerPoint. Click the iSpring Converter Pro tab in your PowerPoint and select Web Object.

Select Local Path in the Web Object drop-down menu and browse for the HTML file. In the Settings area below the Preview check the Display in the slide option. Show after should be set to 0 seconds.
Click OK, and the placeholder with the Web Object (local file) indicator will appear on the slide. Once the presentation is published, the actual web object will be substituted for the placeholder. In this step, you can fine-tune the placeholder's size and position.
Step 3. Publish Presentation for Web
Click Publish on the iSpring toolbar. To make your PowerPoint presentation accessible from any type of device, including mobile devices, publish your presentation in Combined (Flash+HTML5) mode. If necessary, you can customize the player's color theme, panels and controls.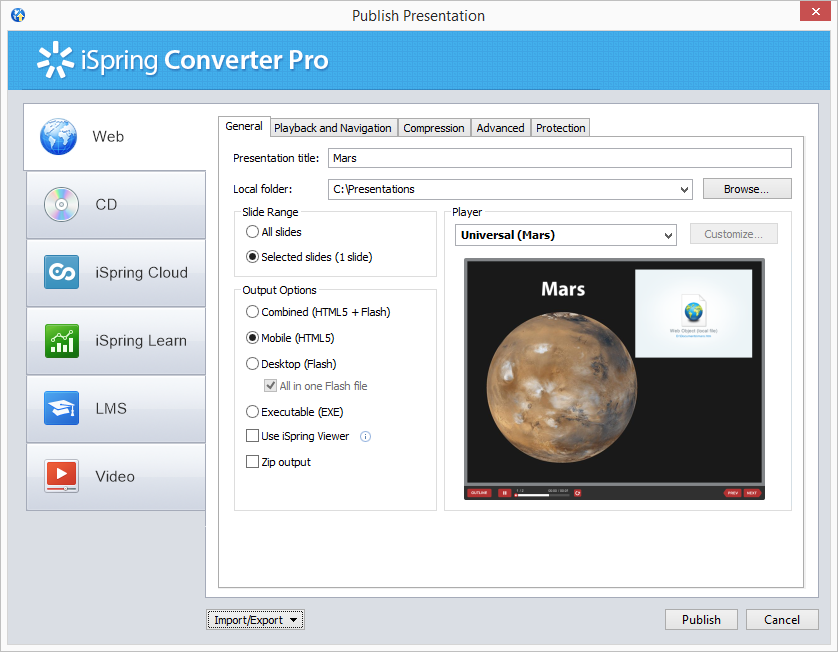 Hit the Publish button and open your presentation in a browser. The scrollable text box is finally ready.
Want to share your PowerPoint presentation with scrollable text on the Web fast and easy? Use iSpring Cloud hosting and sharing service and share your presentation via shortlink, email, or social media, or embed it right on your website or blog using an embed code:
Was this article helpful?
Thanks for your feedback!
Your request to iSpring has been submitted.
Please check your email for support replies. We reply to every message asap. If you don't hear back from us, check your spam folder and add to your list of approved senders.
Oops! Something went wrong...
Please contact them at .