Passing score calculation changes in iSpring Suite 9
The brand new version of iSpring Suite makes changes in the way your courses will be assessed if you publish them to SCORM 1.2 and 2004, AICC, Experience API and cmi5. To simplify the passing score calculation process, we got rid of different weights for slides viewed and tests and dialogues passed or failed. Each of these will have an even contribution to the final passing score or won't be assessed at all. In addition, hidden slides won't be included in the total number of slides in a course.
Setting the Passing Score and the Total Score
When you publish your course, you can choose to assess the number of slides viewed and/or the number of points scored for quizzes and dialogues. With iSpring Suite 9, you can set the number of slides you want the users to view to pass the course (or decide not to assess this factor at all) and choose the quizzes and dialogues which will contribute to the final score. This new feature of iSpring Suite 9 makes every contributing factor even: slides viewed as well as quizzes and dialogues taken can only have the same weight.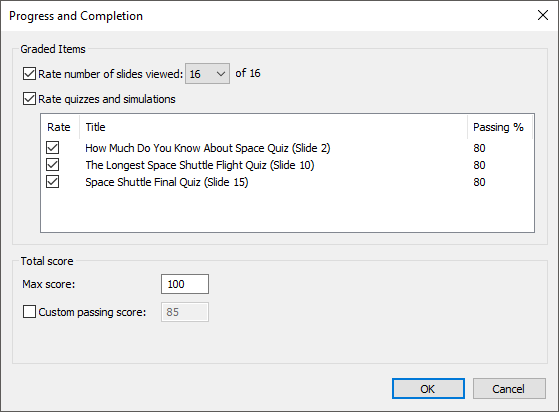 In the Graded Items section of the Progress and Completion menu, you can select which factors will contribute to the final score. The passing score for quizzes and dialogues will be calculated automatically based on the maximum and the passing score for each quiz or dialogue. If the passing score for a quiz is set in points and the branching feature is used in it, iSpring Suite 9 will set the passing score to 100%. The same will happen if a quiz is randomized and its questions have different points assigned – iSpring Suite 9 sets the passing score to 100%.
What will happen to the passing score of courses created in iSpring Suite 8
When you open a project created in iSpring Suite 8 in Version 9 of the authoring tool, it will automatically update your project and create a backup copy of the old version. Then, if your course had different weights set for slides viewed and quizzes and dialogues taken, when you publish your course, you will see a warning message.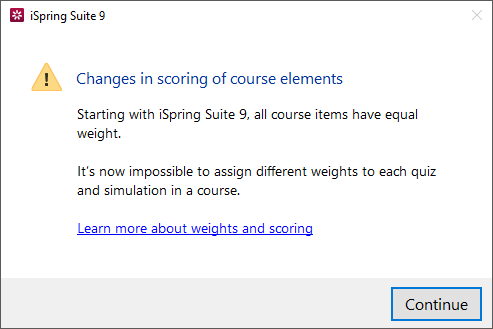 To continue working with your project in iSpring Suite 9, click Continue. In the Publishing Menu, you'll see that all course components have the same weight now.
Related Articles