How to fix the "No Internet connection" issue in iSpring Suite
If your work on a course has been disrupted with an error message saying that "There's no Internet connection", follow these steps to resolve this issue and get back to creating your eLearning content ASAP.
1. Check your Internet access. If you're connected but the error still occurs, proceed to the next step.
2. Contact your administrator to find out whether your company network uses a proxy server. If it does, you need to configure the iSpring Suite settings.
Note: The iSpring Suite tool supports proxy only with the HTTP Basic authentication.
Click on Options on the iSpring toolbar.

In the opened window, find the Proxy Server Using section and tap on Customize.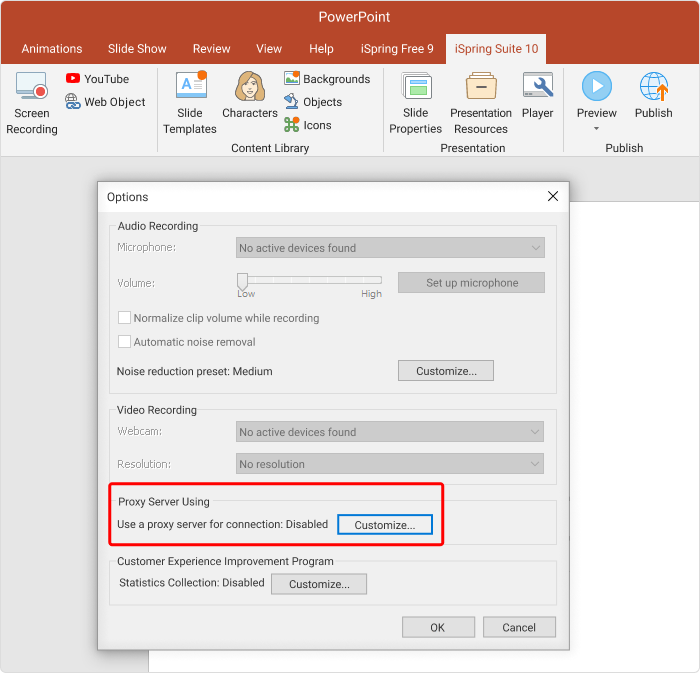 Tick the Use a proxy server for connection box and fill in the proxy information provided by your IT department.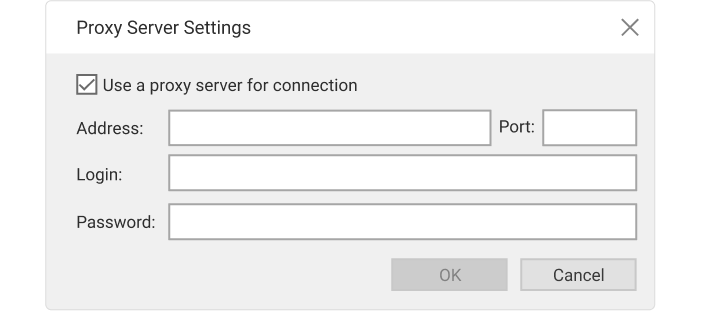 3. If your company doesn't use a proxy server and iSpring Suite is still not working, try the following fix. Ask your administrator to check the firewall and antivirus software settings and enable access to the following web addresses:

If you are still unable to connect, please contact our tech support team.
Was this article helpful?
Thanks for your feedback!
Your request to iSpring has been submitted.
Please check your email for support replies. We reply to every message asap. If you don't hear back from us, check your spam folder and add to your list of approved senders.
Oops! Something went wrong...
Please contact them at .