How to Create a Video Lecture with iSpring
iSpring Presenter is one of the most popular tools for the creation of interactive video lectures. iSpring-generated video lectures are ready for uploading online or publishing to any SCORM-compliant LMS. iSpring Presenter allows you to:
Record video narrations
Insert pre-recorded video into your presentation
Synchronize video with slides and animations
Easily switch between slide and video modes
Supplement presentation with useful files and info
Publish video lectures for the Web, upload to an LMS or burn to a CD.
Use this step-by-step guide to learn how to make a good video lecture and share it online. For starters, download and install a fully-functional iSpring Presenter trial and a special iSpring Presenter tab will appear in your PowerPoint.
To create an interactive video lecture, just open your PowerPoint.
1. Record video narration
You can record a narration for your video lecture using just your webcam and iSpring Presenter. Click the Record Video button on the iSpring Presenter toolbar. If you already have a pre-recorded video narration, just insert it using the iSpring Narration Editor. You can insert a video file in one of the following formats: .AVI, .WMV, .MPG, .MP4, .MKV.
2. Edit Video Narration
Using the Manage Narration button, you can easily synchronize your video narration with the slides and animations of your presentation. You can also control the volume of the video and its size.
3. Switch between slide mode and video narration
With iSpring Presenter you can shift students' attention from the slide to the video narration and back. Simply select different types of layout in the iSpring Presenter Customize Player window (via the Publish button):
Slide only. This layout focuses the attention of your audience on the contents of the slide. Students can study the information on the slide without being distracted by the instructor's comments.
Presenter video. If you want students to watch some part of the video lecture very attentively, turn off the slide and show your video in fullscreen mode.
Slide and video. Use this type of layout if both slide and video are required to explain the information in the most effective way.
4. Supplement presentation with useful content
iSpring Presenter allows you to enrich your presentation with quizzes and online content like YouTube and Vimeo videos or Web objects with a single click on its toolbar. Also, you can insert useful resources such as Flash movies, e-books, high-resolution images, links and other files. These resources will be available in the interactive video player of your lecture.

5. Publish video lecture for uploading online
After you click the Publish button on the toolbar, you can choose the most appropriate way of publishing. You can publish the presentation for the Web or an LMS, burn to a CD or send by email. Take advantage of publishing PowerPoint to the combined Flash and HTML5 mode, and your video lecture will be available for playing on all platforms.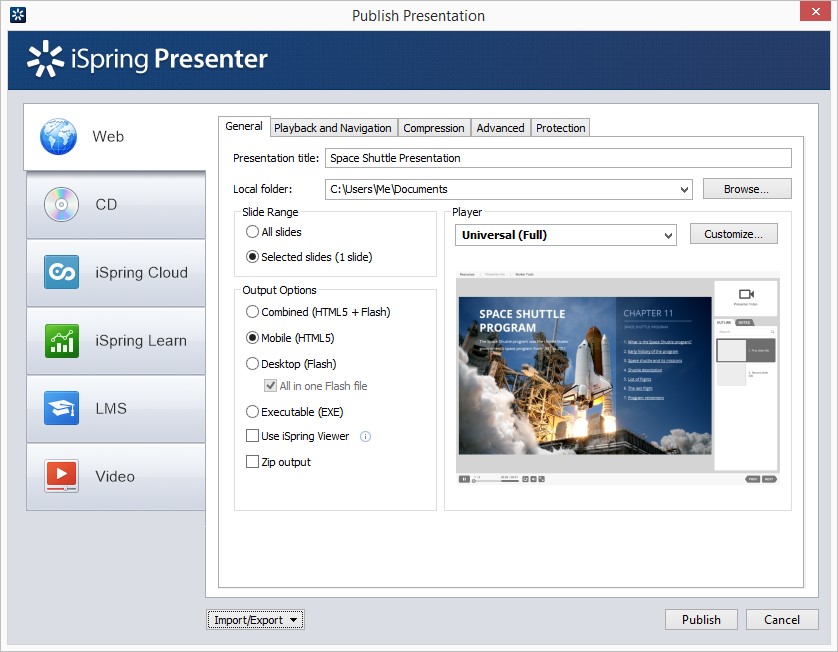 Here we have created a complex training video that consists of a rich media presentation, informative video narration and interactive video player. With the help of the player, students can fully control the playback of the video lecture, open attachments, return to previously viewed slides and more.
Was this article helpful?
Thanks for your feedback!
Your request to iSpring has been submitted.
Please check your email for support replies. We reply to every message asap. If you don't hear back from us, check your spam folder and add to your list of approved senders.
Oops! Something went wrong...
Please contact them at .