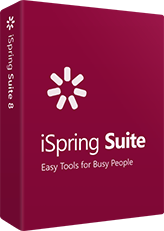 iSpring Suite 8.1
E-Learning Authoring Supercharger
Fully-stocked e-Learning authoring toolkit for PowerPoint.
No training required to start!
Perfect Integration with PowerPoint
Find out how fast and easy it is to create stunning e-Learning courses with iSpring Suite: check out these handy video tutorials and start creating!
Supercharged to Develop e-Learning Fast and Easy
Take advantage of the most powerful e-Learning toolkit for PowerPoint to develop quality courses, video lectures and assessments that will work on any desktop, laptop and mobile platform.
---
Convert PowerPoint into E-Learning Courses
Convert your existing presentations into e-Learning courses. Use your PowerPoint skills to create tons of quality e-Learning content fast and easy without special training.
Online courses created with iSpring Suite
---
Create Video Lectures
Synchronize your video with your PowerPoint slides and publish it into a video presentation format to reach millions of viewers online.
Video lectures created with iSpring Suite
---
Build Interactive Assessments
Use state-of-the art iSpring tools to create interactive assessments with rich media, video, drag-n-drops, branching, and flexible scoring and testing rules.
Quizzes created with iSpring Suite
---
Record Screencasts and Teach Through Video
Now you can record screencasts right in iSpring Suite without using any 3rd-party tools. Capture all or part of your screen with the built-in iSpring Cam tool and paste the video on your slides, or use it as standalone training material.
Screencasts created with iSpring Suite
---
Develop Conversation Skills
Create conversation simulations to practice your team's communication skills. The built-in TalkMaster tool includes a library of backgrounds and characters to develop realistic dialogue simulations with branching and assessments.
Dialogue simulations created with iSpring Suite
---
Create E-Learning Interactions
Make your learning materials more visual with iSpring e-Learning interactions that you can create fast and easy with iSpring Suite. Use a set of ready-made templates for creating 3D books, timelines, references, glossaries, catalogs, and FAQs.
Interactions created with iSpring Suite
---
Use Characters in Your Courses
iSpring Suite provides a Character Library for use in your training materials. The library includes characters of different ages and professions in dozens of different poses. You can also create your own characters and add them to the Character Library.
---
Extensive LMS Compatibility
iSpring produces content that will work well with virtually any LMS. iSpring tools perfectly support all classic and new e-Learning standards: SCORM 1.2, SCORM 2004, AICC, and xAPI (Tin Can).
---
Adaptive Player That Works Everywhere
Everything you create with iSpring Suite supports Flash and HTML5 for perfect playback on any device, including PCs, Macs, tablets, and smartphones (with Windows, iOS, and Android OS).
---
---
The Ultimate Bundle of iSpring E-Learning Tools
iSpring Suite contains all iSpring authoring capabilities integrated in one supercharged toolkit. With all these features combined in one place, top-to-bottom content creation is faster than ever.
Real Life Demos
Experience these demo courses, presentations, assessments and simulations created by our customers using iSpring Suite.
See all demos

→
iSpring Suite Video Tutorials
Find out how fast and easy you can create interactive e-Learning courses, video lectures, and assessments with iSpring Suite.
---
Money Back Guarantee
We guarantee 100% money back within 30 days after your purchase. Contact us and we will promptly arrange your refund.
Free Support
iSpring software comes with free tech support. The Europe-based support team is available during EU and US business hours.
---
World Famous Brands Trust iSpring
Thousands of businesses from all over the world choose iSpring e-Learning tools for building their leadership. iSpring Featured Customers →
Success Stories from All Over World
I really appreciate iSpring's solution because it's simple to use, it's an invaluable tool, it aligns to my education and business priorities and it's a definite priority necessity in my life!
— Steve Polanco
iSpring is the best, ″the best″ E-Learning software provider available. I have used it on many occasions and it never ceases to amaze me. Quizzes are a cup of tea, if you have iSpring with you. iSpring rocks!!
— Rimaz Nazeer
iSpring is the most reliable, versatile and most powerful tool that truly converts all PowerPoint features, including triggers. Additionally, iSpring works and reports correctly every LMS I have tested it with. I highly recommend iSpring, as a product, as a company, and as a team. Keep up the great work!
— Dustin Bauman,

iApproach.com
The feature of iSpring I am most excited about is the ability to export to HTML5. The benefit of iSpring is that the majority of features that are created in PowerPoint can now be used to create engaging interactive programs for the mobile marketplace. For those of you who want to do the same, I invite you to join the fun!
— Greggory DeVore,

Fetal Diagnostic Center
Start Your Free Trial
Enjoy the full functionality with a free 30-day trial!
Start creating powerful courses today!
Download for Free
---
Like iSpring Suite? Tell your friends!