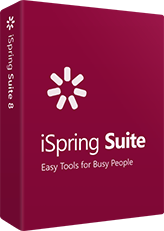 iSpring Suite 8.7
E-Learning Authoring Supercharger
151 customer reviews
Fully-stocked e-Learning authoring toolkit for PowerPoint.
No training required to start!
Perfect Integration with PowerPoint
Find out how fast and easy it is to create stunning e-Learning courses with iSpring Suite: check out these handy video tutorials and start creating!
Supercharged to Develop e-Learning Fast and Easy
Take advantage of the most powerful e-Learning toolkit for PowerPoint to develop quality courses, video lectures and assessments that will work on any desktop, laptop and mobile platform.
Convert your presentations into online mobile-ready courses.
Easily create video narrations and synchronize them with your slides.
Develop comprehensive tests with branching and flexible scoring system.
Record and fine-tune training videos with the integrated screen recorder.
Build realistic dialogue simulations to train communication skills.
Present your e-learning materials in the form of engaging interactions.
Create courses from ready-to-use templates and assets.
Publish iSpring content to any popular learning management system.
Integration with
iSpring Learn LMS
Use powerful iSpring Learn LMS for an easy management of e-Learning.
---
---
---
---
---
---
---
---
---
---
---
Real Life Demos
Experience these demo courses, presentations, assessments and simulations created by our customers using iSpring Suite.
See all demos

→
iSpring Suite Video Tutorials
Find out how fast and easy you can create interactive e-Learning courses, video lectures, and assessments with iSpring Suite.
---
30-day Money Back Guarantee
We guarantee 100% money back for all lifetime licenses within 30 days. No questions asked.
Complimentary Support Plan
The Europe-based support team
is available during EU and US business hours.
One License,

Two PCs
You can use your iSpring on two computers:
for example, an office PC and a home laptop.
---
Reviews from our customers
"I've been using iSpring for several years now. It's easy to use and capable of much more than most users can even imagine, as it's not just a replacement for voice over PowerPoint: it provides tons of interactivity options, assessment possibilities, and more.
The customer service is excellent as well; if something can't be answered in a general support forum, the tech personnel are responsive and helpful via e-mail."

"I have been using this software for 3-4 years and the experience is amazing. You don't need to be a technical person, and you don't need formal training to operate this software, and this is amazing. I am saving around 70 to 80% of the time I was putting into making my content interactive and valuable. Secondly, I came to know all the additional stuff I can do, just go through the features and you will learn the different options which are amazing. Thanks a lot for such software, iSpring."

"After downloading the free trial and working with the program for a few days, I convinced my boss that this was the program we needed for making our on-demand training content spectacular. Also, the sales/customer service people were AWESOME and most helpful. If you're looking for software that gives your PowerPoint presentations that "zing," then iSpring Suite is the program for you!"

"It's a fantastic product... It's so good now that it caters to my needs for publishing across all platforms without the need for another program to include Flash for windows applications.
Keep it up!!"

"iSpring is the most reliable, versatile and most powerful tool that truly converts all PowerPoint features, including triggers. Additionally, iSpring works and reports correctly every LMS I have tested it with. I highly recommend iSpring, as a product, as a company, and as a team. Keep up the great work!"

"The feature of iSpring I am most excited about is the ability to export to HTML5. The benefit of iSpring is that the majority of features that are created in PowerPoint can now be used to create engaging interactive programs for the mobile marketplace. For those of you who want to do the same, I invite you to join the fun!"

"iSpring is a great rapid development tool. It has lots of features and as it comes as a PowerPoint add-on, there is no real training required as long as you have basic PPT skills.
It offers great value for the money and for the price there is very little on the market that can rival this tool."

"It's really easy to use and if you master PowerPoint you will be able to create interesting, interactive and meaningful e-Learning courses in no time.
I've worked with several LMSs (Moodle, SumTotal, Saba, Chamilo, etc.) and iSpring integrates seamlessly with them. This is something I really appreciate, since I also work with other e-Learning authoring tools and you need to know some tricks to make them work in the LMS. There's no need with iSpring Suite."

"We rely on iSpring for developing our on-demand course library and we are very happy with it. iSpring produces great looking e-Learning products and it's very flexible and reliable. Our customers love the highly interactive courses that we produce with iSpring."

---
Like iSpring Suite? Tell your friends!