The Quiz Maker People Love to Use
iSpring QuizMaker 8.5
Customizable, impressive, a mobile-ready quiz building tool that ensures e-Learning success.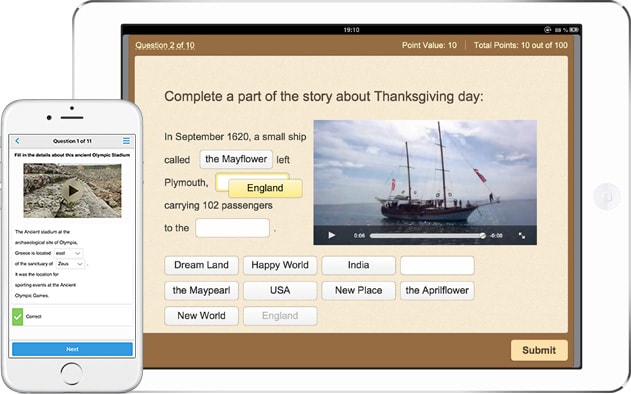 Make a Quiz Unique and Eye-Catching
Keep your learners engaged with highly-energized content! iSpring's test maker allows you to make a quiz look remarkable and add vitality to your e-Learning. View iSpring Quiz Maker Demos
Create Remarkable Online Quizzes
Enjoy extensive capabilities for customizing your tests' style, attributes and personality.
---
Why is iSpring Quiz Maker Preferred?
Carefully developed by our first-class team of developers, iSpring Quiz Maker features an easy to use, intuitive interface, while providing an industry leading quiz toolbox. Plus, our renowned conversion engine provides pinpoint accurate reproduction of all effects on any screen and any device.
Educational Institutions
Cover the educational process from top to bottom: deliver and track your content to your learners via any SCORM/AICC/ Tin Can-compliant LMS.
Corporate Training
Empower your workforce. Conveniently and efficiently train them on-the-go with mobile-ready tests.
Marketing
Launch your market research campaigns and allow your surveysto provide data-rich, real-time feedback.
Want to Power-Pack Your Quiz with Rich Media?
Spice up your surveys and engage your audience with various forms of media.
With iSpring QuizMaker, you can create audio and video questions, add hyperlinks, and provide images and formulas for both questions and answer choices.
Download iSpring Quiz Maker 8.5 Free Trial
Video
Make your quizzes more captivating and engrossing by adding video clips and Flash movies.
Audio
Import or record an audio narration and add it to your questions and feedback messages.
Images
To illustrate your ideas, add a picture to your test and define its size and position in your layout.
Equations
Compose formulas in MS Equation Editor and instantly insert them into your quiz.
---
Interact with Your Learners Using Personalized Feedback
For each question you can set up customized feedback messaging.
Reward your e-learners for a correct answer, prompt them to try again, and provide them with more insight that will ultimately lead to the right answer.
Make a quiz with iSpring Quiz Maker free trial
---
Comprehensive Question Variety
Choose from 11 graded and 12 survey question types to let your learners study in an engaging, entertaining way.
Matching Questions
---
Sequence Questions
---
Multiple Response
---
Multiple Choice Text
---
Survey Questions
---
Hot Spot Questions
---
Utilize Branching Scenarios
Creating branching scenarios allows you to arrange personalized e-learner paths within every quiz.
Set up different outcomes for each question or answer choice. Identify your learners' strengths and weaknesses in real time and then channel them to relevant questions or info slides.
Download iSpring Quiz Maker 8.5 Free Trial
Branch to a Question
Send your quiz takers to a specific slide depending on what answer they give to a certain question.
Branch to a Group
If a student answers correctly, you can foster the engagement by asking more challenging questions.
Branch to Info Slide
Branch questions to info slides to ensure your learners are exposed to more detailed info.
Branching per Answer
For some question types, branching and feedback messages can be set up for each answer choice.
---
Use Flexible Scoring
Grade your quiz takers fairly and accurately by adjusting your own scoring system.
Set up the same scoring rules for the entire test, or, when appropriate, treat each question individually, thereby assessing the question difficulty.
Download iSpring Quiz Maker 8.5 Free Trial
Passing Score
Set point- or percentage-based passing scores. Normalizing and baselining quiz scores is always an option.
Custom Points
Award points for each respective question and answer choice. Challenge your competitive e-learners!
Penalty Points
Motivate your learners to answer all questions. Set your rules to deduct points for incorrect and unanswered questions.
Partial Answers
If your e-learners provide an incomplete or partial answer, you can provide partial credit for their answers.
---
Testing Rules
Use testing rules to maximize your test's value. Set up your own custom testing rules to assign a unique value to each test.
Tailor your quiz to your wishes and demands. You know best – it's your test.
Download iSpring Quiz Maker 8.5 Free Trial
Number of Attempts
You can set rules that limit the number of times your e-learners can attempt to answer a question.
Add Timer to a Quiz
Jump-start your students' motivation: specify time limits for an entire test or for each question.
Randomization
Create a question pool and present a different subset of questions to each student in your class.
Quiz Submission
You can adjust the options to allow your e-learners to skip questions, or to submit them one at a time for feedback.
Extensive LMS Compatibility
iSpring Quiz Maker tests will work flawlessly in your LMS, as they can be easily delivered through all classic and new e-Learning standards: SCORM 1.2, SCORM 2004, AICC, and xAPI (Tin Can).
If don't have an LMS yet, feel free to use iSpring Learn and enjoy advanced reporting capabilities.
Run HTML5 & Flash Quizzes on All Devices and LMSs
iSpring's HTML5 technology enables you to create quizzes and surveys for any digital environment including desktops, laptops, tablets, and smartphones.
Rest assured that your tests will execute flawless playback and reporting inside any SCORM/AICC compatible LMS.
Download iSpring Quiz Maker 8.5 Free Trial
---
---
Video Tutorials for iSpring Quiz Maker
30-day Money Back Guarantee
We guarantee 100% money back within
30 days after your purchase. No questions asked.
Complimentary Support Plan
The Europe-based support team
is available during EU and US business hours.
One License,

Two PCs
You can use your iSpring on two computers:
for example, an office PC and a home laptop.
---
World Famous Brands Trust iSpring
Thousands of businesses from all over the world choose iSpring e-Learning software for building their leadership. iSpring Featured Customers →
Success Stories from All Over World
I really appreciate iSpring's solution because it's simple to use, it's an invaluable tool, it aligns to my education and business priorities and it's a definite priority necessity in my life!
— Steve Polanco
At first I was always troubled by how I can create Quizzes and 3D Book without going through the trouble to learn about Flash and more, iSpring just did it all for me.
— Zhikuan Zhao
This product has allowed me to create expensive looking training material and tests for a minimal cost. The ability to create and send out class assignments tostudents 1200 miles away not only saves time, but travelexpenses that in the past would have put a strain on a company's budget. I absolutely love this product.
— Troy Roberts
I was looking for an application that will understand my need... I am overwhelmed by the functions and design of iSpring QuizMaker. Not only have I found a solution to my problem, I found a way of arousing the interest of some of my students who were struggling to finish up their work on time.
— Lantame Nikabou
Start your 30-day free trial
Try out this powerful quiz maker yourself: start creating smart quizzes and surveys in online format for any website or LMS with iSpring Quiz Maker.
Download for Free
---
Like iSpring QuizMaker? Tell your friends!