Free Quiz and Survey Maker
Create interactive Flash quizzes and surveys using different question types, multimedia, styles and informational slides and publish created tests for Web, LMS or Microsoft Word.
Download Free Quiz Maker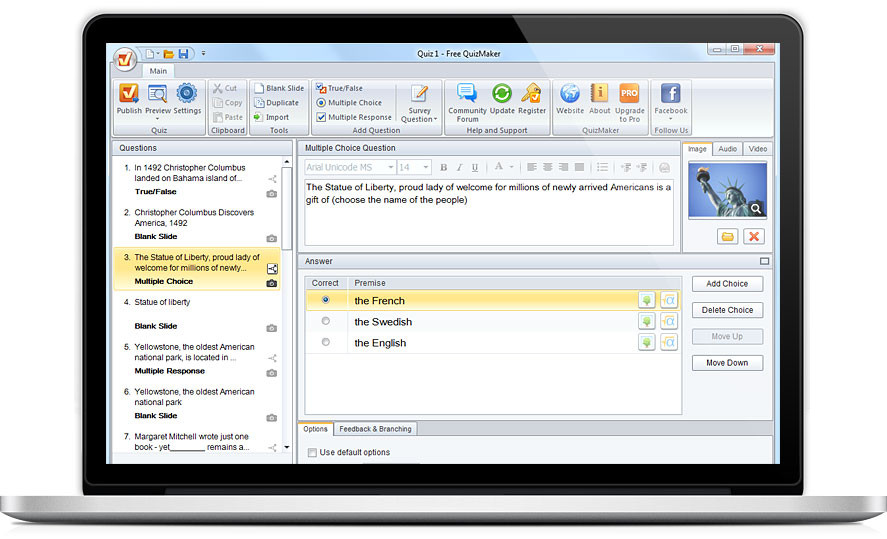 Create Your Own Quizzes in a Minute
Free Quiz Maker provides a set of useful features for the creation of quizzes and surveys. To get access to even more advanced features, test drive the full version.
Success Stories from All Over World
I love QuizMaker as its a fun and interactive way to capture survey information from prospective users and clients.
—

Mike Chatfield
This product has allowed me to create expensive looking training material and tests for a minimal cost.
—

Troy Roberts
iSpring Quiz Maker Features
Graded Quizzes and Surveys
Create effective and challenging quizzes and informative surveys using numerous different question categories provided by the tool.
iSpring's quiz and survey software allows you to enrich tests with additional info slides and multimedia content including audio, video, images and formulas. After you create all questions, you can fine-tune their settings according to your requirements.
23 Question Types
Make your quizzes and surveys more engaging and flexible by using different question categories every time.
iSpring Quiz Maker offers 11 graded categoried for qiuzzes, including True or False, Fill in the Blank and Hotspot questions, and 12 non-graded categories for surveys, including Essay and Likert Scale questions. When it's required, graded questions can be mixed with non-graded.
Branching Scenarios
Build branching scenarios in your quizzes and surveys to make them more effective and interactive. With branching scenarios you can decide which question the student has to answer next depending on his current answer.
Combined with the question-specific feedback and the blank slide feature, branching quizzes can dramatically improve students' retention of knowledge.
Enhanced LMS Support
Make the created quizzes and surveys available to all your students by uploading them to any SCORM or AICC-compliant LMS.
In addition to choosing the type of your course, you can fine tune other LMS settings, including name, description and tags for your course and completion statuses that will be sent to your LMS.
Advanced Settings
Control every aspect of your quizzes' playback by adjusting the advanced settings. With iSpring Quiz Maker you can take advantage of the following groups of advanced settings to create custom quizzes:
General features
Navigation
Question Defaults
Result
Player Customization
Text Labels
Technical Support
Contact us anytime you have questions or need advice. A friendly support team of highly-trained engineers will be glad to help you with your iSpring Quiz Maker tool. Just write us at
Create SCORM Quizzes and Surveys
With iSpring Quiz Maker you can generate interactive Flash quizzes with multimedia and branching.
Try Full QuizMaker for Free
---
Like Free QuizMaker? Tell your friends!