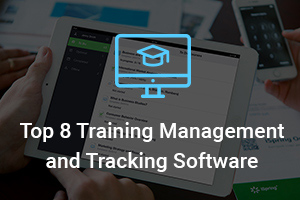 There are two types of employees who study online – those who love their learning management systems, and all the others. But choosing the right training management and tracking software isn't only about happy learners. It allows administrators to easily deliver training and measure results the way they want it. Check out these top-rated LMSs preferred by businesses of all sizes.
While there are hundreds of LMSs on the market, some of them get more acknowledgement than others. The systems in this article have received awards from industry experts after thorough analysis of their capabilities, design, features, services, updates, and other important factors. Plus, these systems are loved by their customers, who regularly rate them high on software review websites.
Different software varies not only in the feature set, but the area of application. The LMSs in this article are divided into three groups: those for SMB (small and medium business), mid-size, and large business or enterprises.
Comparison at a glance
The following features are present in all the the described LMSs, though they may differ in functionality:
Course catalog
User management
Learning analytics
Completion certificate
Third-party integration
eCommerce
Custom branding
Multilanguage/localization support
This comparison table demonstrates some other capabilities that distinguish the systems from each other.
 

Authoring tool

Software for creating training content

 

 

Social learning

Webinars

Synchronous learning through live conferences

 

 

Offline access

Learners can study offline, their results are saved

 

 

Mobile app

Price per month for 100 users

What's included

Features and services included in the subscription price

 

 

+
Basic web-based test-maker

–

–

–

iOS app

$249

Functionality depends on the chosen plan

Support

Initial training

+
Web-based tool

+

+

+

iOS Android Windows Phone

$200

Functionality depends on the chosen plan

Support

Initial training

Powerful desktop tool

–

–

+

iOS Android app

$227

All the features regardless of the plan

Support

Initial training

Web-based tool in the eSSential + PLUS package

+

+

+

–

N/A

Functionality depends on the chosen plan

Support

12-hour training

Partner web-based tool (Elucidat)

At an additional cost

+

For enterprises only

iOS Android app

$390

Functionality depends on the chosen plan

Support

+

Basic web-based tool

–

+

–

iOS Android app

$299

N/A

Powerful desktop tool

+

–

+

iOS Android

N/A

Functionality and services depend on the chosen plan

Simple web-based test-maker

+

+

+

iOS Android

N/A

Functionality depends on the chosen plan

Support
SMB
Small and medium companies need LMSs that can be up and running within a short time and a limited budget. That said, it should be an easily configurable, cloud-based system with an excellent support service. Here are three top-rated LMSs that meet these and other requirements of SMB.
1. LearnUpon
LearnUpon is designed to simplify online learning for all parties involved. Indeed, this training management software solution has explanatory notes that help administrators get started in no time.
The integrated course builder makes it easy to add new content and organize course structure. You can also create simple tests with six question types, feedback per answer, and other options. The reporting functionality is represented by content reports; for example, for Course Modules or Exams. To make the tracking process easier, reports can be scheduled to run automatically.
LearnUpon enables instructor-led training (ILT) with a number of flexible settings. Thus you can schedule single or multi-session events, assign instructors, mark attendance, and more. Classroom-based trainings can be sold to users through the LearnUpon store. Participants can self-register for any event of their choice. The ILT option is available for plans with more than 500 active users.
With LearnUpon, you can design a different branded portal for each of your clients. Other customizable elements are a login page, email and notifications, mobile apps, and completion certificates (see the picture below).
The user management interface offers basic options, such as combining users into groups and assigning different roles to them. There's no possibility to create organizations. The four roles available are learner, manager, instructor, and administrator.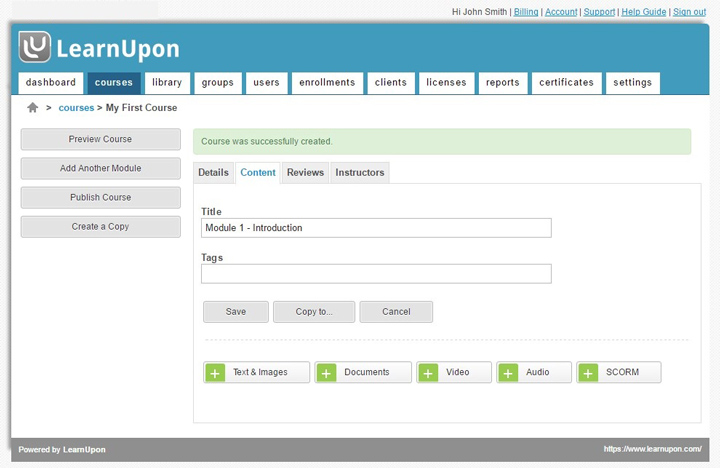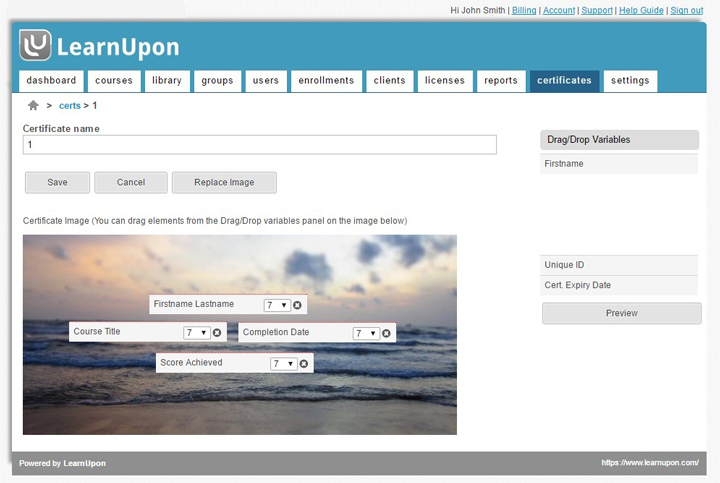 Pricing
Prices for LearnUpon start from $249/month for 100 active users and 1 client portal. The most popular subscription plan costs $799/month for 1,000 active users and 10 client portals. Note that the included functionality varies in different plans: the bigger the plan is, the more features and services there are. For example, to get the Salesforce integration, you need to purchase the Platinum plan.
The free trial is 30 days long, but some options are limited. To sign up for a trial, a corporate email is required.
2. iSpring Learn LMS
iSpring Learn LMS is convenient and scalable training tracking software that allows businesses to take the whole training process under full control. With this plug-and-play LMS, you can host various types of content, combine them into learning paths and monitor learners' progress all from one place.
The system doesn't require a setup procedure. The user gets a personal iSpring account, and setting up the system requires just a simple log-in procedure.
iSpring Learn allows you to upload any type of content and in any quantity, thanks to the unlimited storage space available for all the subscription plans. The system supports all types of content, including audio and video, Flash, reference documents, and SCORM courses. At the same time, the distributed data storage ensures the safety of all the imported content.
If you don't have learning materials yet, you can take advantage of iSpring Suite 8 to create rich media courses, video lectures, dialogue simulations, tests with 23 question types, and more. This authoring tool enables one-click publishing to iSpring Learn and provides you with advanced reporting capabilities.
A powerful set of detailed reports is a great advantage of iSpring Learn. The system tracks all the learning activities, so you can get any kind of statistics you want. This advanced analytics help trace the connection between the cost of corporate training and the tangible results of employee performance. It's also possible to generate custom reports for specific business needs.
iSpring Learn has free native mobile apps for Android and iOS that let employees complete courses offline, and their progress will be automatically synchronized later.
Social learning in iSpring Learn is only available in the form of content discussion between instructors and students. There's no gamification option either.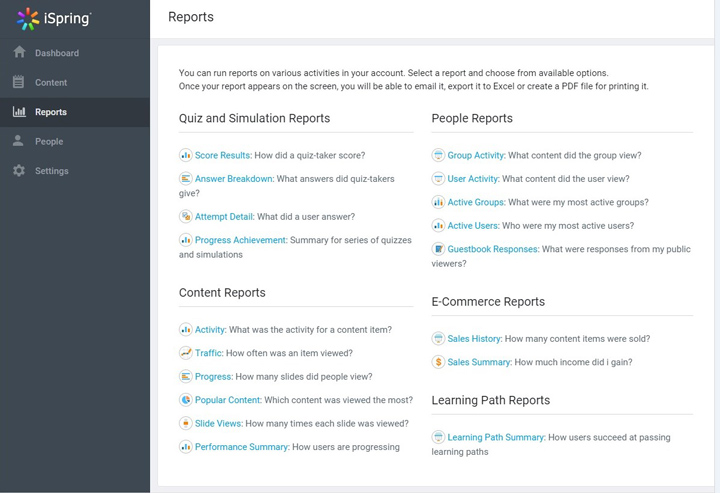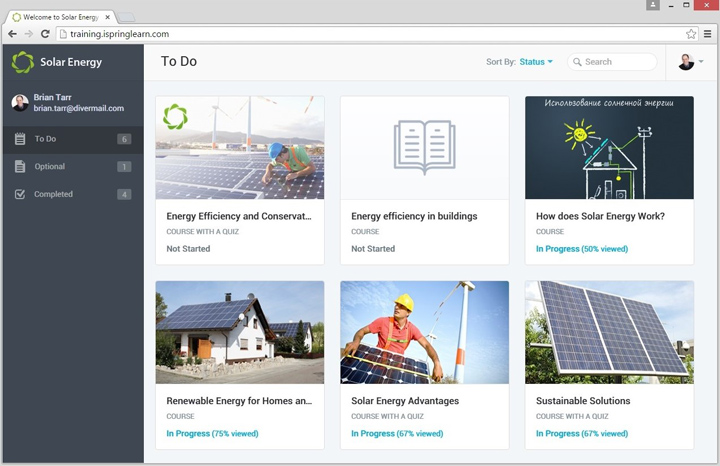 Pricing
iSpring Learn has flexible pricing options that provide complete capabilities and vary only in the number of active users. The prices start from $127/month for 50 active users. A subscription to a powerful authoring tool costs $270 per year. The free trial is available for 14 days.
3. Instancy Learning Gateway
Instancy Learning Gateway is a versatile platform comprising different learning solutions: authoring tools, mobile learning platform, learning management and learning content management systems, LRS, and eCommerce system. In addition, Instancy offers implementation services aimed at assisting eLearning newbies or those migrating from another platform. The final cost for the product depends on the chosen components.
Mobile-ready Instancy LMS is designed to deliver and manage personalized e-Learning programs on any device. The system enables you to create unique sub-portals for multiple segments of learners. You can choose a predefined theme or create a custom one using the built-in design tools. In addition, you can design a branded mobile app, allowing learners to download content on their mobile devices and study offline.
With Instancy's web-based authoring tools, you can create diverse types of content, including learning modules, assessments, HTML objects, and courses in SCORM or AICC. All the materials can be edited at any time, and also blended in a learning track with a certain content sequence.
On average, Instancy LMS is updated every month, though this may not concern all clients. Typical downtime during system upgrades is two hours during off hours.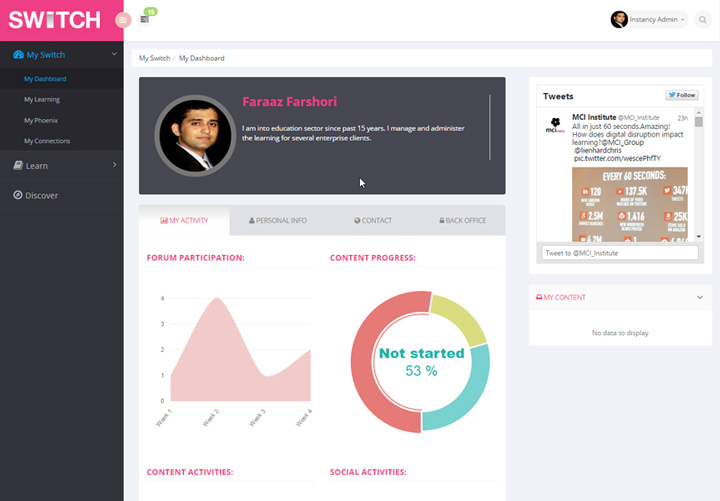 Pricing
Pricing is based on initial setup fees, plus a monthly software subscription based on number of users or usage. The subscription price starts from $200/month for 100 active users, and grows according to the number of products and services. Additionally, Instancy charges for APIs: the price is $500 to $1200 (one-time services cost) for providing access to the API and initial support to the client's IT team to integrate the API with their applications.
You can leave a request for a 30-day trial.  Before getting a trial account, an Instancy manager will contact you to schedule a call.
Mid-size business
Training and tracking software for mid-size business may offer more features and services, including assistance with the implementation process. These LMSs have proved to be useful for many mid-sized companies from all over the world.
4. eSSential LMS
elogic Learning focuses on providing various solutions for corporate training, including custom course development, ready-made learning content, an online authoring tool, and the eSSential LMS. It's also possible to get all these options in one integrated e-Learning bundle – eSSential + PLUS. Both models include initial planning and training that facilitates the implementation process. This may include meetings, LMS adaptation, an orientation webinar, and other activities. The guidance offered depends on the plan chosen and varies in price.
One of the most powerful features of eSSential LMS is a robust eCommerce engine, allowing you to sell online courses, webinars, learning paths, and even physical products like books. The system supports more than 50 payment gateways and multiple currencies. The course catalog can be publicly shared without prompting clients to log in.
eSSential LMS also provides gamification, social learning, account branding, continuing education support, and more. The integrated authoring tool allows users to collaboratively create and update e-Learning content right in the LMS. This online software is available with the eSSential + PLUS LMS. Apart from course authoring, users of the premium LMS can take advantage of 120 ready online courses, and the development of one custom course up to one hour long.
eSSential LMS requires a rather steep learning curve and there are a lot of settings to configure. However, the company offers extensive assistance and support with the implementation.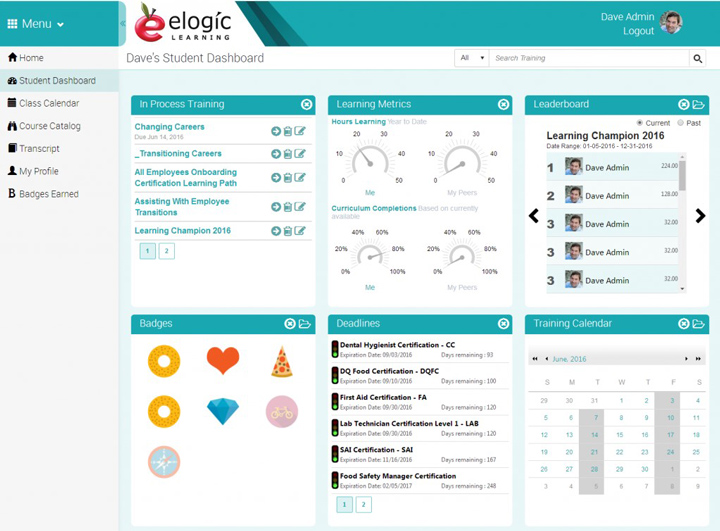 Pricing
The starting price for the eSSential LMS is $12,000/year. To learn more about pricing plans, you can contact Elogic Learning or request a live demo. There's no trial version available.
5. Docebo
Docebo is a modular learning management system for training employees, partners, and clients. It is designed as an ecosystem of features and modules that can be enabled or disabled at any time. These may be instructor-led training, gamification, coaching and others. While some of the extensions are free, others can either be purchased for an additional cost or received with an Enterprise plan. For example, the Certification and Re-training app is available for $29/month.
This LMS is integrated with a bunch of popular third-party services such as GoToMeeting, WebEx, WordPress, and Google Analytics. It would be a great solution for a social-oriented business, as the system is integrated with Facebook, Twitter and Linkedin, which makes it possible for learners and instructors to discuss learning content and post their ideas to blogs. For an additional fee, you can expand the social functions with badges and leaderboards. This will help you make training fun for every member of your team.
Overall, Docebo is unlikely to get old-fashioned, as it is constantly evolving and regularly gets updates. The integrated app store is enhanced with new applications and functionality. The training for administrators isn't included in the subscription cost, but there will probably be no need for it, since the LMS is very user-friendly and simple.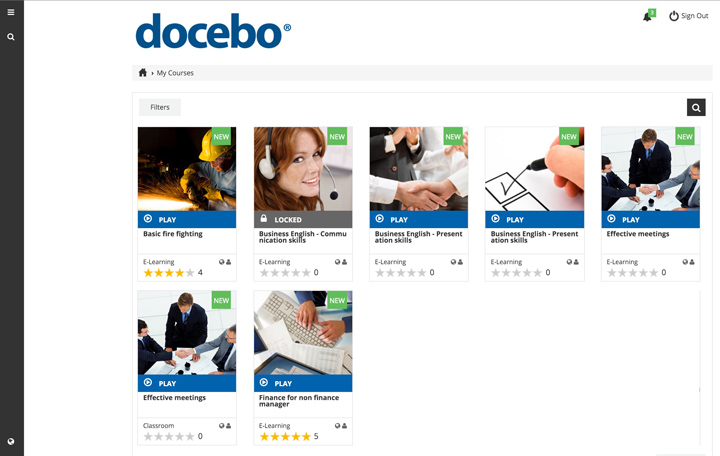 Pricing
Docebo has four pricing plans for SMB depending on the number of active users. The prices start from $230 per month for 50 active learners. You can sign up for a 14-day trial version.
6. Litmos
Litmos is another popular LMS which is easy to scale and it works on any device. It will help you both organize compliance training with strict requirements and turn your corporate learning into an engaging competition with rules, badges and leaderboards. Employees can take courses and conquer new peaks from their mobile devices. The system offers rich third-party integrations with such services as Go To Training, Dropbox, MailChimp, Salesforce, and others.
Litmos boasts a convenient module-based, intuitive graphical interface both for administrators and end users. You can use the integrated course builder to create simple information pages, assessments and surveys. It's also possible to import existing presentations, multimedia, web pages, and more. However, to develop more advanced and customized content with animation effects, you will need an additional authoring tool.
Many users say they'd prefer more robust and, at the same time, clearer reporting capabilities, which are currently limited. The Learning Path functionality is also confusing, but this may be improved with future releases though.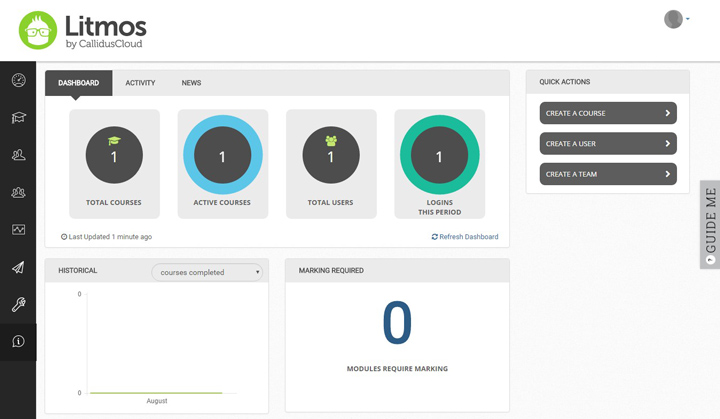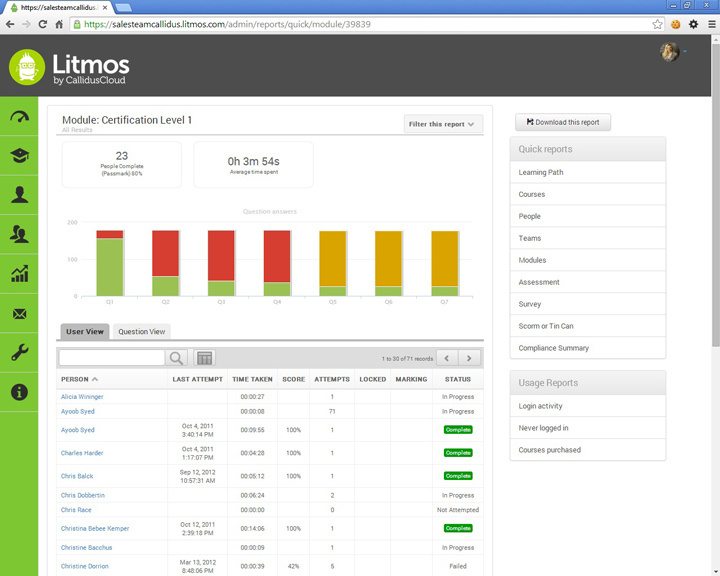 Pricing
Litmos subscription plans vary not only in the number of active users, but also in the number of admins and feature packs. Their prices range from $99/month for 25 active users to $699/month for 500 active users. You can create a 14-day free trial account.
For Enterprises
The following learning management systems are trusted by large corporations in both B2B and B2C sectors. Their customer base numbers in thousands of companies, public institutions and educational establishments, while the users rise beyond a million. Whether you need effective on-boarding or on-the-job training for a great number of users, these solutions may help you get started.
7. IMC Learning Suite
IMC Learning Suite (formerly CLIX) is a system operated in the Microsoft Azure cloud platform, offered by IMC's hosting partner. IMC Learning Suite is designed with big enterprises in mind. The complete multi-tenancy support provides you with a scalable solution that can be used by different business units, brands, or even companies.
IMC Learning Suite combines a visually appealing interface and responsive design that adapts to any mobile device. Learners can also use a free mobile app and download materials to continue studying when there's no Internet connection.
The system is highly configurable as there are numerous customization and personalization options. For example, you can swap around the information blocks on your dashboard using drag-n-drop. You can also offer personalized learning recommendations. Another way to increase employees' motivation and communication with IMC is to take advantage of its social features: wikis, chats, forums and user ratings.
Apart from the LMS, IMC offers a desktop authoring tool (IMC Content Studio), e-Learning content, and Performance Support System. IMC Content Studio allows you to create comprehensive learning materials, including training courses, tests with 9 question types, and learning paths. The authoring tool can be purchased at an additional cost.
ICM's official website is pretty time-consuming, as there's a lot of marketing information, but no feature overview, pricing information or Knowledge Base. It's difficult to understand what the user/administrator portal looks like, as there are many icons, but not screenshots of the platform's interface. Some video tutorials are available in German only.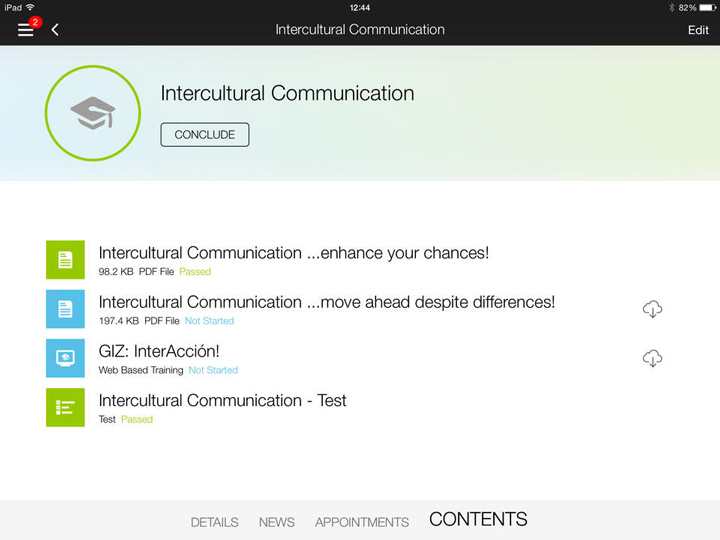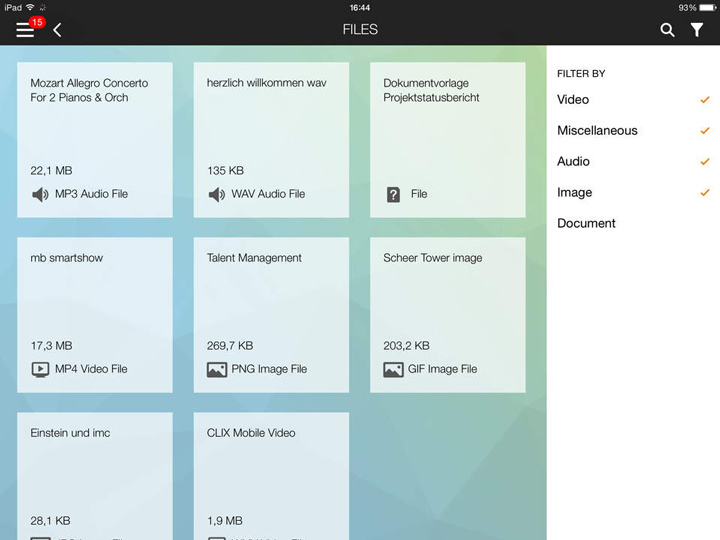 Pricing
Since IMC offers a few learning solutions, the final price depends on the package(s) you choose. A lifetime license of IMC Content Studio costs $799, with the in-house training option starting from $1,250 for one day. There's no opportunity to sign up for a trial version on the official website. However, you can get more information by requesting a quote.
8. Learning&Work
Learning&Work LMS was developed by SABA with the aim of unifying the latest technologies in
a comprehensive learning solution. The system boasts a unique innovation: the Intelligent Mentor TIM that delivers proactive, personalized recommendations of content, classes and experts based on users' activities in the LMS. This makes learning more relevant, engaging, and, in the end, efficient.
Learning&Work supports both synchronous (real-time) and asynchronous (self-paced) learning. Admins can create meetings in the virtual classroom and automatically record them for other users. The LMS supports social learning through discussions, communities, idea labs, and other collaboration tools.
Virtual classrooms and social communities are available on mobile devices. The Apple and Android apps give learners the flexibility to complete assignments anytime and anywhere, both online and offline.
Learning&Work doesn't have an integrated authoring tool, however there is a test-maker with nine question types and basic assessment functions. Apart from tests, it's possible to create surveys for general feedback and Kirkpatrick 1-4 evaluations. However, the reporting and analytics are limited and require future improvement.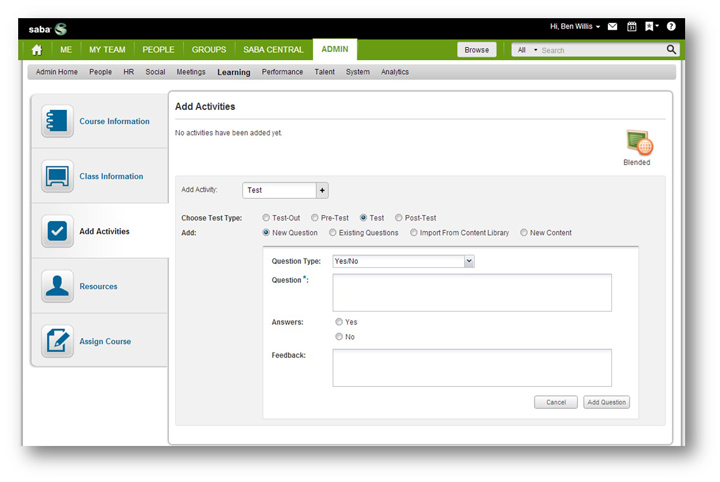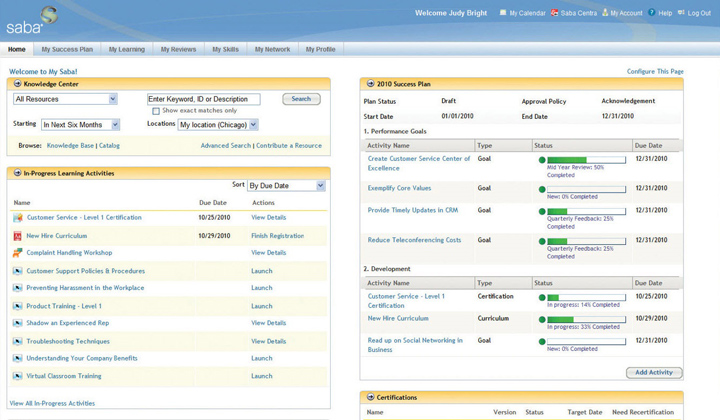 Pricing
The pricing for Learning&Work depends on the number of users and chosen functionality. Support, implementation, training and other services are available at an additional cost. You can learn the pricing by contacting SABA. There's no trial version either, but it's possible to request a live demo.
What to avoid
While LMSs are designed to save time, the truth is that many systems do exactly the opposite. The cumbersome interface, nested menus to get lost in, and unclear instructions drive many e-Learners crazy all over the world. To avoid bad usability, take advantage of free trials offered by many companies with no strings attached.
Try performing the same procedure in different LMSs and see how many clicks and minutes (hours or days) it takes. For example, upload a course package, invite new users and assign them the uploaded content.  Ideally, you should also check how reports and analytics work.
Conclusion
Here's the bottom line for choosing training and tracking software. There's no ideal LMS, as every platform represents a unique bundle of features, services, and pricing plans. The best thing to do is to analyze your specific requirements, and find a solution that meets them best. This way your software is a real value for the money with no useless bells and whistles to pay for, yet complete with options you need. Give it a go with a free trial version to see how administrator- and user-friendly a system is. Finally, learn from other people's experience (mistakes) by reading real customer reviews.
What's your reсipe for choosing your dream LMS? Let us know in the comments below!
Fully-stocked e-Learning authoring toolkit for PowerPoint. No training required to start!