Free Online Training Software
Create e-learning courses and quizzes directly in PowerPoint
with Free Online Training Software by iSpring.
Download Free E-Learning Suite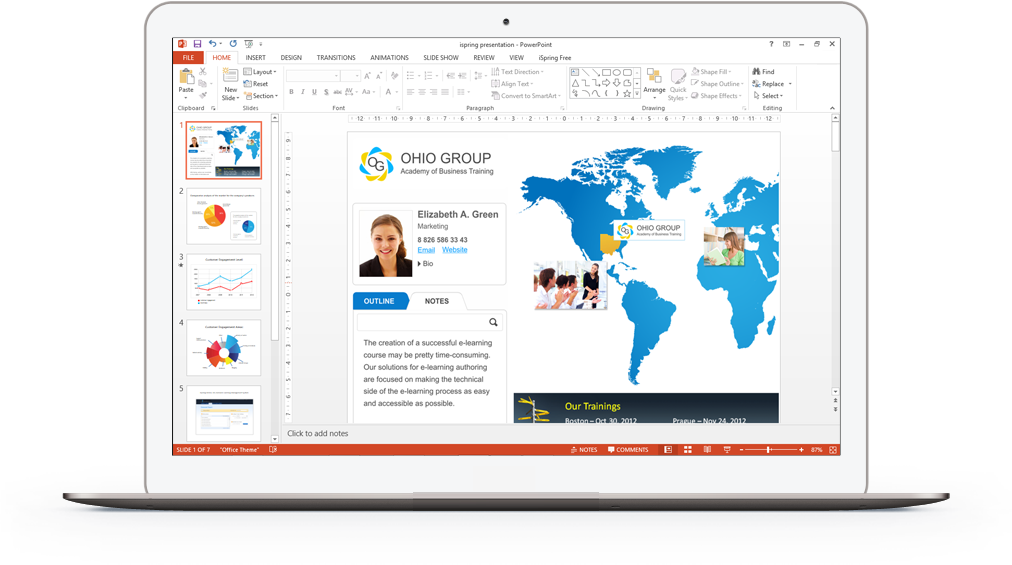 Choose the Version of the Software
You can choose between the free and the full version of iSpring's web based training software.
Select which version meets your requirements best and start creating online training courses now!
Success Stories from All Over World
I love iSpring because it is one of the best ways to create beautiful e-learning contents without programming skills.
—

Jeremy Hugues Dit Ciles
I was attracted to iSpring for its versatility and ability to enable me to go beyond what I could have ever imagined.
—

Debbie L. Kirkley
I love QuizMaker as its a fun and interactive way to capture survey information from prospective users and clients.
—

Mike Chatfield
This product has allowed me to create expensive looking training material and tests for a minimal cost.
—

Troy Roberts
How to Make Online Training Courses with iSpring
PowerPoint to SCORM
To create and deliver your PowerPoint training courses online, convert PowerPoint to SCORM using iSpring's authoring software.
Installed as a PowerPoint add-in, iSpring allows you to create SCORM training directly from PowerPoint while keeping all animations, triggers, hyperlinks and other advanced features.
Basic Quizzes and Surveys
Enrich your web based training courses with quizzes and surveys to track the effectiveness of e-Learning.
Basic quizzes and surveys can include several graded and non-graded question categories, multimedia and info slides.
Advanced Quizzes and Surveys
iSpring's advanced quizzes and surveys allow you to create effective training and assesment courses with drag-and-drop, branching and multimedia.
Quizzes and surveys can be included into training courses or published as separate assessments.
Technical Support
If you happen to face some issues with your iSpring software, our Support Team will be happy to resolve them. Just write us at
E-Learning Authoring Made Easy
Create interactive e-Learning courses with narrations, interactions, quizzes and surveys directly from PowerPoint
Try Full Version for Free
---
Like Free E-Learning Suite? Tell your friends!