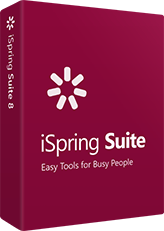 iSpring Suite 8.7
E-Learning Authoring Supercharger
181 customer reviews
Fully-stocked e-Learning authoring toolkit for PowerPoint.
No training required to start!
---
Explore these amazing courses made with iSpring Suite!
You can download the full source files here to see how these courses and assessments work.
Perfect Integration with PowerPoint
Find out how fast and easy it is to create stunning e-Learning courses with iSpring Suite: check out these handy video tutorials and start creating!

Supercharged to Develop e-Learning Fast and Easy
Take advantage of the most powerful e-Learning toolkit for PowerPoint to develop quality courses, video lectures and assessments that will work on any desktop, laptop and mobile platform.
Convert your presentations into online mobile-ready courses.
Easily create video narrations and synchronize them with your slides.
Develop comprehensive tests with branching and flexible scoring.
Record and fine-tune training videos with the integrated screen recorder.
Build realistic dialogue simulations to train communication skills.
Present your e-Learning materials in the form of engaging interactions.
Publish iSpring content to your learning management system.
Create a course once, enjoy perfect playback on all mobiles and desktops.
Allow your learners to study on the go. Even offline.
Convert PowerPoint into E-Learning Courses
Convert your existing presentations into e-Learning courses. Use your PowerPoint skills to create tons of quality e-Learning content fast and easy without special training.

Online courses created with iSpring Suite
---
Create Video Lectures
Synchronize your video with your PowerPoint slides and publish it into a video presentation format to reach millions of viewers online.

Video lectures created with iSpring Suite
---
Build Interactive Assessments
Use state-of-the art iSpring tools to create interactive assessments with rich media, video, drag-n-drops, branching, and flexible scoring and testing rules.

Quizzes created with iSpring Suite
---
Record Screencasts and Teach Through Video
Now you can record screencasts right in iSpring Suite without using any 3rd-party tools. Capture all or part of your screen with the built-in iSpring Cam tool and paste the video on your slides, or use it as standalone training material.

Screencasts created with iSpring Suite
---
Develop Conversation Skills
Create conversation simulations to practice your team's communication skills. The built-in TalkMaster tool includes a library of backgrounds and characters to develop realistic dialogue simulations with branching and assessments.

Dialogue simulations created with iSpring Suite
---
Create E-Learning Interactions
Make your learning materials more visual with iSpring e-Learning interactions that you can create fast and easy with iSpring Suite. Use a set of ready-made templates for creating 3D books, timelines, references, glossaries, catalogs, and FAQs.

Interactions created with iSpring Suite
---
Extensive LMS Compatibility
iSpring Suite produces content that will work well in your LMS. iSpring tools perfectly support all classic and new e-Learning standards: SCORM 1.2, SCORM 2004, AICC, cmi5, and xAPI (Tin Can).
If don't have an LMS yet, feel free to use iSpring Learn LMS and enjoy the advanced reporting capabilities, excellent content playback, and instant one-click publishing.
---
Adaptive Player That Works Everywhere
Everything you create with iSpring Suite supports Flash and HTML5 for perfect playback on any device, including PCs, Macs, tablets, and smartphones (with Windows, iOS, and Android OS).

---
---
Content Library
Available with Full Service bundle only - $397 / year
This extensive collection of e-Learning assets includes course templates, backgrounds, characters, controls, and icons. Forget about scrolling through stock photos in search of the right visuals. Everything you need for quick development of professional-looking e-courses is right here.

---
iSpring Cloud
Available with Full Service bundle only - $297 / year
Your private cloud to safely share courses, presentations, and extensive video lectures online. iSpring Suite publishes your content directly to iSpring Cloud. Then you can put your e-Learning content on a website, post it on social media, or send via messengers. iSpring Cloud helps you easily track viewers' activity in every channel.

---
Rapid Response Support
Available with Full Service bundle only - $397 / year
The live support team instantly helps you on the phone. 83% of cases are resolved in minutes. iSpring engineers will promptly assist you with any question about our products and content integration with your website or LMS.
---
Unlimited Upgrades
Available with Full Service bundle only - $397 / year
We add 20 brand new features based on popular suggestions from iSpring users every year. With the latest iSpring Suite, your courses work smoothly with all the newest web browsers, operating systems and mobile devices.
---
Incredible Value at a Reasonable Price
iSpring Suite
$720
Powerful e-Learning authoring toolkit
iSpring Suite
iSpring Suite is fully stocked to create responsive content for your LMS: interactive courses, assessments, video lectures, dialogue simulations, screencasts and e‑Learning interactions.
iSpring Content Library
$397
45,000+ characters, templates and more
iSpring Content Library
A huge collection of unique royalty-free e‑Learning assets: characters, course templates, color themes, backgrounds, icons, and buttons — everything you need for fast course creation.
iSpring Cloud
$297
The fastest way to share your content
iSpring Cloud
Your personal cloud to securely share presentations, courses, quizzes, videos and documents via direct links, emails and embeds.
Priority Support
$397
Instant expert support on the phone
Priority Support
iSpring Support professionals will promptly help you with any product-related questions. Over 80% of cases are solved on the phone in minutes!
Unlimited Upgrades
$397
New features or updates every month
Unlimited Upgrades
You get hot new features or software updates every month. Each upgrade empowers your authoring, and extends compatibility with all the newest technologies and e‑Learning standards.
iSpring Suite
$720
Powerful e-Learning authoring toolkit
iSpring Suite
iSpring Suite is fully stocked to create responsive content for your LMS: interactive courses, assessments, video lectures, dialogue simulations, screencasts and e‑Learning interactions.
iSpring Suite Volume Discounts
---

Reviews from our customers
"I've been using iSpring for several years now. It's easy to use and capable of much more than most users can even imagine, as it's not just a replacement for voice over PowerPoint: it provides tons of interactivity options, assessment possibilities, and more.
The customer service is excellent as well; if something can't be answered in a general support forum, the tech personnel are responsive and helpful via e-mail."

"I have been using this software for 3-4 years and the experience is amazing. You don't need to be a technical person, and you don't need formal training to operate this software, and this is amazing. I am saving around 70 to 80% of the time I was putting into making my content interactive and valuable. Secondly, I came to know all the additional stuff I can do, just go through the features and you will learn the different options which are amazing. Thanks a lot for such software, iSpring."

"After downloading the free trial and working with the program for a few days, I convinced my boss that this was the program we needed for making our on-demand training content spectacular. Also, the sales/customer service people were AWESOME and most helpful. If you're looking for software that gives your PowerPoint presentations that "zing," then iSpring Suite is the program for you!"

"It's a fantastic product... It's so good now that it caters to my needs for publishing across all platforms without the need for another program to include Flash for windows applications.
Keep it up!!"

"iSpring is the most reliable, versatile and most powerful tool that truly converts all PowerPoint features, including triggers. Additionally, iSpring works and reports correctly every LMS I have tested it with. I highly recommend iSpring, as a product, as a company, and as a team. Keep up the great work!"

"The feature of iSpring I am most excited about is the ability to export to HTML5. The benefit of iSpring is that the majority of features that are created in PowerPoint can now be used to create engaging interactive programs for the mobile marketplace. For those of you who want to do the same, I invite you to join the fun!"

"iSpring is a great rapid development tool. It has lots of features and as it comes as a PowerPoint add-on, there is no real training required as long as you have basic PPT skills.
It offers great value for the money and for the price there is very little on the market that can rival this tool."

"It's really easy to use and if you master PowerPoint you will be able to create interesting, interactive and meaningful e-Learning courses in no time.
I've worked with several LMSs (Moodle, SumTotal, Saba, Chamilo, etc.) and iSpring integrates seamlessly with them. This is something I really appreciate, since I also work with other e-Learning authoring tools and you need to know some tricks to make them work in the LMS. There's no need with iSpring Suite."

"We rely on iSpring for developing our on-demand course library and we are very happy with it. iSpring produces great looking e-Learning products and it's very flexible and reliable. Our customers love the highly interactive courses that we produce with iSpring."


---
Like iSpring Suite? Tell your friends!
Discount Request
Please enter your details to get a discount: academic, non-profit, government, or volume.
Thank you for your request
We will contact you shortly. If you have any questions, please drop us a line at . We're always here to help!
Oops! Something went wrong...
Please contact them at .