Several hundred clients participated in our August-October "after purchase" survey. The majority indicated their major reason for choosing iSpring was product quality.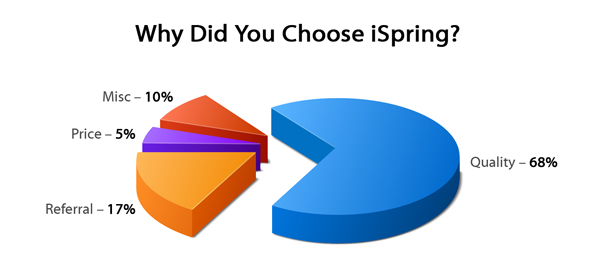 Referral
17% of new customers chose iSpring due to word of mouth referrals.
Price
The research indicated that for most iSpring clients, price is not the top concern. In fact, only 5% of customers found low pricing key to their purchase. (Incidentally, at iSpring we believe that quality shouldn't cost a fortune, so we try to keep our software as affordable as possible.)
Quality
It is gratifying to know that customers recognized iSpring's quality, because our mission is to provide superior software – functional and easy-to-use. Among those who mentioned quality (68%) was the following internal breakdown;
– functionality (28%)
– engineering level (19%)
– ease of use (11%)
– 10% stated iSpring is "the best"
Miscellaneous
About 10% of respondents couldn't make up their mind about which slice of our pie they belonged to. Nevertheless they did purchase the product which leaves us to wonder – perhaps they chose iSpring due to a unique feature?
Thanks to everyone who participated. We realize the more feedback we receive, the better iSpring will be!
Team iSpring
Fully-stocked e-Learning authoring toolkit for PowerPoint. No training required to start!