April 5, 2022
E-Mental Health: How to Maintain Your Employee's Healthy Minds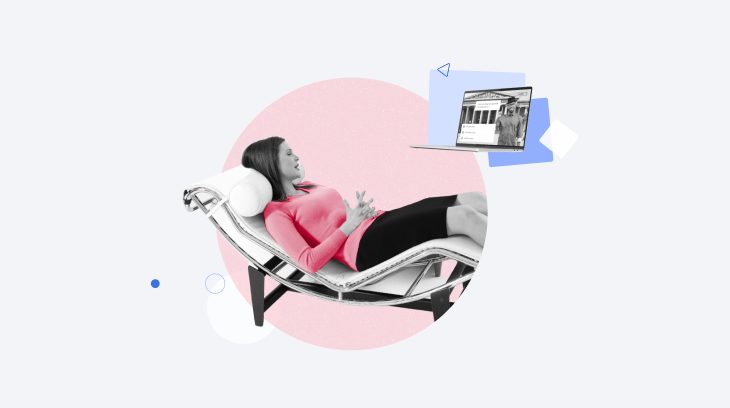 Hectic lifestyles and work pressures leave people feeling anxious, stressed, and burned out to the point that they need extra support for their emotional and physical well-being. Add to that the strain of a global pandemic, and it's no wonder our collective mental health is at an all-time low.
A recent study in Australia reported that "1 in every 5 Australians — about 4 million people — suffers from a mental illness in a given year, and almost half the population has suffered a mental disorder at some time in their life."
As more and more people seek professional help, healthcare systems are overwhelmed and simply can't meet the new demands for assistance. This is causing healthcare professionals across the globe to search for new accessible and affordable options.
In this article, we'll examine how e-mental health services can offer a possible solution, and the challenges it faces.
What Is E-Mental Health?
E-mental health (electronic mental health) is a broad term that encompasses all kinds of online support for people suffering with their emotional well-being. It offers digital ways to educate, prevent, assess, diagnose, treat, and provide aftercare to those with mental health issues.
For example, if a person has a persistent feeling of sadness and loss of interest, they can go to a special website and take a self-paced course about preventing and managing symptoms of depression. Or they can discuss their mental health issues by chatting with a qualified professional on a dedicated platform.
In fact, e-mental health comes in various forms. Here are some of the most common formats: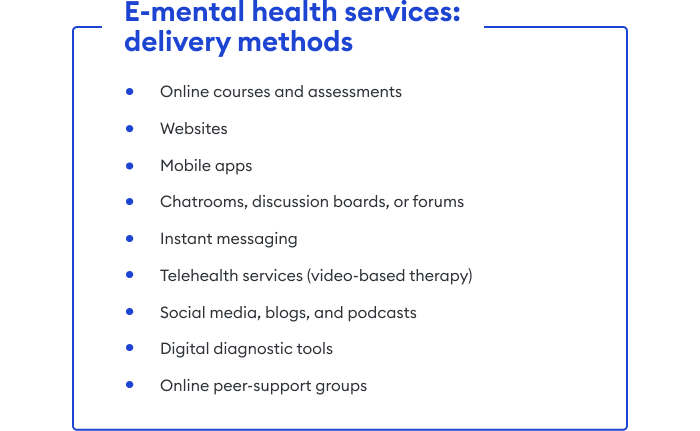 Benefits of E-Mental Health for a Business
Without doubt, mental disorders affect the way people work. According to research, around 30%-40% of workplace absences in the UK are due to some form of mental illness. In the Netherlands, an estimated 58% of work-related disabilities are linked to mental health issues. Such disorders lead not only to a large number of absences but also to a lack of productivity at work, a greater numberr of mistakes, and high staff turnover.
Investing in e-mental health services gives workers useful tools to understand common issues, notice troubling signs, and manage their emotional well-being through mindfulness exercises, thus creating a healthier, happier workforce. Healthy workers are much more effective, more motivated, and have much lower risk of burning out, which is an increasingly common issue.
In the workplace, delivering online mental health support (rather than in-person services) has a number of advantages, both for a business and its employees. Let's take a look:
Advantages of e-mental health services

| | |
| --- | --- |
| Accessible | Employees can access digital resources on their mobile devices, at a time and location that suits them. |
| Cost-effective | As a delivery method, the online approach is cost-effective and reduces overhead. |
| Customizable | Employers can provide customized e-mental health services for different employee profiles and backgrounds. |
| Discreet | Employees can make use of these resources and services in a discreet way. |
| Multi-lingual | -mental health resources can be localized in a number of languages for dispersed teams. |
Who Is E-Mental Health Mostly For?
E-mental health is for any individual who needs wellness support or who wants a better understanding of how to support a colleague or people nearby who are suffering emotionally. It can help, for example, with evaluation, monitoring, and remedy of such common mental illnesses as stress, anxiety, depression, substance abuse, mobbing, and burnout.
E-mental health services are particularly beneficial to people with busy lives who don't have the time or budget to visit a therapist. They are able to get the support they need in an accessible way that fits into their busy lifestyle, while remaining discreet.
9 Key E-Mental Health Resources
Addressing the stigma of mental health isn't easy, but a wide selection of helpful resources is available. We've put together a list of some key e-mental health resources. This topic is especially popular in Australia, and all these resources are Australian; however, anyone can benefit:
HeadtoHealth was created by the Australian Department of Health to provide access to respected mental health organizations in Australia. Here you can find useful resources on all aspects of mental illness and well-being — apps, online programs, and digital forums, all under one roof.
Beacon is a portal packed with resources on emotional well-being. You can find support on a wide range of mental and physical disorders. Resources are rated, so you know which programs and information have proven most successful.
BluePages provides visitors with detailed information about depression and how to treat it. On the site, you can take a screening test for depression and anxiety and access a number of resources to help manage symptoms.
MindSpot offers free, anonymous assessment and treatment for adults suffering anxiety, stress, depression, and other disorders. It's also a hub for educational information on a wide range of emotional well-being topics, including FAQs and factsheets.
BeyondBlue connects people with trusted professionals, along with providing an online resource library, online forums, and treatment options.
Lifeline is a national charity that gives Australians experiencing emotional distress access to 24-hour crisis support and suicide prevention services. People can connect to trained crisis support workers via phone, text, or chat.
Headspace is the National Youth Mental Health Foundation. It provides a safe space for people between twelve and twenty-five, and their families, to discuss mental health issues confidentially. Visitors can chat with a qualified professional on the phone, by email, or via instant chat.
e-couch offers five self-help programs, on topics such as Anxiety & Worry, Depression, and Loss & Bereavement. The programs use strategies from Cognitive Behavioral Therapy and other forms of treatment.
myCompass is a personalized self-help tool designed to track and manage mental well-being. You can use it to track your moods, write journal entries, and take self-help modules to improve your well-being and resilience.
Challenges and Concerns Regarding E-Mental Health
Though e-mental health has plenty of benefits, there are also a few challenges and concerns in its implementation. Here's a closer look:
1. Confidentiality
Whether it's an online course about depression or chatting with a mental health professional via instant messenger, confidentiality is a key concern. Especially in the workplace, some people may not feel completely comfortable using e-mental health resources, because they're worried that their data will be leaked or their answers will be made available to others. Guaranteeing complete confidentiality is essential to ensure that people using these services feel comfortable to open up and share their issues with no fear.
2. Resistance to changing to a digital model
It's natural that some people are resistant to the idea of digitizing mental health services. This type of service has traditionally been done in person, so it may take time for people to adjust and embrace new practices. As we enter the age of teleworking and telehealth, e-mental health services are slowly becoming more widely accepted and used in Australia.
3. Clear guidelines for how to use services
E-mental health covers a broad range of services. Online courses or programs, for example, are a fantastic resource for people who need some support, but they may not be sufficient for a person suffering from more severe or chronic mental illness. In this case, the patient may need to speak with a therapist via video call, or undergo more extensive treatment. It's important that people using these services understand the objective of the resource they are using and when they may need additional support.
How to Create E-Mental Health Training
Findings from a recent WHO-led study calculate that the loss of productivity caused by anxiety and depression is around US$1 trillion each year. To combat this ever-growing number, almost all organizations now implement mental health training and provide resources for their employees. These resources can come in the form of off-the-shelf training courses, or bespoke in-house training that is relevant to the organization and tackles the specific issues its employees face.
To create e-mental health training in-house, follow these steps:
Step 1. Do a pulse check
The first step to creating relevant, effective mental health training is to take a pulse check: identify the current baseline. The best way to do this is by sending employees a confidential survey or quiz to check their emotional and physical well-being.
The pulse check survey can include the following questions:
How employees have reacted to changes in their working environment, due to the pandemic or new teleworking policies. Do they feel isolated? Do they need more support?
How employees are reacting to changes in their workload, job role, or job tools. Do they feel overwhelmed? Do they require more training?
How is the overall well-being of employees? Are they showing signs of anxiety, depression, or chronic stress?
Do employees feel they have a good work-life balance? How could it be improved?
Do employees feel that the company provides access to adequate stress management aids and mental health resources? What further resources would benefit them?
Do employees feel physically healthy? How can the company promote improved physical health?
To make the pulse check as effective as possible, you can create a Likert scale survey that lets you see all the semitones between "poor" and "excellent," or "agree" and "disagree" — for example:
You can use various tools to build surveys, but this one on the screen is created by a quiz-maker that's a part of the iSpring Suite Max authoring toolkit. This is a great option, because:
It comes with templates for 14 different question types.This helps you make sure your employees aren't just randomly clicking through the survey, but instead are thinking carefully about every question.
iSpring is a PowerPoint-based tool, so you can start creating quizzes in a familiar interface immediately.
You can check and analyze the results easily, as you can set up the tool to send all your employees' answers to your email, the server, or the LMS.
If you've just downloaded iSpring Suite Max to build a survey, don't close it up yet. You'll need it in step 4 to create e-mental health content.
Step 2. Set up goals
The next step toward implementing a training program is to define your learning goals. Use the results from the pulse check quiz to get a clear picture of the mental wellness baseline in the company and set appropriate goals. Remember, your goals should be SMART: specific, measurable, achievable, relevant, and time-sensitive. For example: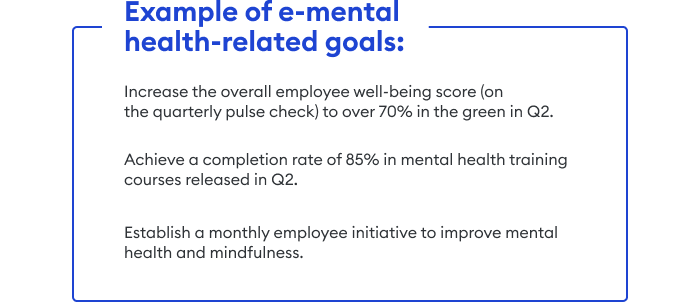 Step 3. Map out your training program
Now that you have defined the learning goals, it's time to map out the training. Follow this guide to create a training program.
Walkthrough for creating a training program

| | |
| --- | --- |
| Step | Implementation |
| 1. Choose topics | Research mental health training topics and the employee feedback you received during the pulse check. Create a list of relevant topics your training program should cover. |
| 2. Plot your program | Mindful of the objectives and topics, divide your training program into respective courses. Follow the rule: one extensive topic is a single course. |
| 2. Identify external SMEs | Subject Matter Experts (SMEs) can help lead the way. Reach out to external specialists such as therapists, mindfulness experts, and counselors who may be able to guide and contribute to the training program. |
| 3. Create a content mix | Come up with an outline of the types of content you want to feature in the training to make it dynamic and engaging. This could include video, audio, dialogue simulations, case studies, or quizzes. |
| 4. Define the length of the training content | The length of each training module or course should be consistent so employees have a clear idea of how much time they need to set aside to complete them. Short microlessons under 15 minutes work best. |
Step 4. Create learning content
To make the content, you will need a robust content authoring tool. With iSpring Suite Max, you can create compelling courses for every scenario. Here are just a few examples:
Online course with a quiz
In e-mental health training, eLearning courses with quizzes are a great way to cover the theory and make sure employees have understood the information. To engage learners in the courses, you can curate a varied context mix that uses images, videos, and interactive exercises.
With the help of such courses, ALIVE, an Australian youth suicide prevention organization, trains over 78,000 young people across Australia in how to address mental health crises, stress, anxiety, bullying, and other vitally important issues.
Dialogue simulation
People learn best when training is interactive, immersive and scenario-based. Dialogue simulations are interactive exercises that simulate real-life conversations and use branching scenarios to show the consequence of each decision. They are a fantastic way to move away from tried and tested click-through courses and make learning content really stick.
In e-mental health training, dialogue simulations enable employees to practice useful conversations surrounding mental health in a safe space—for example, what to do in a situation where a conversation becomes argumentative or aggressive.
With iSpring Suite Max, you can quickly and easily create dialogue simulations. You don't even need to invest time in searching the internet for images. The toolkit comes with a content library that has a great variety of characters and backgrounds.
Here's an abstract from the simulation created by Sonata Learning for a project with international organization Terre des Hommes. For this project, Sonata Learning developed eLearning modules for social workers who aid children and young adults who have suffered abuse or sexual exploitation.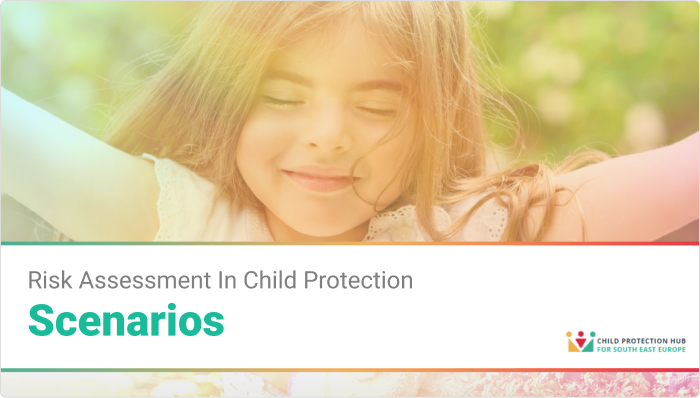 Video
Whether it's a cooking tutorial on Instagram or a software tutorial on YouTube, training videos are one of the most popular, powerful training tools available.
In e-mental health training, videos can be used to explain complex topics in a simple, human way. They offer an excellent way to train employees in core mindfulness topics such as meditation, breathwork, or tapping. These videos can then be included in online courses or shared directly with employees.
With iSpring, you can create professional-looking videos in no time. You can record both screen and webcam, and then polish the videos with the editing suite.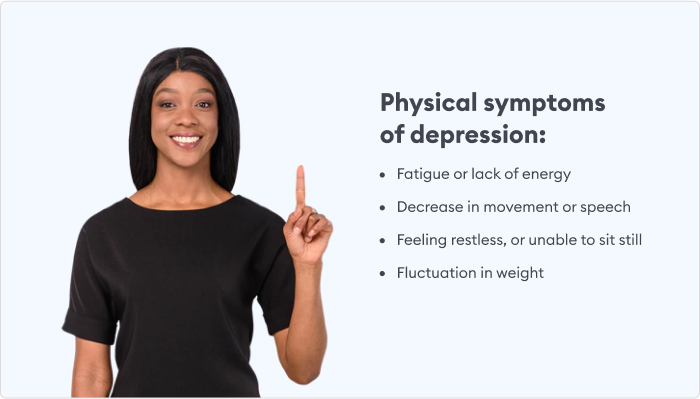 Interactions
iSpring Suite Max also comes with fourteen types of customizable interactions. They are a simple, effective way to engage learners in the content by presenting it in fresh ways.
For example, you can use this Steps interaction to give employees a step-by-step guide of what to do if they're feeling overwhelmed or struggling at work.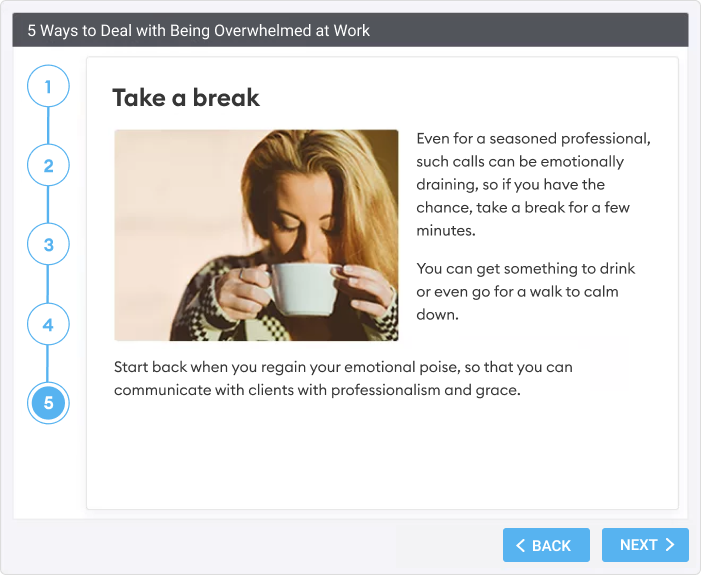 Step 5. Deliver learning content
The next step is to share the learning content with employees. Of course, you can send it to your staff via email or download it to a single corporate Google Drive, but in both cases you won't be able to confirm that your employees have viewed the material or measure how effective it is.
To keep track of learners' progress and evaluate training, you need a learning management system (LMS). This will allow you to house all training content and resources in one place, assign courses to employees, and track their results with reports.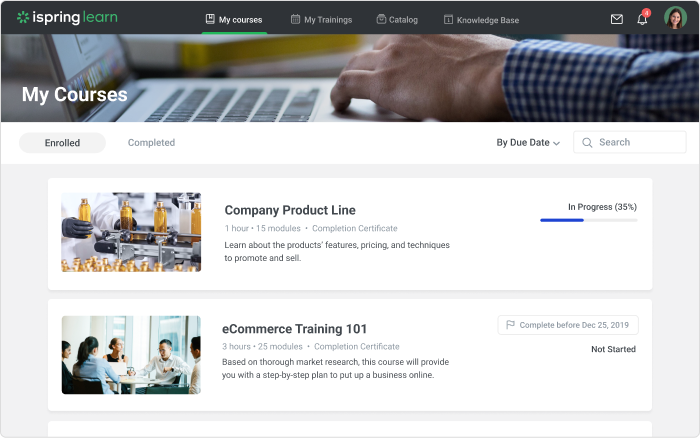 With iSpring Learn LMS, you can also:
Publish courses and quizzes created with iSpring Suite Max, tied to the LMS.
Track employees' quiz and survey results. It's easy to conduct pulse checks and compare them with the quiz results after training is completed.
Assign e-mental health courses to concrete employees — for example, if they have signs of burnout or if they have become less effective.
FAQ
We've put together a list of FAQs about e-mental health, to help you successfully implement training in your company.
What are common causes of mental health issues in the workplace?
According to the World Health Organization (WHO), there are several risks to mental health in the workplace, including:
Inadequate or unclear health and safety policies
Lack of communication
Poor management (e.g., micromanagement, or insufficient employee support)
Inflexible working hours, or an unsustainable workload
Lack of involvement in the decision-making process
Tasks that are unclear or unsuitable for an employee's competencies
Undefined or unclear organizational goals and objectives
How can organizations promote a safe mental health environment in the workplace?
Here are some practices that can help companies promote emotional and physical well-being in the workplace:
Provide all employees with adequate mental health training.
Involve stakeholders and employees at all levels to promote emotional well-being initiatives and support services within the organization, so that all employees are aware that help is available.
Implement and enforce health and safety policies, practices, and training, so employees feel safe and confident in the workplace.
Establish career development programs for employees.
Introduce policies and practices that support healthy work-life balance.
Encourage employees to participate in decision-making and be accountable for their jobs.
Implement employee recognition schemes, to reward contributions and motivate employees.
Not only will these measures improve the overall mental well-being of staff members, but they will also boost the bottom line. A WHO-led study calculated that for every dollar organizations invest in training and treatment for common mental disorders, they see a return of four dollars in enhanced health and productivity.
What tools are needed to implement an e-mental health training program?
The complete set of eLearning tools you might benefit from consists of:
Final Thoughts
Organizations that prioritize employee wellness not only enhance the wellness of their staff but also build a happier, more productive workforce with fewer absences. Harnessing digital technologies to deliver e-mental health services is an accessible way to provide essential support to those who need it.
To start creating e-mental health resources for your staff today, get a free trial of the iSpring Suite authoring toolkit right away! You'll be able to explore all its features for 14 days, without paying a cent.