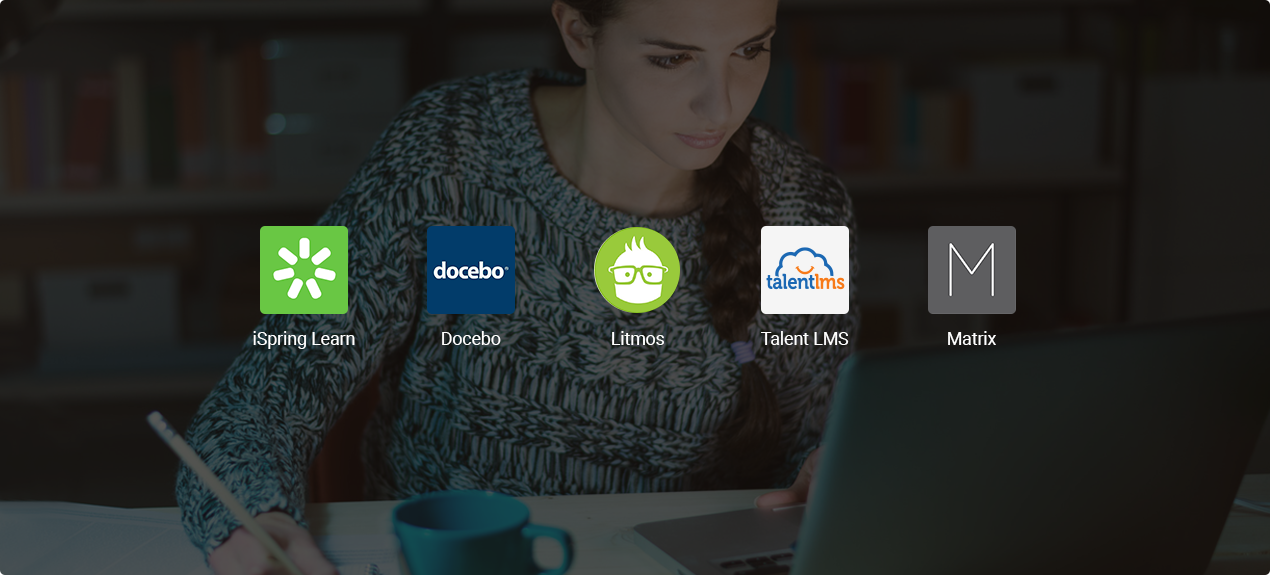 The LMS landscape is diverse, and there are plenty of options on the market when considering an LMS. In this article, we will focus on five corporate solutions for rapid deployment of e-Learning in your organization: Docebo, iSpring Learn, Litmos, Matrix, and TalentLMS.
We intentionally didn't write about the features that they have in common, as they're all very intuitive, support mobile learning, and have awesome stuff like gamification. Instead, we tried to highlight their strongest sides and to define use cases for each of them.
LMS
Perfect for

1. iSpring Learn

Those who want to train with cool interactive do-it-yourself content, but don't want to spend too much time creating it.

Those who would like to collect extended statistics on their learners' performance.

2. Docebo

Those who need a flexible solution with the ability to enable/disable different modules.

Those who seek extended capabilities to localize the system on their own (e.g., extended enterprises).

3. Litmos

Those who want to automate sending various notifications to users, and to spend minimal time managing the system.

4. Matrix

Those who want to take advantage of social learning, and establish closer communication in a team.

5. Talent LMS

Those who use a lot of third-party services and would like their LMS to be integrated with all of them without paying extra.

Those who need advanced settings for gamification.
1. iSpring Learn
Rating: 5 / 5 – 65 reviews (Capterra)
Vendor's promise: "Flexible learning management system. Build a complete e-Learning environment in record time."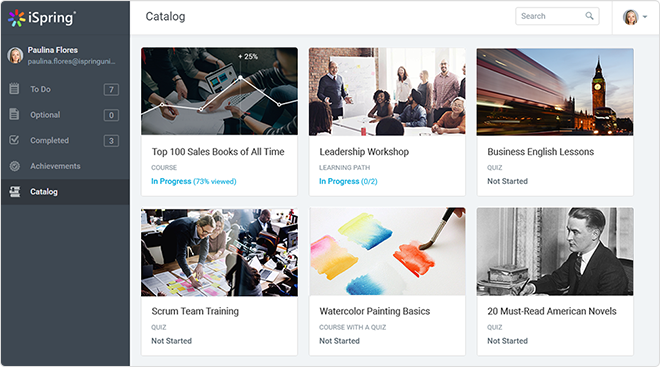 iSpring Learn is an easy-to-use cloud based LMS for teaching and assessing employees online. The system doesn't require a setup procedure, so it's great for those who want to begin working right away and avoid a long implementation. It's pretty good when you need a system for both lifelong learning and sporadic ad-hoc use.
What differentiates iSpring Learn from its competitors is the powerful authoring toolkit (iSpring Suite) integrated with the LMS. With its help, you can build high-end interactive courses with advanced assessments, video lectures, and communication simulations. The output can be uploaded to the system directly from the editor, and you get extended reports on content and users.
iSpring Learn allows you to upload any type of content and in any quantity, thanks to the unlimited storage space available for all the subscription plans. The system supports all types of content, including audio and video, Flash, reference documents, and SCORM courses.
As we've already mentioned, iSpring Learn is a cloud-based solution, and all the data is stored on iSpring's servers. However, it can be deployed on your own servers, and be under the complete control of your organization. It's a solution for companies with strict security policies who need to grant access from a corporate intranet only.
Unlike the previously discussed LMS, iSpring Learn can be proud of its prompt and eager-to-help support team. Any issues can be solved via online chat, email, or right over the phone in real time.
"To my amazement my questions were answered accurately within literally seconds, not minutes of me typing them."

F Younis, Executive Management Consultant, AGN Professional Services (Source: Capterra)
Pricing
iSpring plans range from $167/month for 50 active users to $677/month for 250 users. Of course, there's a custom plan for any number of users, which is calculated for each case. With any plan, you get all the LMS's capabilities. Plus, iSpring charges a special fee of $270/year for the authoring tool iSpring Suite (instead of the regular one-time fee of $720), if you need it.
Summary
iSpring Learn is an award-winning LMS mostly preferred by small businesses, but there are also big fish among its users, like ABBYY, Unilever, and Johnson & Johnson. Together with the powerful authoring tool, free native apps and excellent tech support, iSpring Learn is a full-fledged environment to level up your employees, partners, and customers.
Start a free trial of iSpring Learn LMS
2. Docebo
Rating: 4 / 5 — 75 reviews (Capterra)
Vendor's promise: "The learning management system you'll love to use. Train employees, partners and customers worldwide."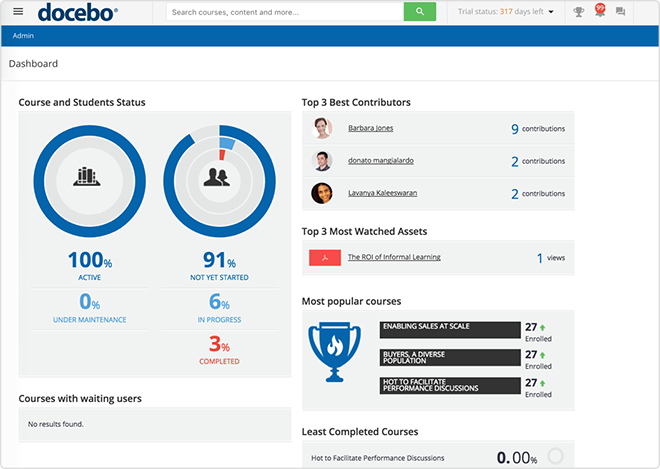 Docebo is a flexible and scalable solution designed to address the needs of businesses of any size, from SMBs to large companies/enterprises.
Docebo's distinctive feature is modularity: modules that can be enabled or disabled at any time. These may be gamification, e-commerce, certification, and more. While some of the extensions are free, others can either be purchased for an additional cost or received with a certain pricing plan. For example, the Starter Plan doesn't include the modules mentioned above, but you can extend its functionalities by adding three features from the Advanced Plan for an extra fee.
This solution combines formal learning approaches with informal, social and experiential learning. Docebo's Coach and Share solution enables learners to take advantage of social and informal learning. For corporations with multiple locations, this can have a positive impact on company culture.
Megan Brown, Director of Culture and Talent Development, Vision Hospitality Group: "Learning becomes peer-to-peer instead of something that gets pushed down from the home office. That all of a sudden makes it a lot more personal." (Source: Docebo website)
Docebo also provides extensive localization: it's offered in over 32 languages. One may notice that some of them look like they've been translated with Google Translate. However, once you have this basic translation, you can download your own language template and improve it. This can be really useful if you're an extended international enterprise, or need to train employees all around the world.
While some of Docebo's customers are satisfied with its rich feature set, others are disappointed with the amount of support provided by this vendor.
Dan Winter, Sr. Instructional Designer, TUNE: "The support ticket took 24 days for even the simplest response, which was resolved after 6 weeks of submitting it." (Source: Capterra)
Note that the included functionality varies in different plans: the bigger the plan is, the more features and services there are. For example, to get Salesforce integration, you need to purchase the Enterprise plan. Onboarding of new customers also depends on the selected pricing plan. If you go with the Starter pack, be ready to explore the LMS's capabilities on your own.
As there's no built-in authoring tool, don't forget to add its cost if you haven't got one. You can see a comparison of the most popular tools and their pricing in this exhaustive article.
Pricing
Pricing plans start from $390/month (annual commitment) for 100 users to $950/month for an advanced plan with 300 active users. For each user over the selected plan you'll be charged $5.90. And, of course, there's a custom enterprise plan with an extended set of features and integrations.
Summary
Overall, Docebo is a popular, highly-acclaimed LMS. It's regarded as one of the industry's most comprehensive solutions for training management. However, the SaaS model of business is on the rise, and people are expecting more from the final "S", service.
3. Litmos
Rating: 4 /5 — 207 reviews (Capterra)
Vendor's promise: "LEARNING. AUTOMATED. The world's smartest companies automate their internal and external learning programs with Litmos."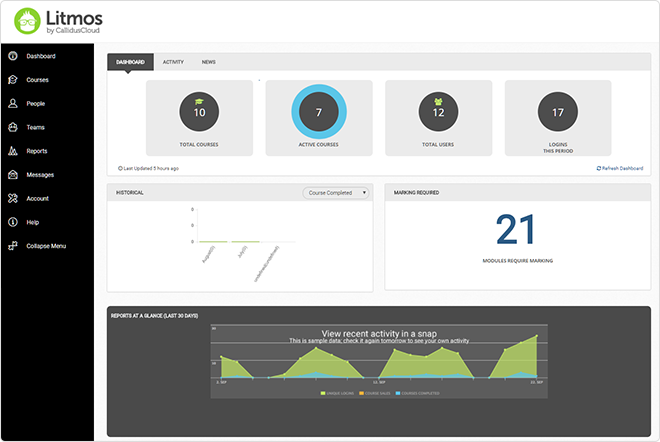 Litmos is another popular cloud LMS designed to deliver and track on-demand training for up to a million users. It will help you both organize training and create learning materials online.
The built-in editor is surely the main benefit of using Litmos. Of course, it would be unfair to compare its capabilities with full-fledged stand-alone authoring tools. With the Limos editor, you can easily create simple assessments (4 types of questions), surveys, checklists, and info pages. It's convenient when you don't currently have an instructional designer, or if this limited functionality is enough to reach your goals.
The editor also allows you to upload different types of files, but you should pay attention to the maximum file size, 30 Mb.
Leslie Ramsey, Digital Media Manager, FDAnews: "Some of the files we need to upload exceed the 30MB limit and are difficult to break into smaller chunks." (Source: Capterra)
One of Litmos's goals is to achieve higher course completion rates through unique communication and notifications. It's pretty cool to get real-time notifications of activity from your teams and learners. You can also automate things like sending individual emails under custom conditions.
Pricing
Litmos subscription plans vary not only in the number of active users, but also in the number of features. Their prices range from $450/month for 150 active users to $4000/month for 1,000 users with the extended plan. Of course, there's special pricing for those who need a larger number of users.
Summary
Litmos is a user-friendly system for both the admin and the learner. Some teams may be confused with limitations in learning paths and file sizes, and ask for more advanced reporting. But in general, Litmos, with its easy registration, intuitive interface, and mobile capabilities, meets the challenge of corporate e-Learning.
4. MATRIX
Rating: 4/5 — 31 reviews (Capterra)
Vendor's promise: "Simple, powerful LMS for business."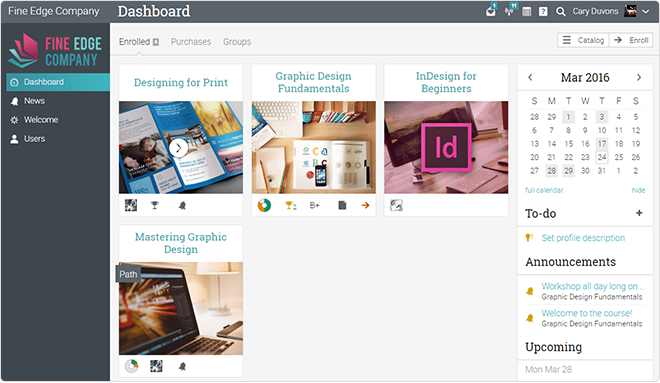 MATRIX is a product of CYPHER LEARNING for small and big businesses that want to deliver online training. Again, it's a cloud solution with mobile apps and an intuitive design that can be customized.
MATRIX LMS is available in 40+ languages and supports automatic translation of messages and forum posts. That's really great for international teams. MATRIX is also integrated with many popular third-party services, such as Google Drive, Zapier, Salesforce, GoToMeeting, PayPal, Stripe, Authorize.net, Office 365, and more.
The benefit of MATRIX is its networking and collaboration capabilities. The design of the platform has a social media feel. Learners can communicate on courses using wikis, blogs, chats, and forums. MATRIX has also implemented Facebook-like activity feeds with support for comments, likes, etc. for higher learner engagement. All of these help to establish better communication and certainly have a positive influence on organizational culture.
James Preston, Project Manager, ROCK Insurance Group: "The support forum is a great place to raise any issues and there's always someone available to answer any questions I have." (Source: Capterra)
The LMS includes a simple authoring tool that allows you to create easy courses and upload videos, images, documents, and more. You can assign your learners quizzes or offline tasks like reading a book, award points for participation in a discussion, or grade the combined efforts of a group. Of course, if you need interactive and complex content or branched assessments, it's better to take a look at specialized authoring tools.
Pricing
MATRIX offers as much as 10 pricing plans for any number of active users. They range from $149/month for 50 active learners to $13,199/month for 20,000 learners. Each extra learner costs $4. Please note that not all the integrations are available for the bronze starter plan.
Summary
As Matrix is a cloud-based solution, it's easy for new customers to start using it. The LMS has a sleek and user-friendly design. There a lot of features for promoting social and peer-to-peer learning.
5. TalentLMS
Rating: 4/5 – 249 reviews (Capterra)
Vendor's promise: "The fastest path to awesome learning. A super-easy cloud LMS to train your employees, partners and customers."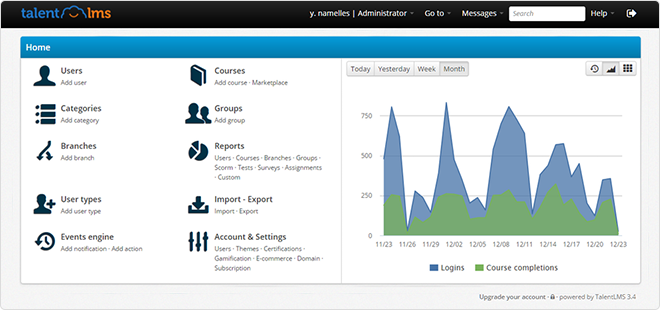 The TalentLMS developers boast that they have eliminated a lot of the fancy but unnecessary functionality and made reusing existing training materials really simple.
This LMS is distinguished by flexible gamification settings. Talent LMS's gamification engine allows you to add gaming and competition elements to the proper places, and configure it to meet particular use cases.
Agency in Information Technology and Services: "Furthermore [TalentLMS] is compatible with most of the media used and some features such as gamification are really indispensable." (Source: G2Crowd)
The TalentLMS developers have also worked on integrations with many useful tools. There are over 200 integrations with third-party services: Zapier, Shopify, Salesforce, WordPress, Slack, Zendesk, GoToMeeting, Trello, PayPal, Stripe, and more. It's pretty cool for those who have a rich environment of different services, as you won't have to pay extra for linking everything together.
What differs TalentLMS from the rest of the LMSs in the list is its flexible pricing strategy. This is the only system that has a free version, if you have less than 5 learners and less than 10 courses.
Pricing
TalentLMS's small pack costs $39/month for 25 users. The rest of the standard plans range from $129/month for 100 learners to $459/month for 1,000 learners. There's also a set of unlimited plans, and the possibility to start with a free plan if you have less than 5 learners.
Summary
TalentLMS can handle courses for five or five thousand learners. It has a really wide variety of gamification and e-commerce settings that provide you with flexibility in engaging your learners. Plus, its readiness to support as many as 200 third-party services is a good argument in favor of this solution.
Conclusion
Here's the bottom line for choosing training and tracking software. As you probably noticed, in spite of many common things like being easy-to-use cloud services, each of them represents a unique bundle of features, services, and pricing plans. We advise you to give them a try with a free trial version to see how each LMS deals with your specific needs, and find the solution that meets them best.