November 26, 2014
The iSpring Mobile App for Android Just Got Smarter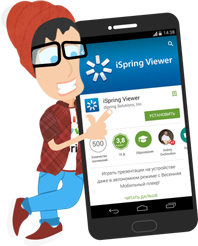 Back in July of this year, iSpring Solutions announced the release of a landmark product in the mobile e-Learning revolution: the iSpring Mobile Player for Android tablets.
The app was designed as a follow-up to the release of iSpring's equally revolutionary iOS app, following in its footsteps with trail-blazing features like crystal-clear HTML5 display compatibility, responsive player design, offline presentation viewing, content organization, saving LMS/LRS statistics with or without an Internet connection, and an inline resume function that picks up where the user last left off.
Now, iSpring's crack development team has put the finishing touches on the latest upgrade to iSpring Viewer, making the functionality even smoother than before, and — most notably — expanding the functionality to include Android smartphones. That's right: the iSpring team has now reached the next pinnacle of achievement in the Android marketplace, including support for phones manufactured by Nokia, Samsung, Panasonic, Lenovo, and many, many more.
Of course, the app is still 100% free. It's our gift to the community of over 40,000 iSpring clients (and their countless end-users) who publish their work using our eLearning authoring tools to share with the world. And now, thanks to the new smartphone compatibility, that work will reach an even broader audience than ever before.
Feel free to test out the updated iSpring Viewer
Get iSpring Viewer on Google play →
We're looking forward to your feedback!