September 10, 2015
10 years of success: from a group of enthusiasts to an international company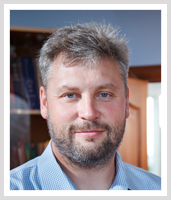 This year, iSpring celebrates the 10th anniversary since the official release of our first product. This date is remarkable for all of us. There can't be a better time to consider how it all started and how far we've come in the course of this decade.
In 10 years, a person can develop his or her professional skills to their fullest potential, whether it be sports, music or painting. For a software company, 10 years is a whole era.
Read this success story told first hand by Yury Uskov, CEO at iSpring Solutions, Inc., and remember to check out the presents we have prepared for you in honor of this date.
The beginning
It all started in the early 2000s. We were developing custom-built software for other companies. All we had back then was a team of talented programmers united by an irresistible desire to code. We took upon even the most sophisticated projects, worked 12-15 hours every day, 7 days a week, and were absolutely happy.
In February 2004, we came up with a product called ActiveSWF. It was a framework for generating Flash files in .swf format. We were among the pioneers. Just a month later, in March 2004, the world-renowned company Macromedia released a similar product called Macromedia Flex, which was then bought by the gigantic corporation Adobe (along with the whole Macromedia company).
ActiveSWF was created by programmers, for programmers, and was pretty successful despite a humble marketing campaign. The next logical step was a mass product which could be used by both tech savvies and ordinary users. This is how the idea of creating a PowerPoint to Flash converter leaped into our minds.
iSpring conversion technology is born
In July 2005, our first converter (called FlashSpring) was introduced; in August, the first purchase was made. In September, a department which further turned into iSpring Solutions was formed. FlashSpring owed its success to the fact that it was one of the first products to provide high-quality reproduction of PowerPoint effects. In October, an analogue for FlashSpring appeared. It was Macromedia Breeze, which later became Adobe Presenter, one of our competitors to the present day.
By that time, we already had some experience in developing e-Learning products for our clients. But we mistakenly believed that only a very limited audience was interested in e-Learning authoring tools. That is why we decided to focus on further development of our PowerPoint-to-Flash technology, which promised to win popularity among millions.
The basis for our converter was our proprietary AccuPoint™ technology built on ActiveSWF. AccuPoint is still under the hood in current versions of Suite, Presenter, Pro, Converter and Free.
iSpring is revealed to the world
In 2006, this blog was launched. The first post was entitled "Let's go!" We get nostalgic when reading blog posts from those days. Our whole team was tirelessly working on developing our products and technologies. It was a very fruitful year as we released one update after another, one version after another; we were eager to improve the product and to provide our customers with new, better capabilities. It was common to see a minor update included huge improvements that normally would've been put in a major one.
In 2007, an industry commentator claimed that we were taking advantage of the popularity of the "Flash" brand in the name of our product (FlashSpring), so we had to change it to iSpring. Actually, we all like iSpring better. =)
Top-quality PowerPoint conversion made free for all
At one point, we decided that we would let people use our technology free of charge. In 2008, we released our first 100% free product with all the quality of a premium product, and this is how iSpring Free appeared.
iSpring Free became extremely popular. As of today, the number of registered iSpring Free installations exceeds 400,000.
There was another great event in 2008. We released a service for presentation sharing called SlideBoom: presentations were converted to online format and thus made available for viewing via browsers.
iSpring makes the move to e-Learning
Many of our customers worked in e-Learning, and we received many requests to add support of SCORM format, improve the presentation player, add a quiz making tool, etc. So, we started developing our first e-Learning authoring tool. In 2009, iSpring Presenter was unveiled. Simply put, it was the same good old converter, but with a built-in quiz editor. That was the moment our customers got the capability to incorporate quizzes into slides and convert them to Flash. Another reason for this year to be a landmark was that the very first version of our learning management system was released. The authoring tool and the LMS were fully integrated to provide a seamless e-Learning process.
Two years later, iSpring Presenter was awarded a gold medal by the leading research firm Brandon Hall.
The march of progress
In spring 2012, we were one of the first to present a game-changing technology for precise PowerPoint to HTML5 conversion (dubbed HyperPoint). This is how iSpring-published presentations and courses became available for viewing on mobile devices. To this day, it provides the best quality on the market; our PowerPoint conversion technology is second to none.
We also went further with our free solutions and released a basic version of our quiz authoring tool – iSpring Free QuizMaker.
A year after that, our products were honored with the Brandon Hall award for Technology Excellence.
2013 was marked with another remarkable event. We got to thinking about our latest technological innovation – support of a mobile-ready HTML5 format. These reflections finally led us to release free mobile applications for viewing iSpring content on mobile devices.
In 2014, we spent most of our time working on the availability of iSpring-generated content for the end-user: our cutting-edge technology for precise PowerPoint-to-HTML5 conversion became available for free in the latest version of iSpring Free. Now it is possible to bring PowerPoint presentations to all devices at no cost. Another step on our way to availability was enhancement of our mobile app line. Our app for Android devices enabled our users to deliver content to a much wider audience of Android devotees.
Web 3.0 and the cloud
When thinking about other popular channels of content distribution, we could not ignore the omnipresence of YouTube. Hardly could one deny the fact that the most popular video hosting service could open new horizons for broadcasting iSpring content. That's where we started developing a PowerPoint-to-YouTube converter. After struggling with screen and sound recording, YouTube settings and effects conversion, we finally succeeded and brought out the first service to provide direct publishing of PPTs to YouTube.
There was another evolutionary change which motivated us: software switched to the Web. Services like Google Drive, Dropbox and SlideShare started to emerge. Following those trends, in early 2015, we released iSpring Cloud, our web-based solution for presentation sharing, which brought the same painstakingly refined conversion technology from our desktop products to the cloud.
The future…
We are also turning our eyes towards the future and our new emerging goals. No fortune-telling, only concrete plans. We have always believed that fresh innovation and high quality is more important than just here-and-now profit, and we are still committed to this principle. This fall, we and our community of iSpringers are looking forward to the long-awaited release of the iSpring 8.0 product line.
During these ten long years, not only our products, but also our team has been actively developing: it increased fiftyfold! In 2005, there were only 2 programmers who worked on ActiveSWF; now we have over 100 people in 10 departments, and are continuing to grow.
Conclusion
iSpring Solutions, Inc. is a dedicated team of professionals who love what they do. Our passion shines through in our products and services, and we want you to get on board and become an iSpringer too. Begin your iSpring adventure today, and stick with us for the next 10 years!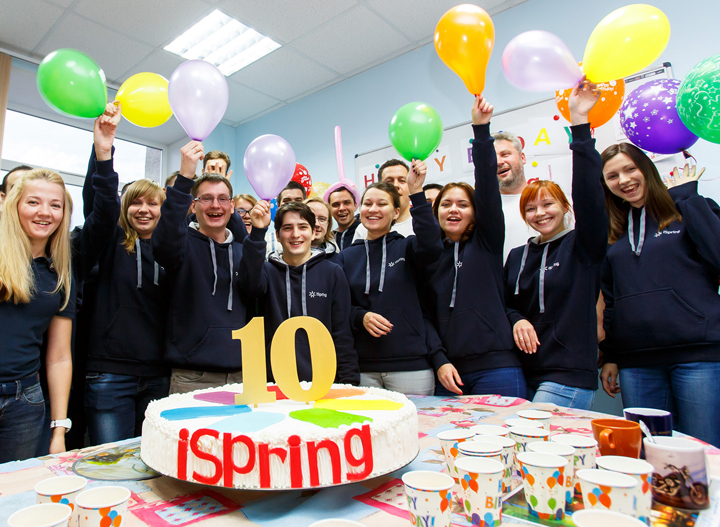 iSpring 10th anniversary special offer
As we celebrate our 10th birthday, we want you to join in the festive mood: we will double any purchase of a desktop authoring tool made from our website between September 10th and September 20th.
This is the perfect opportunity to share supercharged authoring power with your whole team: any number of licenses you purchase will be doubled for free. Get 100 licenses for the price of 50 – the sky's the limit!
Have any questions or comments? Leave your feedback below!