October 7, 2016
Spanish, German, and French Localizations for iSpring Products Released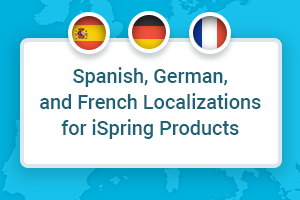 Three localizations have been added to iSpring products. Our tools are now available in Spanish, French, and German. Now, it's more convenient for you to work on projects with iSpring authoring tools.
We're sure that it's not a problem for our clients to work in an English interface, yet we believe that the possibility to work in a localized one will make your work with iSpring tools faster and even more enjoyable. No more need to translate controls, titles, and button labels manually. A fully localized interface will allow you to concentrate on the learning course itself, not on the appearance.
To make your experience as pleasant as possible, our hardworking localization team did their best to carefully translate the following products:
iSpring Suite
iSpring Presenter
iSpring Converter
iSpring QuizMaker
iSpring TalkMaster
iSpring Suite DX
You can get the new release and try it for free by using these links:
If you decide to purchase our localized tools, you can contact our official resellers in your country. They will also provide you with all necessary support in your language. If you've already purchased our English version and would now like to purchase localized licenses, just contact us.
If you have an idea how we can improve these localizations, kindly drop us a line!
We would also like to remind you about our local communities where you can share your experience in e-Learning and get advice from experts in your native language. We hope all these will help you to create even more interesting and powerful learning materials.
Join the growing iSpring community in your language: German, French, and Spanish. Happy authoring!