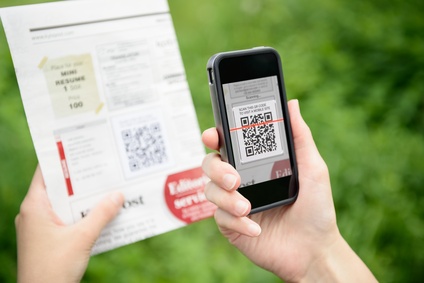 You are an e-Learning aficionado. You live, eat and breathe e-Learning. While drinking your first cup of coffee or as you navigate the morning rush hour highways – you are asking yourself the common denominator question: how can my courses effectively engage my students  and do it in an ADD world?
Have you investigated QR codes? Those postage stamp size bar codes that you see a  lot of people scanning with their smartphones.
Nothing new.  We all know that.  QR codes have been around for a while.  What seems clearly interesting is that process of consolidation of complex QR code initiatives seems to be occurring. Clear call to action QR codes, linking to edge to edge formatted information on your cell phone is gaining traction.
Here are some points to ponder:
Students scan a QR code and quick link to your information anytime, anywhere
It's Fred Flintstone simple
You can assign homework with QR codes
Link to practice quizzes and other enrichment files
Provide answers to assignments so students can check their work
Provide quick access to students' ePortfolios, lesson plans, etc.
Not sure if it will help you do a Cirque de Soleil backflip though?!
QR CODES ON CAMPUS
Students are always busy, next month is a decade away – they are in a rush: copying down a link, typing in a URL, browsing. That's too involving. Scan a QR code and sprint ahead with the task at hand. Remember, the smartphone is a lean forward device.
QR Codes, when used on campus, can do a lot of things for you:
Inform students of university events
Help them stay updated with university clubs
Organize groups of people and ensure that they stay in touch with each other
And speaking about combining QR codes and LMS. These possibilities are also appealing:
Offer virtual school tours
Promote campus-wide events
Put QR codes on historical campus buildings to give some cool facts
Place QR Codes on books in the library so that students can scan and read a book review, or watch ascreen adaptation
QR CODES BEYOND THE CAMPUS WALLS
Stop overstretching yourself! Encourage students to get more information with your hands down. For example, visiting a museum, plan a "scavenger hunt" using QR Codes:
Place codes at key locations for students to scan.
Direct students to videos and online pages to provide more details.
Offer hints about where the next clue lies.
Today everyone carries the Internet in their pockets. Thus, to get to their minds, first you should get into their pockets. And QR codes can actually help you with it. Just imagine how anxious you are to hear "B" if you already heard "A"!
Do you have a wish list?  What would you like to see in our products?
Fully-stocked e-Learning authoring toolkit for PowerPoint. No training required to start!