Imagine being able to walk through your new office building, check out neighborhoods for an apartment, and exchange business cards with your new co-workers or clients in New Delhi without ever leaving your chair. This use of virtual reality in e-Learning just got a major boost when Oculus VR announced earlier this month that the consumer version of Oculus Rift- a virtual reality head-mounted display that looks like ski goggles and displays a 360 degree world- will be available before the end of 2015. This newest model will retail at a price between $200 and $400, offers improved resolution and refresh rates (reducing eye strain and providing smoother visuals), and comes loaded with software apps for movie, photo and cinema viewing, as well as, the purchase of virtual reality content.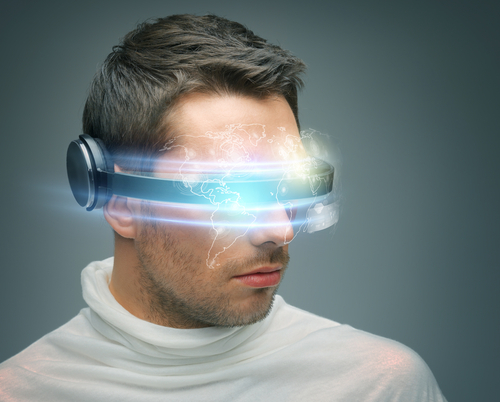 While other virtual reality headsets exist on the market, the Oculus Rift is the first to be competitively priced for mainstream instead of military use. While the majority of applications for the Oculus Rift will likely be gaming or social media-based (Facebook acquired Oculus VR in March 2014), there could be huge implications in the field of e-Learning. Dovetailing nicely with the current trend of gamification in e-Learning, creator Palmer Lucky visualizes a future for classrooms that includes e-Field trips, where students can travel to far away destinations to learn about the world, study Mandarin with a teacher in Chongqing, and gain hands-on experience in engineering, math, science and the technology fields, all at a fraction of the cost.
These types of immersive learning experiences will not be contained to academia – there is huge transformative potential for corporate and government training as well. Developer kits are already available for software designers, and e-Learning programs using Oculus Rift are already cropping up. Arch Virtual uses Oculus Rift to work with healthcare institutions and universities to provide real-time virtual simulations of medical environments like hospitals, clinics and emergency response stations. Motorcycle manufacturer TVS uses Oculus Rift to run dirt-bike racing simulations that help designers solve ride-ability and safety issues.
Now that the use of this technology will finally be affordable, it can be used in sales, customer service and cultural training – where employees can play out different scenarios with automated bots, companies can help new hires acclimate to new environments such as large corporate complexes, for medical professional and emergency response training on virtual patients and cadavers, HR counseling and coaching, historic re-creations, field technician training and much more.
E-Learners will be able to safely try new techniques, practice in hazardous environments, learn how to react in emergency situations, and perhaps most importantly, they will have the freedom to fail. If employees can train in real-world situations without worrying about expense or safety risks, the door opens for creativity, innovation and success.
What are your thoughts on the new Oculus Rift?
Contact us via our website or any of our social media channels: Facebook, Twitter, or LinkedIn for more information about the newest trends in the e-Learning industry.