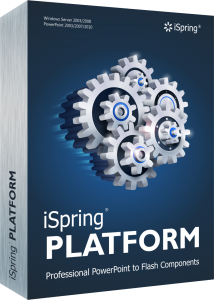 Today we released the brand new iSpring Platform 6.0 that enhances iSpring SDK with new, next-generation functionality: full support of ActionScript 3. Now iSpring provides a comprehensive API for the creation of Flash presentations on ActionScript 3 and a new Player SDK to control output movie via ActionScript 3 API.
iSpring Platform also features a fully customizable Streamline player with support of ActionScript 3 and new AS3 samples. iSpring Platform still keeps ActionScript 2 functionality, along with AS2 samples and player pack. iSpring Platform 6.0 now includes two different command line and CodeBuilder utilities for the 2nd and the 3rd versions of ActionScript.You can check out the entire list of key features here.
iSpring Platform is the best-in-class solution that empowers your online application to seamlessly handle users' PowerPoint presentations. To test drive all iSpring Platform's opportunities, download the fully functional trial or contact us to request quote.
Fully-stocked e-Learning authoring toolkit for PowerPoint. No training required to start!