January 8, 2023
How to Deliver Mandatory Training for Employees With an LMS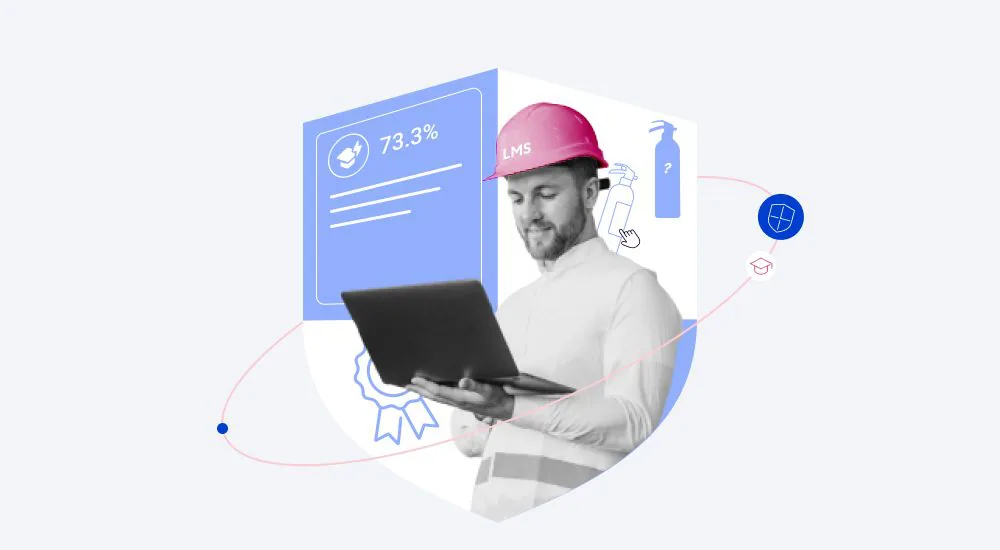 Mandatory training gets a bad rap. The word 'mandatory' already makes employees want to run for the hills. But what if we were to tell you that this training can save lives? In 2021, 275 workers died every day in the United States because of hazardous working conditions. That's where mandatory employee training can swoop in to save the day.
Providing staff with this knowledge is essential for organizations. It trains them on how to stay safe at work, thus reducing potentially fatal accidents and driving business results. Moreover, it ensures that your business covers all the necessary legal requirements.
This article breaks down the who, what, and why of mandatory employee training. Plus, we show you how to deliver it with a learning management system (LMS).
What Is Mandatory Training?
Mandatory training is the training that a company deems essential for employees. As the name suggests, it is compulsory for all staff members (or sometimes for a specific group of employees). Also known as compliance training, it ensures your business meets necessary policy and regulatory standards.
Not all mandatory training is required by law. Organizations often implement it to ensure all team members comply with the company's mission and internal code of conduct, or to reach an industry ISO standard. The type of compulsory training that a company conducts varies from industry to industry. Common examples include workplace safety, data protection, laws and regulations, and diversity and inclusion.
In short, compliance training safeguards your business by making sure that all staff members have the knowledge they need to carry out their work safely and in compliance with all relevant legal requirements.
Who Needs Mandatory Training?
Many professionals across different industries need mandatory training to ensure they have the knowledge and skills to perform their job safely and responsibly. In some US states, the government has specific federal laws regarding mandatory staff training, while other states leave it up to the employer to decide.
Professionals in fields such as healthcare, law, childcare, cybersecurity, finance, and pharmaceuticals are commonly required to undergo regular compliance training. This is also true for employees who work in high-risk work environments.
Whether legally required or not, most organizations expect employees to undergo some form of compulsory learning at work.
Why Use an LMS to Deliver Mandatory Training?
Delivering regular compliance training to all employees (especially in dispersed workforces) is one of the biggest challenges companies face. Fortunately, there's a solution for this — an LMS.
A learning management system (LMS) is a web-based platform used to create, deliver, and track employee training and development, such as online courses, virtual classrooms, and other digital learning activities.
Here are some of the benefits of using an LMS to deliver mandatory training:
Flexibility. Employees have access to essential training anytime, anywhere. This means they can review the training when needed and never fall behind.
Reduced training costs. Moving compliance training online with an LMS cuts training costs, such as travel, instructor fees, and venue expenses.
Lighter workload for L&D teams. An LMS automates workflows and reduces the time and resources needed to manage training tasks. This frees up valuable time for L&D teams to focus on other, more pressing activities.
Consistent training. It is much easier to run detailed QA checks with an LMS. This establishes greater consistency and ensures that corporate training is aligned with the company's brand, values, and business goals.
Accurate training data. L&D teams can track results closely to ensure that all staff members have completed the required training and can then pull detailed reports to prove that the organization has fulfilled its training responsibilities. This data can be shared with stakeholders and used to evaluate training ROI accurately.
In short, an LMS can take the headache out of delivering and tracking mandatory training at scale. For best results, opt for an LMS that is user friendly, powerful enough to cover a wide range of learning scenarios, and boasts strong reporting capabilities.
iSpring Learn is an easy-to-use LMS that has all the needed functionality for compliance training and other kinds of staff education, like employee onboarding, product training, and sales training.
Automate corporate training and improve employee performance.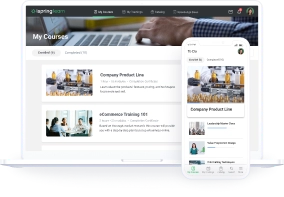 How Can You Distribute Mandatory Training to Employees with an LMS?
Delivering mandatory training with an LMS is easier than you might think. In just four simple steps, you can roll out a compliance training program throughout your business. Follow this guide to learn how to do this with iSpring Learn LMS.
Step 1. Add learners
Start by adding employees to iSpring Learn. This is a quick and easy process. iSpring allows you to replicate your organization structure, thus making it simple to assign, manage, and monitor learning activities.
Once you add users, you can assign them roles: administrator, organization administrator, author, and user, or even create custom roles. What's more, you can easily create groups of employees from different areas of the business and assign them specific compliance training or enroll entire departments in a course.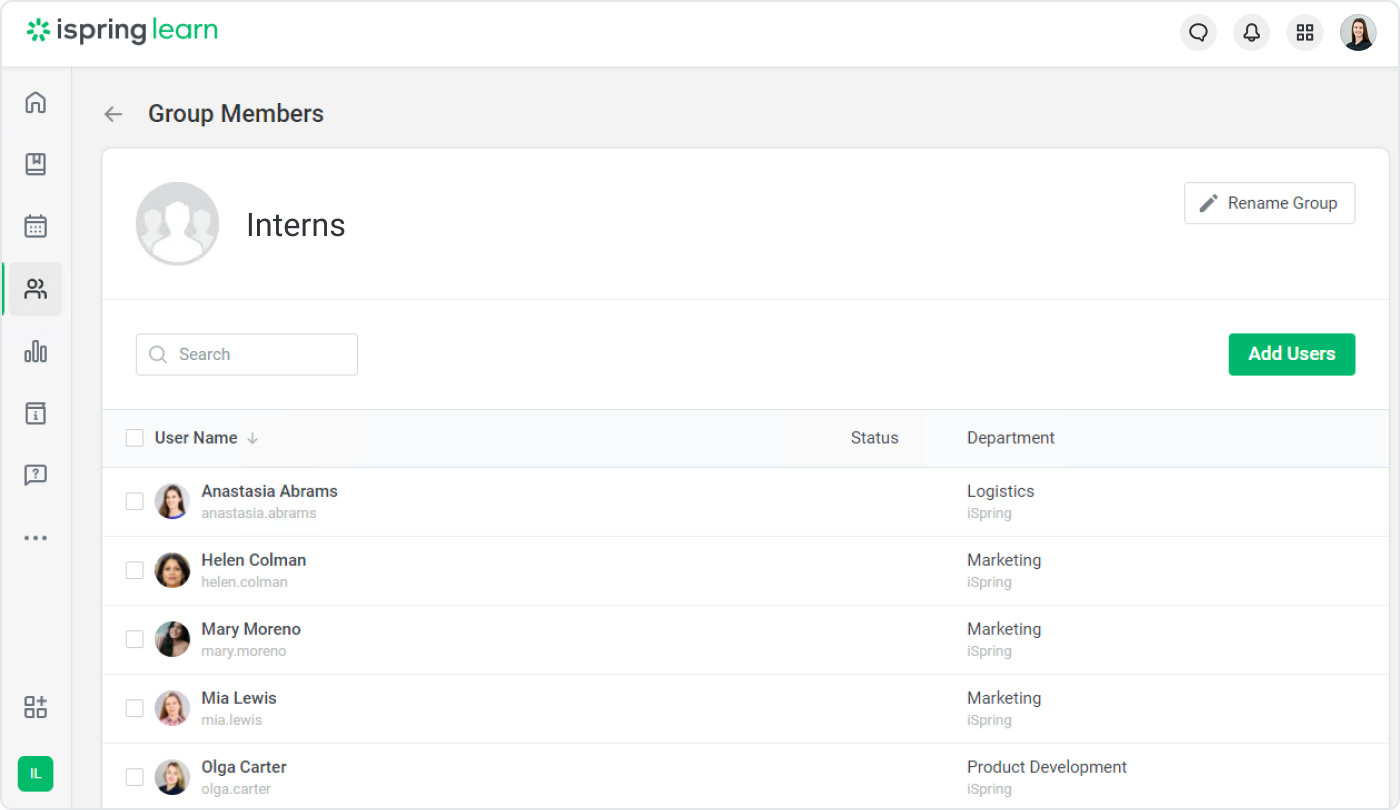 iSpring Learn enables you to automate the process of adding learners — you can add a large number of users instantly by uploading XLSX files.
Step 2. Upload courses
Now, upload the content you already have. You can import presentations, SCORM courses, videos, and documents to your platform quickly and organize them into learning tracks.
With iSpring Learn, you can build sequenced learning tracks to ensure employees move through a self-paced training program in the correct order. This means learners can only progress to the next content item when they have completed the previous one.
Sequenced learning tracks work especially well for mandatory training because learners must complete the training in a predetermined order that prevents them from skipping important topics. At the same time, they have the flexibility to complete the training at their own pace.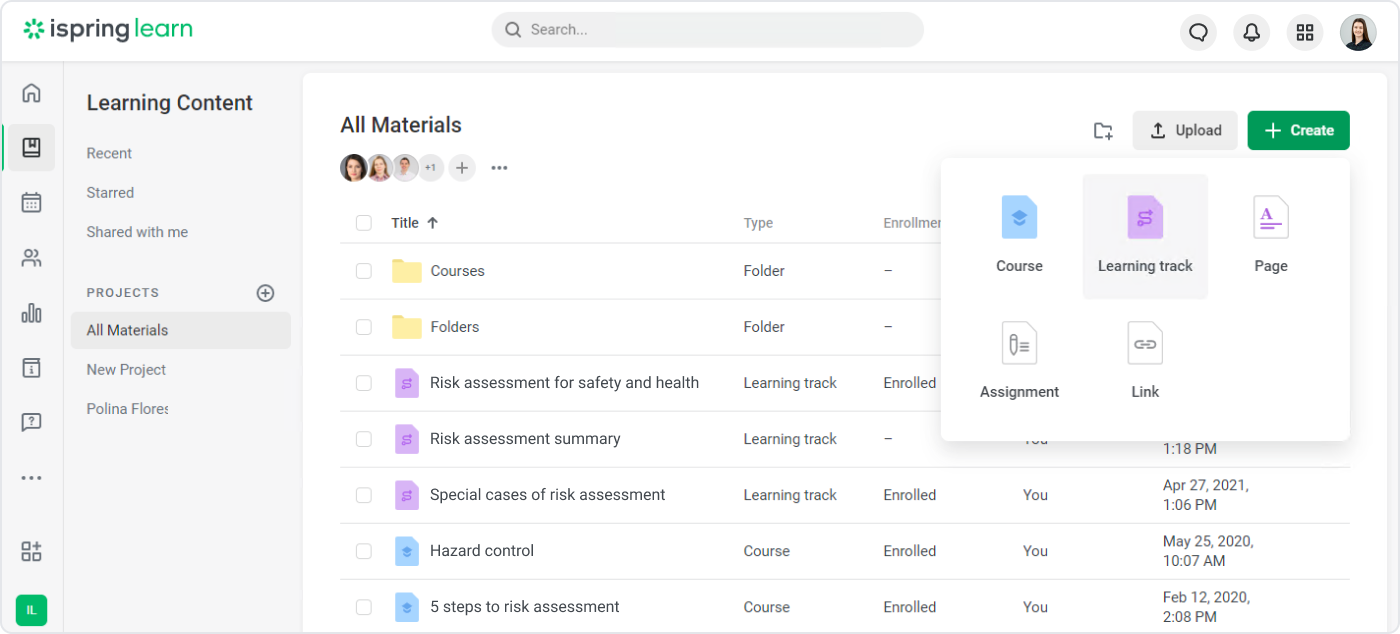 If you're starting from scratch, iSpring Learn comes with an integrated authoring toolkit, iSpring Suite, that allows you to create compelling courses, quizzes, role-plays, and interactions.
Fully-stocked eLearning authoring toolkit for PowerPoint. No training required to start!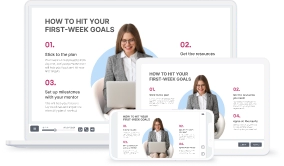 iSpring Suite is integrated into PowerPoint, making it quick and easy to build and publish mandatory training courses. Once you've created a course, you can publish it from PowerPoint to your iSpring Learn portal with a single click.
Here's an example of a fire safety course made using iSpring Suite: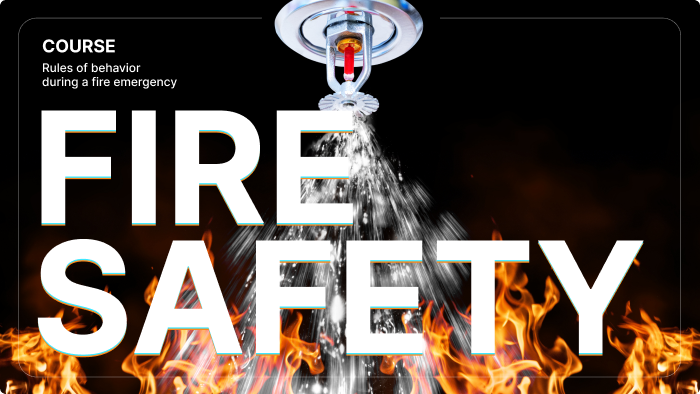 Step 3. Automate training management tasks
Let's face it, there are never enough hours in the day (especially in the world of L&D). The beauty of using an LMS to deliver compulsory training is that you can automate labor-intensive and time-consuming training management tasks.
For instance, you can create a specific group for new hires. When new employees are added to this group, the platform will automatically enroll them in a compliance training program. It will also send them a notification saying that they've been enrolled.
If the training has a completion deadline, you can schedule an automated reminder to be sent to the users who haven't completed the training within the allotted timeframe. This saves you valuable time that you would otherwise need to spend sending each individual message manually.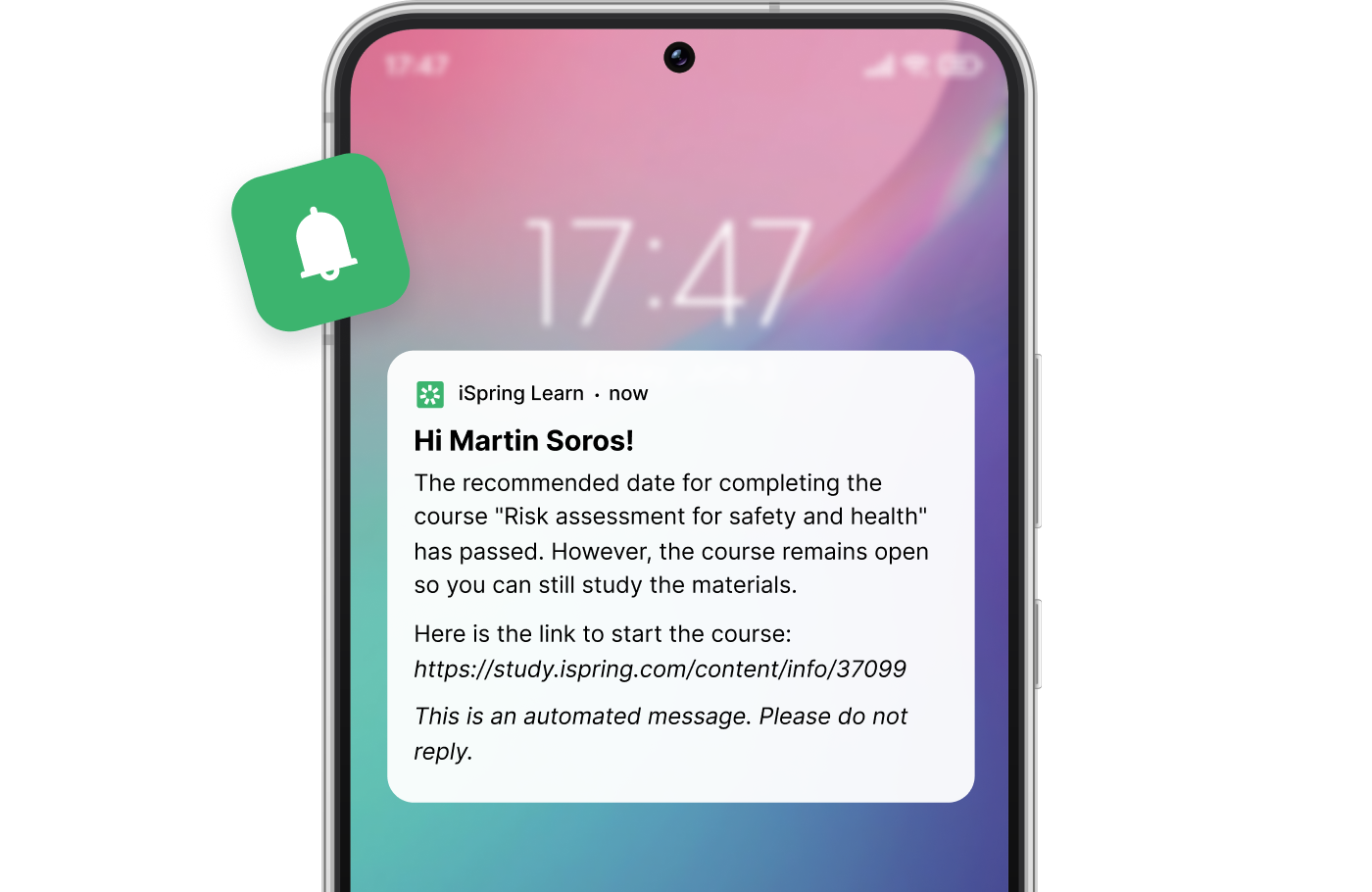 Certification is a great way to reward learners for completing mandatory training. You can set up iSpring Learn to automatically award a completion certificate when employees pass a training. Use the built-in customizable template or create and upload your own.
Most compliance training has to be retaken on a regular basis – annually, for example. iSpring allows you to automate this process with the retraining feature. Employees automatically receive a reminder to retake the course. You simply set the date when the employee should be reminded (in six months' time, in a year's time, etc.) and the LMS does the rest.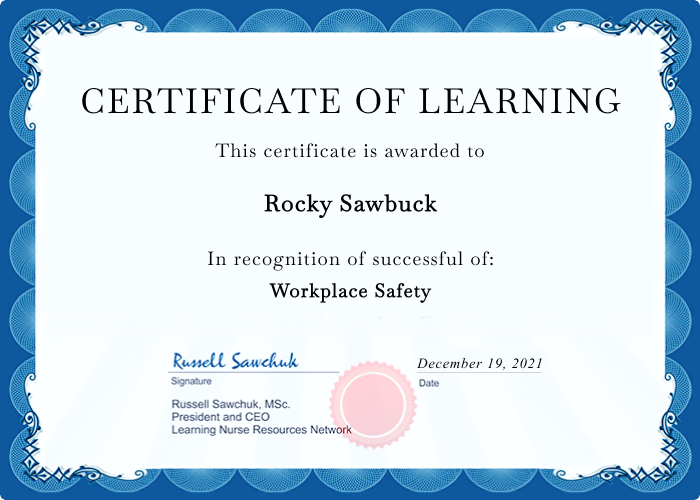 Step 4. Track training results
The final (and perhaps most critical) step is to track results. Your business needs to keep accurate, up-to-date records of all compliance training results to prove that it has fulfilled its necessary obligations. LMS reporting allows your company to document and track all learning activities.
With iSpring Learn's robust analytics and reporting features, you can extract detailed reports to visualize essential training data easily. For example, The Learner Progress report provides a complete progress overview of all employees in your organization. You can check how many mandatory trainings have been completed, the number of overdue courses, and individual employee performance.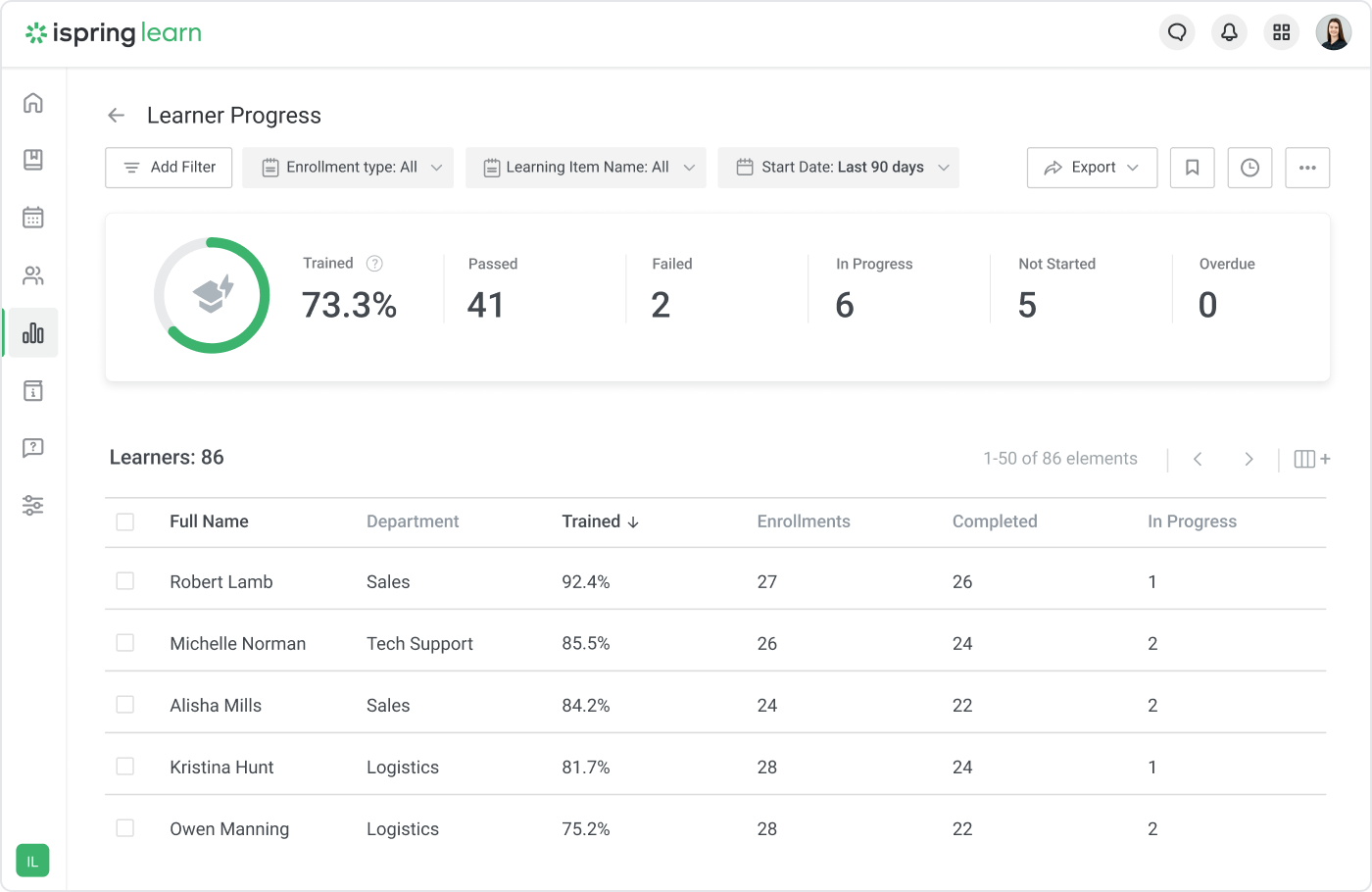 You may need additional data on how an individual learner is performing. This is where the Learner Results report comes in handy. You can view all compliance courses assigned to an employee, including how long they spent on the training, their status, and the number of times it took to pass the course.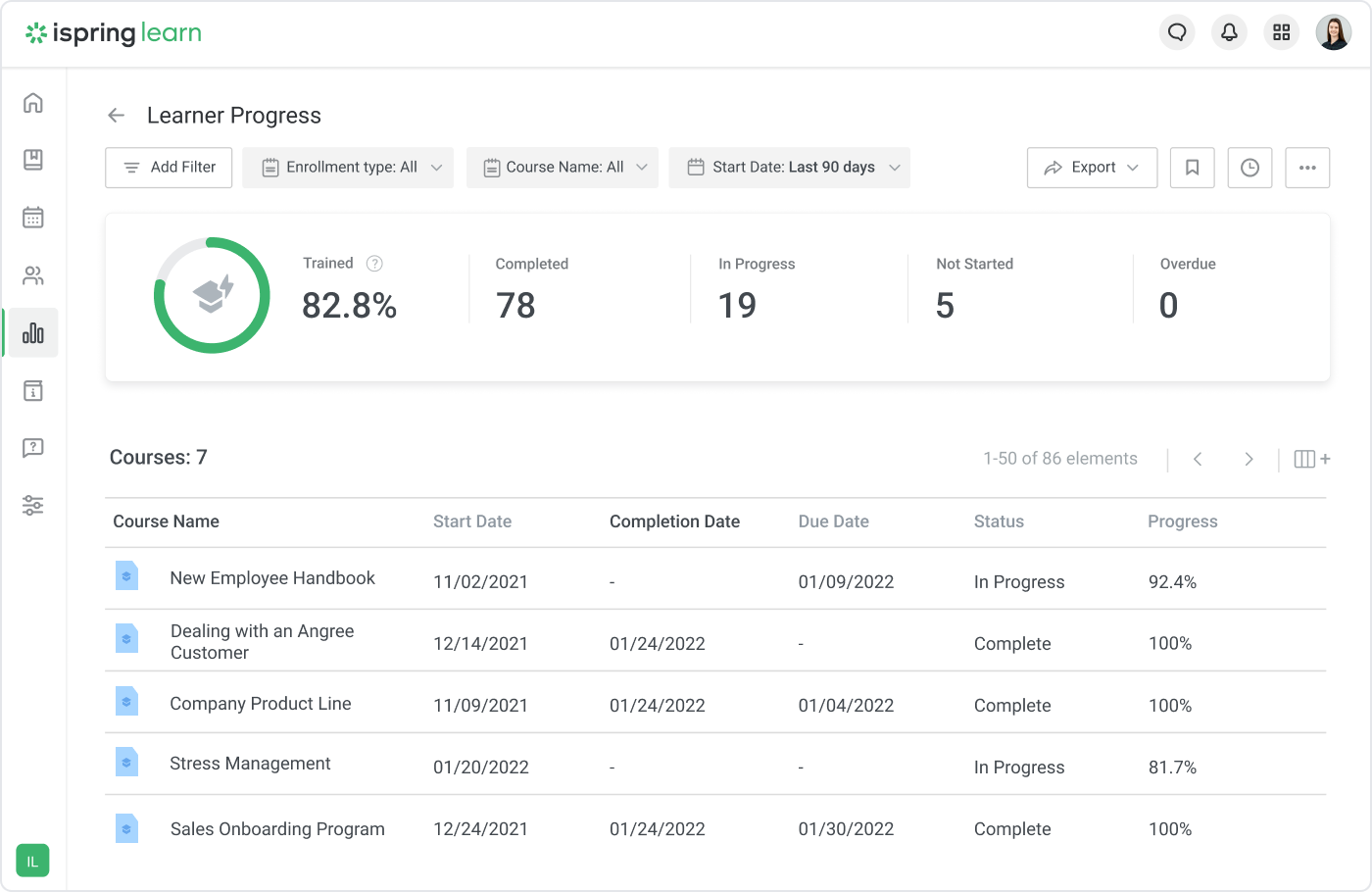 iSpring's comprehensive reporting feature allows you to track other key metrics, such as total training hours and answer breakdowns. Our LMS reporting guide distinguishes each metric and how to analyze it. Examining this data highlights weak points or gaps in mandatory training. Moreover, it underlines the areas where personnel require more training.
You will probably need to share training results with other stakeholders in the business. With iSpring Learn, you can automate reports and schedule them to be sent to your team members. For instance, you can easily set up a monthly report to be sent to the HR team automatically.
You never know when your organization may need to access reports. Securely storing them in an LMS means you can log in and retrieve them when needed (no more paper copies).
In Closing…
An LMS is the best sidekick for mandatory training. It allows you to automate compliance training, simultaneously deliver it to employees across the globe, and track the results through comprehensive reporting. Employees have the ability to revisit essential training when they need to, thereby protecting your organization from potential safety, security, or legal dangers.
Are you ready to move compliance training online today? Take iSpring Learn for a test drive with a free trial.
Don't forget to download the 14-day iSpring Suite free trial to start creating your own mandatory training courses.