April 23, 2016
LSCON 2016: Engaging Session and the Great Debate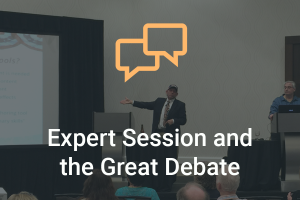 On March 16-18, iSpring experts took part in the Learning Solutions Conference & Expo in Orlando, FL. This year, visitors attended two iSpring stage sessions with e-Learning experts, Mark Simon and Joe Ganci.
Mark Simon is a Principal Training Consultant at HiMark Solutions and an Adjunct Professor in the Instructional Design graduate program at UMass Boston. Mark has 25 years of experience in e-Learning design and development.
Joe Ganci is the President of eLearningJoe, consults with clients all over the globe, and writes professional articles and e-Learning tool reviews. Joe has been developing e-Learning content since 1983.
The first session was a great presentation by Mark Simon, who explained how to avoid publishing issues when creating e-Learning content. The second one was the Great Debate between Mark Simon (PPT-based e-Learning tools) and Joe Ganci (freeform tools). If you couldn't make it to Learning Solutions, read about these events and watch videos of both expert sessions.
What You Build Is What You Get – Or Is It?
Mark Simon gave an entertaining presentation on the "What You Build Is What You Get" (WYBIWYG) challenge faced by modern e-Learning and m-Learning developers. The expert described the main factors that can lead to WYBIWYG issues, and explained how to prevent these issues when publishing e-Learning content for various browsers and devices. During his presentation, Mark compared the three most popular e-Learning tools. Watch the full video of the stage session to learn more.
The Great Debate: PowerPoint Versus Freeform e-Learning Tools
The spectators of the debate found out the pros and cons of PPT-based and freeform e-Learning tools and the cases in which it's better to choose either type of software. Watch the video of the Great Debate, so you will be able to experience the atmosphere of the event and compare PPT-based and freeform e-Learning tools on your own.
The e-Learning gurus recommend using PPT-based tools:
When you need to develop courses and tests quickly and easily with no previous training.
When you have existing PowerPoint content.
On the other hand, freeform e-Learning tools will suit you better:
If you are going to include layered content.
When your instructional design needs are more advanced and you need to use actions and variables.
Which type of e-Learning tools do you prefer when creating courses and quizzes? Share your experience in the comments below!