April 7, 2015
Learning Solutions 2015: we're impressed!
This year, Learning Solutions Conference and Expo 2015 was even bigger and better than ever before, with 100+ concurrent sessions and a trifecta of keynotes, featured panels, and learning stages. The Expo was a pleasure for us as always, and we were excited to bring some of our latest innovations to share with attendees. With 64 vendors and 1600+ attendees, there was plenty of action for everybody! We were pleased to see the way that many long-time iSpring users and newcomers alike reacted to the news of iSpring 7.1 and iSpring Cloud, the brand-new hosted presentation sharing platform.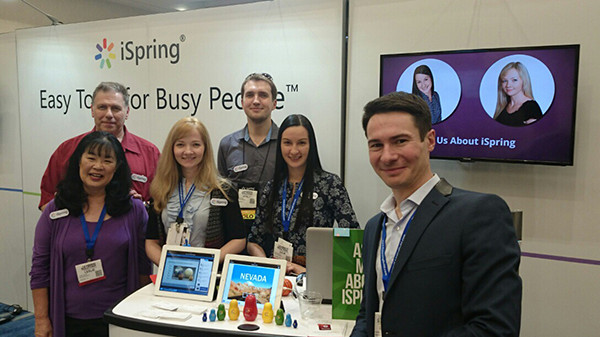 During lunch, we had a surprise hidden in 1200 boxes — an iSpring Gift Card good for one 90-day license of iSpring Suite and one chocolate treat. To our great delight, most folks seemed even more interested in iSpring Suite than the chocolate! And as always, our stock of ultra-popular iSpring totes and nesting dolls had completely disappeared by the end of the conference.
For this show, we brought some of our latest demos on tablets and smartphones, both Apple and Android platforms. It was a thrill for us to show just how crystal-clear PowerPoint and iSpring content shows up on each device, with a responsive player design that adapts to any screen size.
In all, it was a great pleasure to see old friends and meet new ones. We hope you enjoyed it as much as we did!
Great seeing you all at Learning Solutions! Leave your own impressions below in the comments!