April 28, 2015
Learning Solutions 2015: Webinar Wrap-Up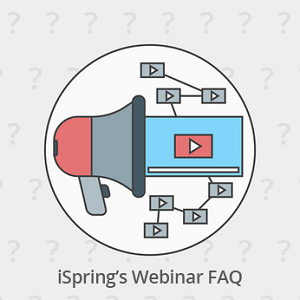 This year at Learning Solutions, we had welcome visits from many interested folks in the e-Learning industry who were curious about iSpring products and what they could do to empower their workflow. Naturally, in an expo environment, there's a limited amount of time to chat; thus, after the conference, we set up a series of webinars to go into greater detail about iSpring products' unique contribution to e-Learning.
We were quite pleased with the turnout at our webinars, and even more pleased that we were able to answer the questions of attendees. Here's our Top 5:
What separates iSpring from Articulate and Adobe?
Naturally, this is a question we get a lot. Of course, during a webinar, we go into much greater detail about what sets iSpring apart, but for our website visitors, we've prepared this handy chart for comparison with the latest and greatest products on the market.
How is your support for mobile devices?
The term "mobile device" spans a wide range of products: we had questions about BlackBerry, Samsung, Apple, etc., but our answer was always the same: Yes! The reason is that iSpring HyperPoint technology flawlessly converts PowerPoint (and publishes quizzes and interactions) to HTML5 format for perfect playback on any modern mobile device.
Can I gamify my course with iSpring?
The truth is, any full-featured authoring toolkit these days will allow you to gamify your e-Learning. The key is to use the correct strategies when authoring your course content, interactive scenarios, and assessments. Once again, we go into some detail about these principles in our webinars, but here's a couple of helpful articles on our blog to get you started:
How to Successfully "Gamify" Your Online Course
Can I make my courses more interactive?
Yet again, here, the answer is a resounding "Yes!" But again, the webinar environment is much more conducive to demonstrating the wide range of capabilities available with eLearning authoring tools. Here's a handy article on How to create an interactive software simulation in PowerPoint.
Can I make a course with a quiz?
Yes, yes, yes! That is one of the greatest specialties of iSpring Suite, our flagship product. In fact, we've just published a brand-new article in our Knowledge Base about how to seamlessly insert a quiz into your PowerPoint-based course. For a full-fledged tour of the capabilities of iSpring Suite, we recommend you sign up for a webinar.
Thanks to all our guests for attending iSpring's Learning Solutions follow-up webinars!
Didn't have a chance to attend? Keep up the pace:
… or request a live webinar for you and your colleagues!
Hope to see you soon!