Published
August 19, 2016
|
Updated on
April 28, 2020
Join the iSpring Deutschland Community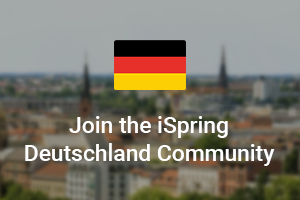 We have some great news for all German-speaking e-Learners! Recently, we've launched a new iSpring community in German.
Now you have an opportunity to stay tuned for e-Learning news and upcoming events in your native language. The new community is named iSpring Deutschland.
What cool stuff can you find in the iSpring Deutschland community?
e-Learning news and upcoming events;
presentation tips&tricks;
news about the latest iSpring updates and specials;
articles, guides and how-tos;
video tutorials.
We've launched the community together with lern.link, our partner in Germany.
lern.link is a full service e-Learning provider based in Germany. The founder of lern.link is German engineer and corporate trainer Guido Hornig. He has been developing e-Learning content and technology for more than 20 years.
lern.link helps organizations develop a strategic e-Learning approach and solves practical challenges like training of e-Learning authors, and installation, configuration and hosting of LMSs. During the last three years, lern.link has also been delivering iSpring authoring tools to a broad audience, including the Moodle and ILIAS communities in the DACH region.
Join the growing iSpring Deutschland community on Facebook, Linkedin and XING.