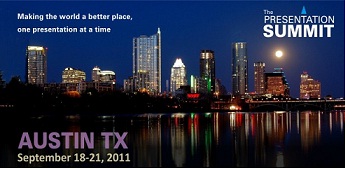 iSpring will attend The Presentation Summit that takes place this year from September 18-21 in downtown Austin, TX. At the world's finest conference for presentation professionals iSpring Team will introduce soon to be released iSpring Pro 6.0, the ultimate tool for creating beautifully-designed, engaging and secure online presentations.
Based in PowerPoint, iSpring not only supports virtually all its features, but also provides the functionality that goes far beyond conventional PowerPoint. Presentation professionals will especially appreciate iSpring's accurate PowerPoint to Flash conversion and advanced protection features that together make professional PowerPoint presentations secure and web-ready.
iSpring Team is looking forward to spending these three days with the most sophisticated presenting masters to define what experts value most in PowerPoint presentations and how iSpring software can become even better to meet all customers' preferences and requirements.
If you happen to attend the event as well, don't hesitate to find iSpring team during the exhibition on the 20th of September to ask all your questions, express your ideas on how iSpring can be functionally improved, discuss presentation creating or just say HI :)
Fully-stocked e-Learning authoring toolkit for PowerPoint. No training required to start!