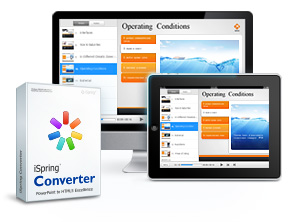 At long last you can make the full use of iSpring PowerPoint to HTML5 Converter,
the most advanced tool for PowerPoint to HTML5 conversion in the market!
iSpring Converter turns PowerPoint presentations to HTML5 with the highest degree of accuracy in a single click. iSpring Converter preserves even the most advanced features of PowerPoint including:
virtually all PowerPoint animations
transition effects
embedded audio and video
hyperlinks and interactivity
all PowerPoint styles
Plus, the converter allows you to insert YouTube videos and Web Objects into the presentation to make it even more expressive.
After the conversion with iSpring, your interactive, rich media HTML5 presentations can be viewed by much wider audiences via a large range of devices and browsers:
iPads
mobile devices
HTML5-compatible web browsers
To experience all advanced features of iSpring Converter, download free 14-day trial.
You can learn more about iSpring Converter or check out the Press Release.
Did you like this post? You are welcome to share your comments below.