October 20, 2015
iSpring Suite Rated "High Performer" for Course Authoring on G2Crowd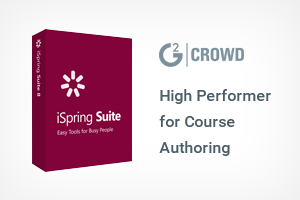 iSpring's flagship all-in-one e-Learning authoring tool, iSpring Suite, has been recognized as a High Performer by G2Crowd business software review website in their Course Authoring category.
This news comes just after the release of iSpring Suite 8, the latest version of the software, which packs even more authoring power into one toolkit for fast and easy online course authoring.
What's G2Crowd?
G2.com is a trusted resource which provides reviews for business software and services from real customers in professional fields. Leaving a review on G2Crowd requires a LinkedIn profile, ensuring that only real business users can share their thoughts with the community of professionals that use the site.
What's a High Performer?
A "High Performer" rating on G2Crowd is awarded to products that are highly rated by their users. Overall, iSpring Suite has a 4.9/5 rating on G2Crowd out of 41 reviews.
In the section "What users like about iSpring Suite," the top categories are Ease Of Use, Customer Service, Everything In One Place, and Publishing Styles. Users are consistently impressed with the faithful conversion of all PowerPoint features, and the rapid development provided by iSpring Suite.
How can I leave a helpful review on G2Crowd?
Contributing a review to G2Crowd is a great way to help fellow professionals in your field find the right business software or services to achieve their goals. Here are five tips for writing a great review from Josepf Haslam and G2Crowd:
Provide as much detail as possible. Simple opinions aren't enough to provide a really good review. Actual details about your user or support experience can give readers true insight into the product or service you're reviewing.
Give it a great title. No matter how helpful your review is, you still have to earn that click. As Josepf says, "tap into your inner copywriter" and come up with a way to express the benefit of your review in a few words.
Cover the negatives as well as the positives. A uniformly positive (or negative) review can smell suspiciously of bias. No product has all the right features in all the right places, and even if it did, you might still find it too cluttered! Dig deep and tell all sides of the story.
Honesty is the best policy. This one almost goes without saying, but it's still worth keeping in mind that the most helpful review is one that's clear of biases. If you have an axe to grind, or a potential conflict of interest, you may want to think twice about reviewing in the first place.
Share! If you put a lot of energy into a review, then you can always refer back to it whenever someone asks for your opinion about a product or service. Getting your opinion out there can help to generate an authentic perception in the business community.
Conclusion
iSpring Suite is a fast-improving product that is steadily growing in popularity, thanks to the reviews left by iSpring users on G2Crowd. Version 8 packs even more features into a supercharged toolkit that remains as stable and reliable as ever before, carrying with it the promise of even more positive reviews.
If you use iSpring Suite, please share your experience on G2Crowd and help your colleagues in e-Learning choose the perfect tool for their authoring needs.