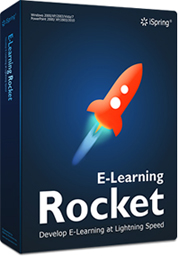 Imagine how rapid eLearning process can be with an integrated, all-in-one solution for eLearning authoring, delivery and tracking!  Also imagine that the solution has flexible and affordable pricing that can be adjusted to your requirements. Does that spark your interest?
Meet E-Learning Rocket by iSpring! This effective one-pack solution includes the iSpring Suite authoring toolkit and the iSpring Online LMS, tightly integrated for streamlined eLearning development. iSpring Suite allows creating eLearning courses with narrations, quizzes and interactions in PowerPoint. Courses can be uploaded to the iSpring Online LMS directly from PowerPoint. Within iSpring Online, you can manage and track content, invite and group users and even sell your courses.
You can learn more about E-Learning Rocket on our website and find out how it works. To experience all advanced features of iSpring E-Learning Rocket, try it for free or check the subscription pricing.
Please share your comments and experience below.
Fully-stocked e-Learning authoring toolkit for PowerPoint. No training required to start!