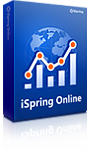 This September, a new 4.3  release by iSpring Solutions appeared, featuring a new service – iSpring Online, a professional eLearning content management solution. It gives you a web-space for hosting and sharing your presentations, as well as providing a new generation LCMS (learning content management system) that allows full reporting and tracking of all activities on your content in every way. You will have access to all kinds of reports, like who views your presentations, what your quiz-takers' scores are, who is the most active viewer of your content, etc.
Subscribing to an iSpring Online account, allows you a private virtual portal with a unique name, logo and URL-address. You can manage also your audience: create new users, group them and assign the rights to access your content. Check out more details about our new iSpring Online* at:  /product/ispring_online.html
Just for your information, iSpring 4.3 easily handles SmartArt objects, random animation effects, as well as now giving you the opportunity to assign keyboard keys for your own customized shortcuts. iSpring Presenter 4.3 reveals new possibilities for quiz creators making new question types available as well as the ability to illustrate a question with a video clip. The following link will take you to the full list of the new features found in the latest 4.3 iSpring Presenter release: /products/ispring_presenter.html
According to our upgrade policy, users of iSpring 4.0, 4.1 and 4.2 are welcome to access this latest upgrade for free. Users of other versions are eligible for considerable discounts for upgrading to iSpring 4.3. To check your eligibility for all available updates, please iinput your license key into the blank space on the following page: /upgrade.html
*iSpring Online is currently available as a beta-version. The full version of the service will come out by the end of 2009.
Fully-stocked e-Learning authoring toolkit for PowerPoint. No training required to start!