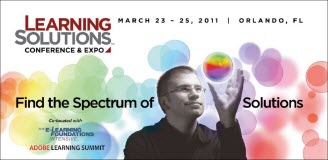 We are exhibiting at Learning Solutions Expo
in Orlando, FL 23-24 March 2011.
Come see us there in the Booth #101 and find out:
What is iSpring and what makes it cool?
How is iSpring different from other authoring tools?
What LMSs does iSpring support along with iSpring Online?
Ask more questions of your own, get a free demo and participate in iSpring Presenter free licenses drawing or just come by to greet us. :)
It is the third year we've been participating in Learning Solutions, and we've learnt very well by now that it is always a great experience for both visitors and exhibitors.
Learning Solutions Conference and Expo registration is 20% off for all the eLearning Guild members. Check out membership opportunities here. For free "Expo only registration" fill out the form here.
Fully-stocked e-Learning authoring toolkit for PowerPoint. No training required to start!