"Eyes are the windows to the soul."
There's more than a bit of truth to this old saying. When you speak to your audience, you want to project honesty, sincerity, and earnestness, and eye contact is essential for all of these.
Any professional TV studio will have a person on hand whose job is to hold cue cards for the presenter in line-of-sight with the camera so the illusion of eye contact with the audience is maintained.
With iSpring's Narration Editor, you can achieve the same result in your own studio single-handedly!
Working on a laptop with a built-in camera? Simply drag the Notes section to the top of the screen and start recording! Wherever your camera is, that's where your notes (and thus your eyes) should be.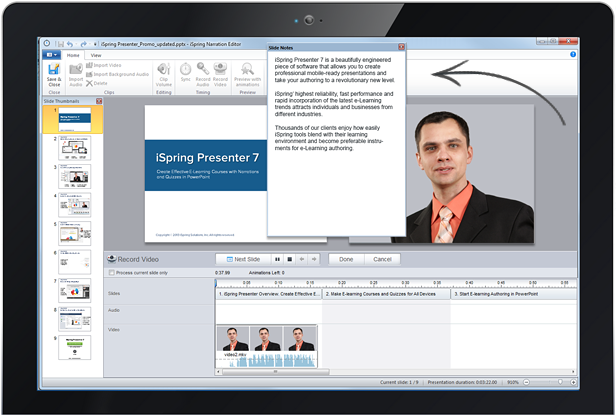 There's another way you can engage your viewers by interacting directly with your content. To get attention to a certain content item you can gesticulate just like a weatherman to show you viewers what on this slide is worth their attention most of all.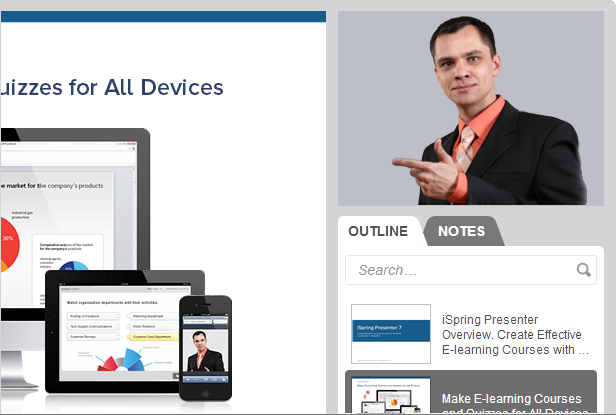 Do you have any pro camera tips for your fellow presenters? Leave them in the comments below!
Happy narrating!
Fully-stocked e-Learning authoring toolkit for PowerPoint. No training required to start!